Cameron Boucher writes songs for himself, his experiences, his discomforts, his emotions. The lyrics he pens for his band Sorority Noise are vivid in recounting what it means to be alive in his mind, in his body, in his way of life as a musician in a touring band.
Since being diagnosed with depression in 2012, Boucher has not only used music as catharsis, but to help dispel any stigmas surrounding mental illness.
"The music I write is very specific to me and when I'm writing it, that's what I'm thinking about—myself," the Philadelphia-based Boucher says. "It's a therapy to write music and be able to write about the things you're going through. To have people come to shows and take away something positive from what I've written in my bedroom or the back seat of a van and find that they feel similarly is huge."
Artists like Sorority Noise, Dashboard Confessional, Sunny Day Real Estate, and more recently, Julien Baker, have created a community around finding common ground in music that evokes a strong emotional response.
While the content of each song or album can greatly differ, there's power in sadness. There's an inherent humanity in relating to each other when we're at our weakest—it allows us to feel less alone, regardless of our circumstances. Music's ability to tap into the human experience and both good and bad emotions is the universal connecting thread between songwriter and listener, according to Kenneth Aigen, music therapist, author and associate professor of music therapy at New York University.
"People have a misimpression as to why we listen to music, they think of it as a medicine or a pill."—Kenneth Aigen, associate professor of music therapy at NYU
"People have a misimpression as to why we listen to music, they think of it as a medicine or a pill," Aigen says. "You're feeling one way and you listen to the right music and it'll fix your feelings. I think it's more that when we're feeling lonely, angry, sad, fearful, any of those things that are more difficult as human beings to experience, then we listen to music that embodies those things. It helps us to feel I'm not alone in this feeling, other people feel this way."
People generally aren't hardwired for longing or suffering, but the presence of sad music allows us to be more in touch with our emotions, specifically in terms of empathy and relatability. The ability to empathize with a songwriter's pain while not having to personally experience it or internalize it is why we return to even the most heartbreaking music.
Tuomas Eerola, professor of music cognition at Durham University in Durham, United Kingdom, led a study that concluded that when many people turn to self-identified sad music, they're often comforted. (Though there was a small a portion of participants who experienced deep sorrow when listening to sad music.)
"Even though the topic might be a bit grim, they'll listen to some form of sad music," Eerola says. "They typically are able to derive the benefit of that, they stop and reflect. Quite often it's a chosen memory or nostalgia for different situations, but the functional uses seem to be quite positive."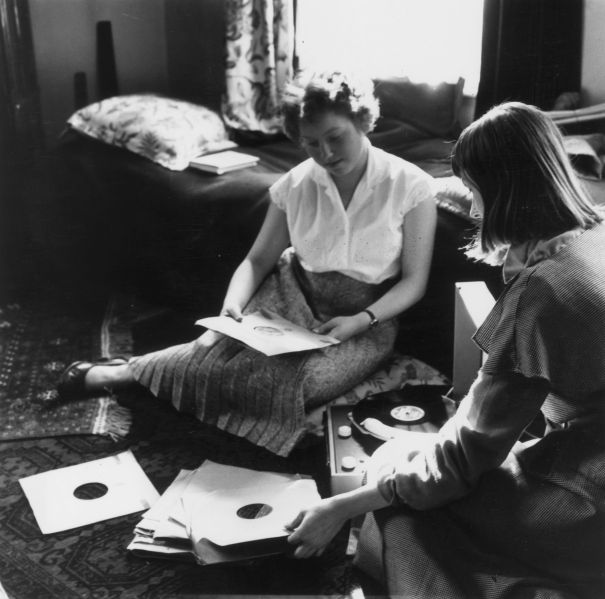 The benefits of listening to sad music don't end there—this is true even when dealing with loss.
When Joe Sivick lost his best friend to suicide, he thought he'd never be able to listen to the music he wrote. Mostly demos written in creaky attics and bedrooms, the songs, Sivick says, were profoundly devastating. However, shortly after his death, Sivick and his friends began compiling the tracks and uploading them to SoundCloud; they then met to listen, and to even perform, the songs. Instead of the initial heartbreak he feared, the music helped him heal.
"Why I still listen to his music is because he wrote sad songs, they were the saddest songs, and they're all incredibly smart," he says. "It's twofold: this is the guy who wrote these songs and something really sad happened, but at the same time I'm able to pull from them and learn and be happy."
There is a wide range of triggers that drive us to reflect in sad music. For Sivick, it can mean listening to Elliott Smith if he's awake in the middle of the night or Vic Chesnutt if he is in "an especially dark place." Engaging with their nakedly human tales of despair lifts his spirits.
"The functional uses [of sad music] seem to be quite positive."—Tuomas Eerola, professor of music cognition at Durham University
Just as the music we define as sad and effective for our state of mind varies, the moments that drive us listen to sad music are diverse as well. According to recent research from Annemieke Van den Tol, a lecturer in psychology at De Montfort University, we're inspired to listen to melancholy music when we "feel lonely…[when we] feel the need to be accepted or understood…[or] when fatigued, participants also showed an increased liking for sad music."
In his 20s, anxiety prevented then-Kansas City-based Joshua Hammond from interacting socially. The company he found was in the music of Eels, Counting Crows and Motion City Soundtrack. The unease, desolation and tension each band detailed in their songs turned his otherwise isolated existence into one that was full of understanding. It offered him a sense of hope: if this seemingly successful person who releases albums and tours is feeling what I feel, then that must mean I can overcome this, too. He eventually moved to New York City to work in the music industry.
"It creates a circular pattern in some ways," Hammond says. "You feel the sadness, you find someone else you feels the sadness collectively with them and then it brings you back until you feel the sadness again the next time."
Turning to melancholy music to cope is a healthy part of the healing process and those looking to come to terms with a negative experience are more likely to find solace in music they themselves define as sad. People are prone to choosing sad music "to accept aversive situations," according to results of a study Van den Tol published early last year.
"What our research shows is that when people are currently experiencing particularly stressful or sad life circumstances, that listening to sad music can help them experience a sense of acceptance, which is the propensity to accept the reality of the situation and to move on in a psychologically healthy way [as opposed to rumination or denial]," Van den Tol says.
Eerola echoes that sentiment: "That's what [sad music] is used for. We don't really want to dwell on our normal life, but we want to be transported into something else."
But when emotionalism and nostalgia become too much, some of us prefer to eschew music altogether.
A big part of Emily Amick's two-year relationship with her now ex-boyfriend was the shared experience of listening music together on vinyl. Their dissolution was messy and soon she found herself listening to the records they enjoyed together, like the "wistful" Bob Dylan, almost to agonize over her heartbreak.
"I had no control over my emotions, so the worst thing I could do was try and make myself even sadder," she says. "There were definitely times when I was self-indulgent with my misery."
"That's what [sad music] is used for. We don't really want to dwell on our normal life, but we want to be transported into something else."
It took Amick making a concerted effort to heal for her to break away from her old habits and to stop listening to music altogether. Instead, on her commutes she'd listen to podcasts like The Cracked Podcast and Savage Lovecast. It was a more cerebral experience that gave her the space she needed to cope. She cut out music for almost one year.
Quitting music after a scarring experience isn't a rare phenomenon, according to Van den Tol. "I have encountered people that said they have felt addicted to sad music and that actively had to avoid this music as they thought it did not benefit their mental health."
Others, like Natalie Vavricka, who have music tied to memories of a relationship, use music listening more intensely for catharsis. Following her first major breakup, Vavricka compiled all the songs that defined their relationship and loaded them a playlist and went for a 20-mile run. She wept the entire time. After she was finished, she felt unburdened by the weight the songs had once carried.
"I forced myself to listen to every song so I could move on with my life and not have a negative reaction when I heard this beautiful music again," she says. "I'm not going to get over this guy and I'm gonna be in the gap and hear a Radiohead song and cry because I never got over it. I just ripped the bandaid."
Though she's now happily married, Vavricka, who is also a pianist, says she still loves listening to sad music.
Experiencing sentimental music in this way can broaden our emotional landscape and make us more vulnerable, Aigen says. By craving different experiences, both realized and not, listeners can grow deeper into psychological maturation, which can help aid self-realization.
"Some people say that music can help us feel things we haven't felt before and open up our emotional lives," he continues. "Even if those emotions are painful, there's something gratifying to having a more varied and rich emotional life. It helps us mature and develop emotionally."
So maybe all those emo kids in high school were right after all. The ability to cope with difficult situations and a keen empathetic understanding lay at the root of the human desire to gain meaning from sad music. And for Boucher, it isn't a one-way experience.
"If you can talk about how you feel, all that matters is you're being real with yourself and the people who take something away from what you do."