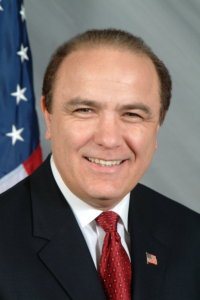 It's never uncomplicated in New Jersey. But even by those standards, the intra-family drama shaping up in Bergen's 40th Legislative District is remarkably juicy.
PolitickerNJ was the first to report that businessman Charles H. (Chuck) Shotmeyer is mulling a challenge to U.S. Rep. Josh Gottheimer (D-5) in 2018.  The scion of a fuel oil empire, Shotmeyer has been active in politics for years and is a prolific Republican donor. His wife, Darlene, is the Republican State Committeewoman from Bergen County. Shotmeyer is playing a key role in the 40th district Senate primary as a backer of former Assembly Majority Leader Paul DiGaetano, who is now the Bergen GOP chairman.
Charles P. Shotmeyer, the father of the potential candidate, is the chairman of the North Jersey District Water Supply Commission, and an even bigger political fundraiser than his son. His brother was Henry Shotmeyer, Jr., who served as Bergen County GOP chairman and as mayor of Wyckoff before he passed away in 2004 at age 58. Henry's daughter, Hayley (she is Chuck's first cousin—it's ok to admit if you're confused), is married to Assemblyman Kevin Rooney. Rooney, a former Wyckoff mayor, won a special election for the Assembly in the 40th district last year (after Scott Rumana resigned to take a judgeship). Rooney is seeking a full-term and is running on a ticket with Kristin Corrado, DiGaetano's opponent in the LD40 Senate contest. DiGaetano has two Assembly running mates, former state sen. Norm Robertson and Joe Bubba, Jr.  Bubba's father spent sixteen years in the Senate before Robertson beat him in a GOP primary.
The 40th district fight likely pits two grandchildren of Henry Shotmeyer, Sr., the Dutch immigrant who founded the mega-successful business in the 1920's, against each other.  If Corrado wins, don't be surprised if Rooney emerges as a Gottheimer challenger — maybe even in a primary against Shotmeyer, his cousin by marriage.
And as long as you're considering the drama, one more reminder: Kevin O'Toole, whose retirement has created the heated 40th district primary, went public last year with an accusation that DiGaetano had threatened to kill him more than a decade before. That was in 2005, when DiGaetano, who was living in Nutley in Essex County (that was in between his time as a Passaic City Councilman and his move to Bergen), was running for Governor. O'Toole, who was the Essex GOP Chairman, had given the organization line to Doug Forrester.