Guitar heroism wasn't initially part of punk rock's plan. The goal was to create something simpler, more caustic, the very antithesis of anything beyond three chords and the truth.
1970s proto-punks Television never officially considered themselves a part of punk, and based on the virtuoso musicianship the band built its reputation on, it isn't too hard to understand why. Yet from the moment Television released their debut studio album, Marquee Moon, on February 7, 1977, punk rock and Television would be inextricably linked forever.
As founding fathers of the '70s New York City underground rock scene, among the first bands who played CBGB, Television found themselves sticking out even among the out crowd. They soon distinguished themselves as the math nerds of punk, and every burgeoning genre needs a math nerd.
They were the King Crimson to hard rock's Led Zeppelin, Funkadelic to soul's Otis Redding. Rather than deconstructing the guitar to its most brutal like their contemporaries in The Clash and The Ramones, Television delivered a tangled, serpentine guitar spar over Marquee Moon's eight sprawling songs, and in twice the length of your conventional punk album, the final running time coming in at 46 minutes (and more than 10 of those minutes are reserved for the title track alone).
By changing the language of jazz, psych and garage into a mesmerizing journey that was simultaneously raw and hypnotic, Marquee Moon paved the way for every ambitious rock record to follow in the next 40 years.
[youtube https://www.youtube.com/watch?v=puIM6LkKLpI?list=PLswIAgM9xEl4h1zxNyarZUEPAvFAzwXgo&w=560&h=315]
While that all might sound like a formula for an esoteric mess, guitarist/frontman Tom Verlaine, his six-string foil Richard Lloyd, and the indomitable rhythm section of Fred Smith on bass and Billy Ficca on drums could just as easily write catchy songs. The album's longest track, its title cut, comes across as a sort of sonic response to Verlaine's old girlfriend Patti Smith and her 1975 solo debut masterpiece Horses in its patterns and rhythms. Otherwise, the record fits in equally well with the Soho free-jazz loft scene as it does with the gyrating punk of CBGB.
"[Jimi Hendrix] is where I got a lot of what I do on guitar," Lloyd told me when I interviewed him for Jambase about his 2009 solo album, The Jamie Neverts Story, a collection of Hendrix covers.
"I don't think, either in Television or my own work, that anybody would have spotted a Hendrix influence. But I didn't want one to show up. When I teach students, I teach them to play more like themselves. You're gonna have to find your own voice on that guitar. What Hendrix and Velvert [Turner, Hendrix's only known guitar student,] taught me is very, very important to me. Both of them are gone, and all I have is the memories. And the fact that I was around then, that's why I feel like I owe them, as a payment of a debt, to cover some of Jimi's songs, put it out and let some of that influence—that has always been there—finally show itself."
Finding their own voice was precisely what Television accomplished on Marquee Moon.
The band chose acclaimed English engineer Andy Johns to produce the album on account of his work on such early-'70s classics as Mott The Hoople's Brain Capers and Goat's Head Soup by The Rolling Stones. However, according to an insightful and neck-deep interview conducted with Lloyd by Scottish author Damien Love for Uncut, a lifestyle clash with Johns and Television produced studio tension from the outset.
"Andy is a real child of rock 'n' roll," Lloyd tells Love. "He was used to being with people who are also rock 'n' roll, and you can imagine whatever that means in the 1970s. He was used to people who didn't mind taking it very slack in the studio. You know: you've got a 2 o'clock start, and the engineer shows up at 4.30, and the guitarist shows up at 5 and the singer rolls in at midnight. But Television were not like that. We were punctual. And serious."
"He'd say things like, 'Is this a Velvet Underground trip? What kind of trip is this?' " Verlaine recalled told writer and renowned New York avant-garde musician Alan Licht for the liner notes to Rhino's 2004 expanded edition of Marquee Moon. "And I'd say, 'I don't know; it's just two guitars, bass and drums. It's like every band you've ever done.' " So he said, 'O.K., I'll come back after Christmas.' So he came back and all of a sudden he totally loved the record. He said, 'Jesus, this is great.' And he kept comparing all these cuts to all this classic British hard rock."
Once they got on the same page, Johns and Television created a literal master's class in the kind of crisp yet sharp production that enhanced the angularity of their rhythms without losing their sense of melody and pop appeal. The only other group who was close to doing what they achieved was Be-Bop Deluxe in the realm of progressive rock. And the inventive ways they captured some of those one-of-a-kind guitar sounds transcend any other production work on any other record in 1977 outside of Fleetwood Mac's Rumours.
"We wanted to rent a rotating speaker to get the sound for ['Elevation']," Lloyd explained. "But the rental people wanted way too much. So Andy came up with an idea. He took a microphone, and while I did the guitar solo to 'Elevation,' he stood in front of me in the studio, swinging this microphone around his head like a lasso. He nearly took my fucking nose off. I was backing up while I was playing."
The risks Johns and the band took in the studio paid off. Marquee Moon became an iconic record for its mythical, godlike status amongst both music critics and young musicians, a select few of whom would go on to form bands like U2, Sonic Youth, Echo & The Bunnymen, The Minutemen, The Strokes, Wilco and Real Estate among so many others.
"Even this early on in the year, you don't have to be a gambler to predict that Marquee Moon is the kind of album you're gonna listen to in 1980 and say, 'shit, '77 was a great year, why can't people come up with albums like this now,' " mused renowned British punk journalist and musician Vivien Goldman in her five-star review of the album for the March 12, 1977, issue of Sounds.
"Television treks across the same cluttered, hostile terrain as bands like the Velvet Underground and the New York Dolls," American rock critic Ken Tucker wrote in his review of Marquee Moon in the April 7, 1977, issue of Rolling Stone. "But the times may be on the side of Verlaine: we have been prepared for Television's harsh subway sound by a grudging, after-the-fact-of-their-careers acceptance of those older bands."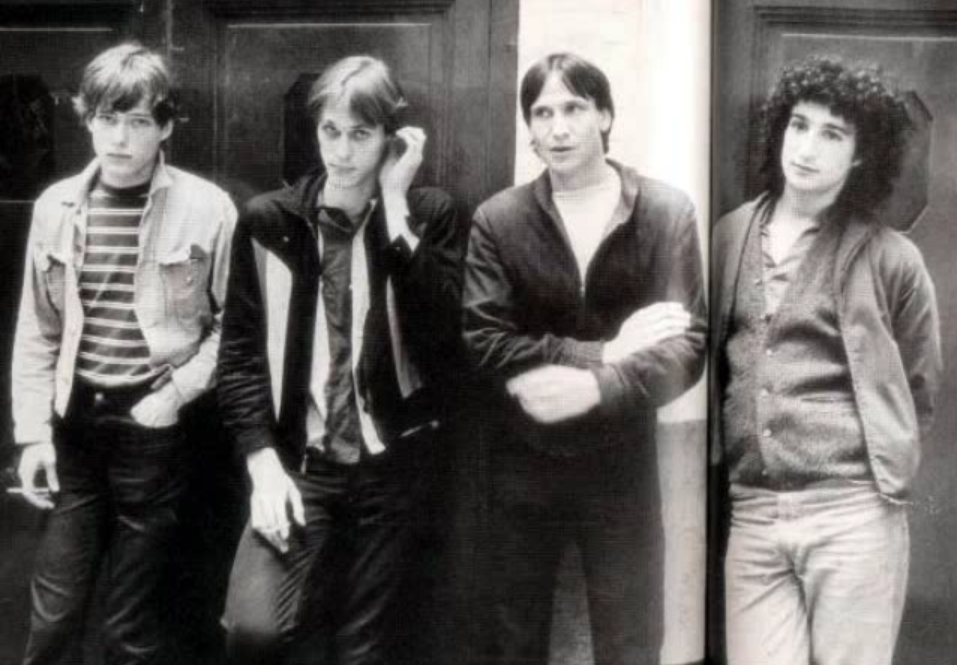 Forty years later, Marquee Moon continues to open eyes to the ways the electric guitar can be utilized creatively within the punk rock idiom—elements of the uncanny push-pull between Verlaine and Lloyd can be heard in the music of such exciting young acts as Thurst from Los Angeles, Chicago's Clearance and New York's own Parquet Courts.
"Each one [of the songs] is like a little moment of discovery or releasing something or being in a certain time or place and having a certain understanding in something," Verlaine told Licht, a clever non-sequitur coming from a guy who took his surname from a renowned French poet and harbored an equal affinity for Marvel Comics and 19th century Romanticism.
"Verlaine yowls: 'I remember/How the darkness doubled/I recall/Lightning struck itself,' " Tucker states in his Rolling Stone review. "Is this profound imagery or just a particularly ripe balloon of dialogue from a Silver Surfer comic book?"
Television might not have considered themselves punk, but one thing's for sure: punk would not been the same without their knotty genius.
And hey, Viv, guess what, 40 years later we're still talking about them and the wonderful year that gave us Marquee Moon. The only other duel that came close in '77 was the one between Obi-Wan Kenobi and Darth Vader later on that summer.