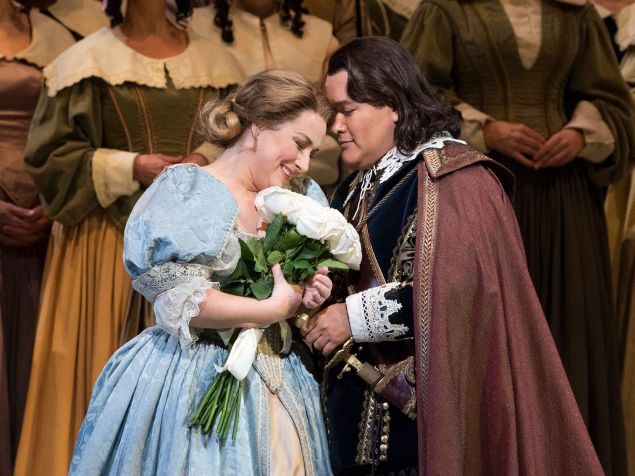 "Perhaps that song will remind me of the happy days of long ago," muses the hero Arturo in the last act of Bellini's I Puritani, a phrase that seems to sum up the typically nostalgic opera fan's bittersweet passion for living in the past. Yet, as sung by Javier Camarena last night at the Met, these words took on an ironically optimistic meaning, because the tenor's performance in this romantic work was as beautiful and haunting as that of anyone in living memory.
In the past few years Camarena has won acclaim in New York for his singing of other Italian operas of the early 1800s, the so-called bel canto period. In Puritani, though, he has become a sort of walking definition of "beautiful singing" as it was understood then: precise control of every technical aspect of the vocal art, at the service of exquisitely poetic expression.
A number of Met tenors, including the legendary Luciano Pavarotti, have won ovations for Arturo's entrance scene "A te, o cara," with its daunting high tessitura and exposed top C-sharp. But Camarena is the first in my experience to place the piece in its proper context, not as a flashy showpiece but rather as a gentle, almost timid declaration of first love. Yes, everything the aria needs was there: perfect legato, a honeyed mezza voce and, yes, that terrifying high note attacked right on the bull's eye of pitch. The takeaway, though, was not "he nailed it!" but rather "how I hope nothing will happen to spoil that sweet young man's wedding day!"
Of course, it's a romantic opera, so poor Arturo has his share of misery to endure, and so, alas, did Camarena. At the conclusion of his even more diffcult last act number "Credeasi misera"—again, elegantly sung—the tenor was briefly heckled by an audience member complaining about his omission of a virtually impossible high F in the score. The roar of applause that Met Camarena's curtain call a few minutes later, though, demonstrated that the dissenter was distinctly in the minority.
In contrast to Camarena's Olympian excellence, soprano Diana Damrau—as Arturo's fiancée Elvira—revealed a flaw or two. Though she sang the heroine's livelier music with great dash, the elegiac Bellinian line of her second act mad scene felt a little splintered. She was, as always, a thoughtful vocalist, but last night night the thinking tended to get in the way of emotional truth.
Alexey Markov and Luca Pisaroni, as Elvira's guardian and rival suitor respectively, sounded an odd pair in their barnstorming duet "Suoni la tromba," with Markov's muscular Verdian baritone all but drowning out Pisaroni's light, reedy bass-baritone. But both of them, indeed the entire cast, struggled from time to time to be heard over conductor Maurizio Benini's bombastic reading of the score.
The opera was staged in the most conservative, old-fashioned manner imaginable, with 40 year old sets looking like faded illustrations from a Victorian novel. The audience could charitably be described as sparse, which would seem to put to the lie the notion that the public is shunning the Met because of the mildly innovative new productions favored by General Manager Peter Gelb. Why they're staying away is anyone's guess, but it's a damn shame they're missing Camarena's golden age singing.