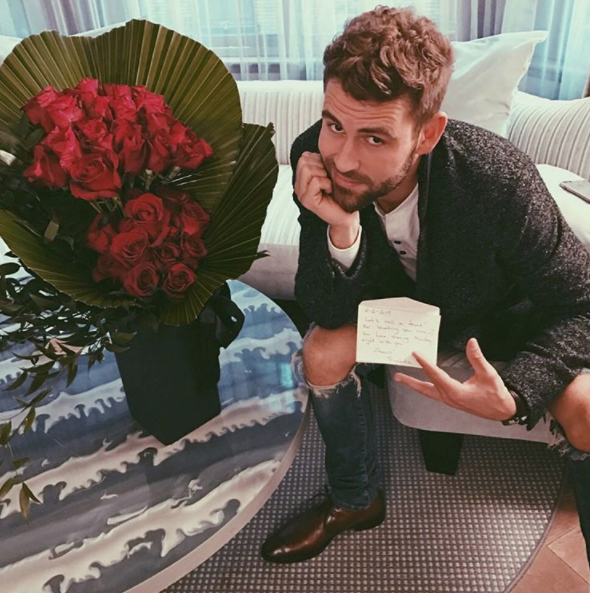 On this season of The Bachelor, the contestants have visited New Orleans to participate in a second line, Wisconsin (according to insider Ashley I., they were originally supposed to head to South Carolina, but a hurricane interrupted) and Bimini, which may or many not be a real place. Now, the remaining women are venturing to New York—Brooklyn, to be specific.
Unfortunately, it's less than likely that the leftover cast—Corinne Olympios (who famously has her very own nanny to cook her cheese pasta), Arkansas native Raven Gates (who was obviously meant to end up with the original Bachelor suitor Luke Pell), brand new Bachelorette Rachel Lindsay and the "pretty pretty perfect" Vanessa Grimaldi—will trade their rompers for skinny jeans and avocado tattoos permanently.
If you didn't catch the cast on the L-train, you can still tune in to see The William Vale Hotel make an appearance. The event hall and hotel, located right off of the Bedford stop, was also the location of an immersive Magicians experience, complete with enchanted silverware and the ability to levitate. Hopefully, this rose ceremony will be at least half as eventful, especially since Nick Viall has been steadfastly avoiding these traditional breakups for weeks, in lieu of semi-private, but still televised, awkward break-up speeches.
https://www.instagram.com/p/BMcXaDcjpvn/?taken-by=andi_dorfman&hl=en
There are rumors that Nick's reality television ex-girlfriend, Andi Dorfman will also make an appearance on the episode. Dorfman, who currently lives in Manhattan, did post an Instagram photo from Williamsburg on November 5, with a view suspiciously similar to the one at The William Vale.
Perhaps if this whole Bachelor thing doesn't work out for Nick (and it's looking less than likely at this point…) he can start a new life as the unofficial bachelor of Brooklyn. After all, Dorfman started over in the city, releasing a diary about her escapades and channeling her inner Carrie Bradshaw. Nick could open up a CrossFit gym in Williamsburg, grow his beard and become a mumblecore film star.