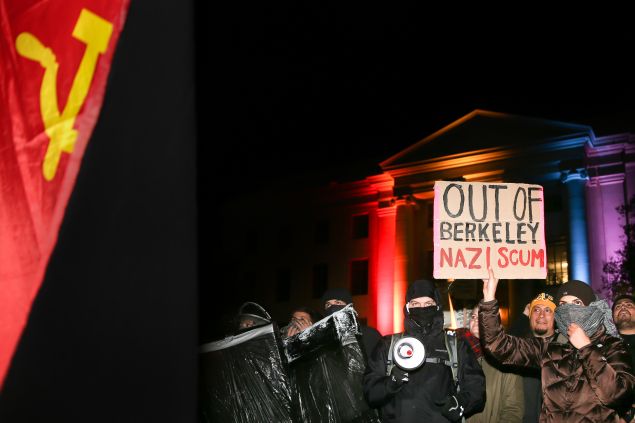 The University of California at Berkeley is synonymous with free speech—or at least used to be. The home of the Free Speech Movement of the 1960's just succumbed to the latest campus effort to shut down unpopular views.
Last week University officials cancelled a speech by conservative performance artist and Breitbart News editor Milo Yiannopoulos after protestors turned violent. The rioters, led by 50-75 "Black Bloc" anarchists, destroyed property, shattered windows in university buildings and neighboring stores, set fires, attacked campus police, and set upon suspected Trump and Yiannopoulos supporters.
Claiming they could not safely protect the speaker or those who wanted to hear him, campus administrators "reluctantly" cancelled the event. Given Mr. Yiannopoulos' posturing and provocateur's persona—which runs counter to the prevailing political positions on the Berkeley campus—the administration's capitulation to mob rule was not terribly surprising. But it was depressing: a bedrock principal of the First Amendment is the unlawfulness of the "heckler's veto."
The irony of course, is that Yiannopoulos' message got far more attention than it would have had it been heard only by the handful of students who wanted to attend his speech. The Observer's Ryan Holiday, who literally helped write the book on this phenomenon, pointed this out in an op-ed in these pages.  As New York Law School Professor of Constitutional Law Nadine Strossen pointed out to the Observer:
"The violent protesters who succeeded in stifling Milo's talk at Berkeley also succeeded in enormously magnifying the circulation and impact of his discriminatory message, hardly a net gain in the important battle to counter his venomous ideology. The basic point is that censorship is doubly flawed. It violates everyone's free speech rights – those of the willing audience members, as well as the speaker – but it doesn't effectively suppress the objectionable ideas; to the contrary, it broadcasts them to a larger audience, and generates more sympathy for the speaker."
College campuses in general—and Berkeley in particular—used to be places where diverse opinions could be heard and debated. Alas, no more.
One Berkeley professor, Déborah Blocker, an associate professor of French, justified the rioting and shut down of speech by arguing, "Mostly this was typical Black Bloc action, in a few waves — very well-organized and very efficient. They attacked property but they attacked it very sparingly, destroying just enough University property to obtain the cancellation order for the [Yiannopoulos] event and making sure no one in the crowd got hurt."
Good to know property and people were just "sparingly" attacked.
Soon after the cancellation, President Trump tweeted, "If U.C. Berkeley does not allow free speech and practices violence on innocent people with different point of view – NO FEDERAL FUNDS?"
Not surprisingly, that generated an even more hysterical reaction from apologists for campus speech codes. California Lieutenant Governor (and former San Francisco Mayor) Gavin Newsom tweeted, "As a UC Regent I'm appalled at your willingness to deprive over 38,000 students access to an education because of the actions of a few."
President Trump probably can't—and shouldn't—restrict federal funding to UC Berkeley. But he is not wrong to decry the suppression of free speech or the quick capitulation of administrators to protestors.
A similar incident, happily with less violence, occurred last week at NYU. Protestors succeeded in forcing the cancellation of a seminar to be held by conservative actor and Vice Media co-founder Gavin McInnes.
All of this reminds us of another era and another politician's reaction to campus protests. Ronald Reagan, in his first (and successful) run for public office—the California governorship—promised to "clean up the mess at Berkeley."
Today there is indeed a mess on far too many college campuses, an intolerance to unpopular or opposing viewpoints. Neither violence nor the suppression of free expression of those viewpoints should be coddled.