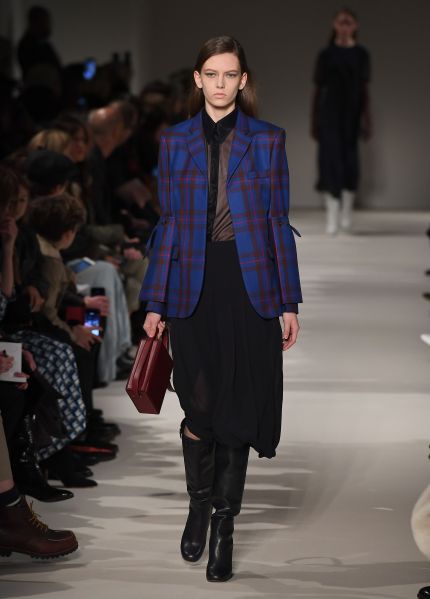 Call it a fall out from Hillary Clinton's presidential bid. Call it a resurgence of trends we've seen before. Call it a highly unlikely coincidence. But whatever you call it, the empress has new clothes.
At New York Fashion Week this season, Victoria Beckham opened her show with a model in a blazer and skirt. While it might not seem a big thing to you, Posh Spice admitted to Vogue that the combination was new for her. Apparently she has became enamored with the silhouette, as quite a few of the 37 models in her runway show wore blazers and skirts. Others were rocking similarly preppy basics, like cardigans. Oversized in nature, those pieces were sometimes swapped out for boxy outerwear, all seemingly with origins in menswear.
Designer Suzanne Pelaez of the brand Suzanne Rae also took up the cause. Pelaez was clear about her reasons for twisting menswear into women's pieces. "No matter how prestigious or accomplished I ever become, I'll never be a part of [the Old Boy's] club," she told the Observer. So she set out to make her own club, replete with oversized blazers, custom crests, high-waisted corduroy trousers and cardigans. It was a smart take that didn't sacrifice the sartorial for the sentiment.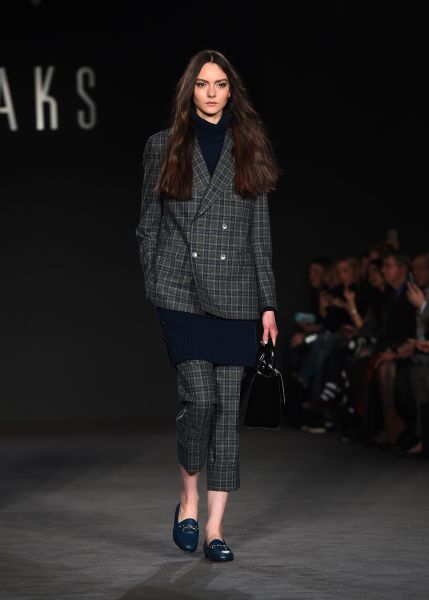 The idea continued on in London. At Daks, the check was on display as everything from capes to sheer, tiered dresses and trousers. It's little surprise that the brand took on menswear inspirations, as a majority of the label's customer base is men but, the tactic was notable all the same. Watching the actual show was slightly disorienting. Coats came down buttoned on the right or the left side; the seat of a pair of navy trousers ran quite long in comparison to others. Of the line up, oversized pinstripe blazers were a clear standout, though the neat cardigan and pleated skirt number was simple enough to be memorable.
While the menswear inspiration didn't seem to overtake the entire of the Mulberry range, they wormed their way into some of the collection's beginning looks. Strong shoulders and boxy jackets, served up in various checks, felt very familiar. Balenciaga anyone? Maybe that explains why the brand brought Lotta Volkova on to style the presentation; she's well-known for styling the shows of Demna Gvasalia.
While this could all just be aesthetics, any shrewd observer of fashion knows that widespread trends are typically tied to what's going on in culture. And considering the tumultuous area the world finds itself in today, there's no denying that is what's at play here.