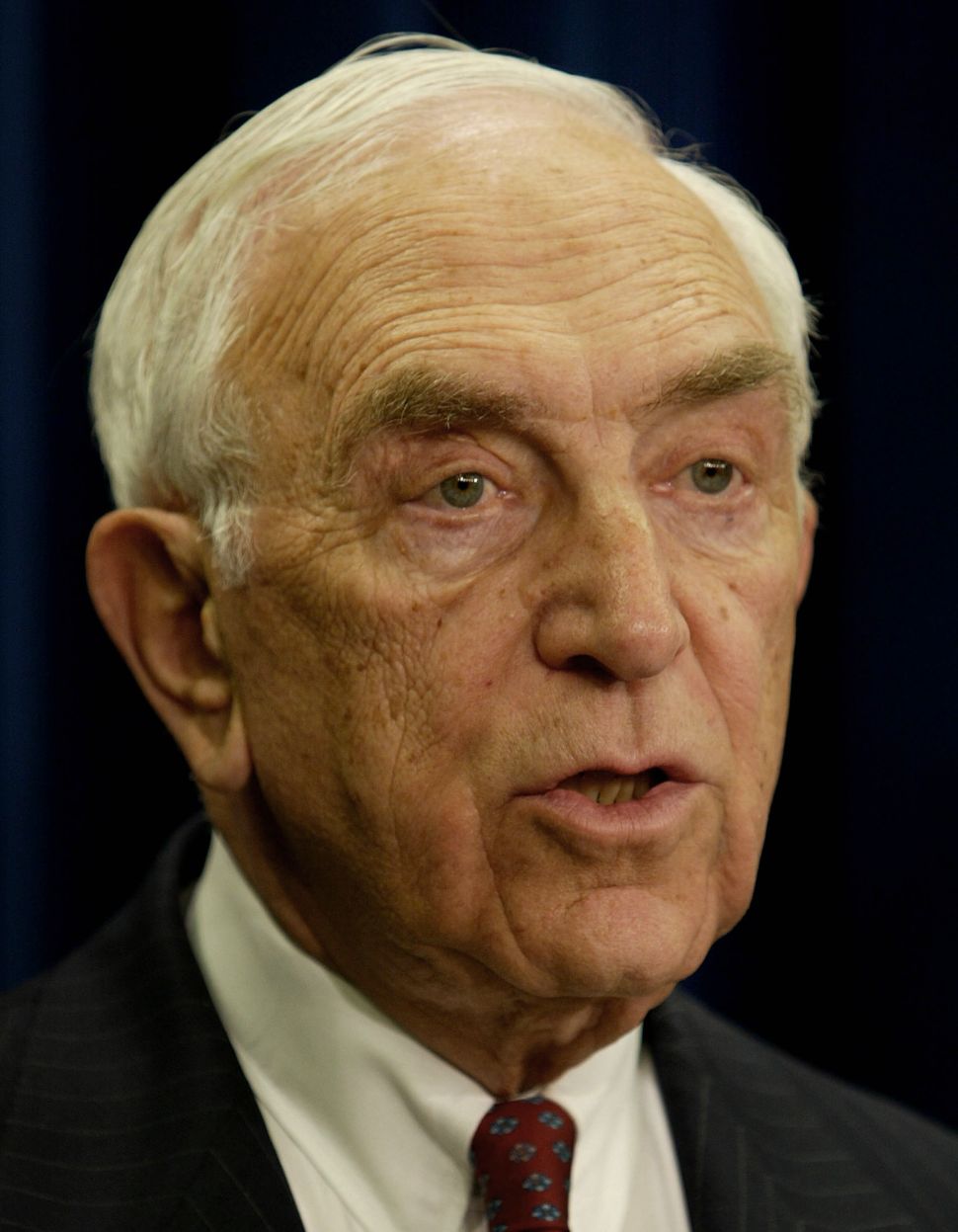 Phil Murphy has done well for himself. And he's already doing well in his ambition to become the next governor of New Jersey.
With a billionaire in the White House and money sloshing around politics like never before, it's tempting to assume that wealthy individuals have some sort of secret password to elective office. In New Jersey, however, self-funding candidates have been felled by an almost eerie series of disasters and missteps.
Yesterday, former New Jersey Assemblyman Robert Schroeder (R-Bergen) was sentenced to eight years in prison for defrauding investors and writing over $3 million in bad checks. Schroeder earned a degree of notoriety (but not many votes) when he ran for the Republican gubernatorial nomination in 2005. He offered the state's GOP county chairmen, who control the all-important lines that often determine the outcome of the vote, an all-expenses-paid trip to Super Bowl XXXIX in Jacksonville. At least a few of the chairs took him up on the offer and witnessed the beloved (in South Jersey, anyway) Eagles fall to the Patriots.
Schroeder spent $2.1 million on that race and came in a distance fifth out of seven candidates. The winner was Doug Forrester. Forrester, the former mayor of West Windsor and Assistant State Treasurer, had founded a prescription drug benefit company called BeneCard that gave him a net worth over $50 million. And by 2005, he had already run statewide once. In 2002, Forrester was poised to defeat Bob Torricelli when a last-minute switcheroo allowed popular retired Senator Frank Lautenberg to suit up to replace the struggling Torricelli on the ballot. Despite Lautenberg having only five weeks to campaign, he still defeated Forrester by 10 points.
In the 2005 gov race, Forrester seemed to have a better shot – he was running against Jon Corzine, a fellow wealthy guy who was nowhere near as popular as Frank Lautenberg. When Corzine's ex-wife Joanne Corzine came out with a blistering ad saying that her former husband "let his family down, and he'll probably let New Jersey down, too," Forrester's backers thought he might have a shot. Instead, he lost by the exact same 10-point margin as he had lost the Senate race three years earlier.
But he lost more than two political campaigns. Doug Forrester also lost a significant chunk of his fortune.
The curse struck even harder at the man who beat him in 2005.
Between three self-funded statewide campaigns, a divorce, a bad economy, and a monumental personal business failure, Jon Corzine has seen his net worth shrink dramatically – an estimated 80%. True, that means from about $500 to $100 million, so no one should cry for a still very rich man. But that's an expensive haircut.
There are many other examples of The Curse of the New Jersey Self-Funder.
Anne Summers, an ophthalmologist and entrepreneur from Bergen County self-funded a race against Scott Garrett in his first House general in 2002 – he knocked her out. A wealthy Somerset businesswoman named Marguerite Chandler tried the same thing against Dick Zimmer for an open seat in 1990, but she ran into a Larry Weitzner buzzsaw and lost 2-to-1. Both candidates were never heard from again.
If one were feeling punny, one could even call this The Kurse of the New Jersey Self-Funder. One of the worst losses of my political career was when my client, self-funder Diane Gooch, was defeated by Anna Little, who spent a tiny fraction as much but was swept to a primary victory by the tea party tide.
Some relatively wealthy candidates did better to run without spending their own funds. Christie Whitman didn't rely on her own substantial assets, either when coming surprisingly close to unseating Sen. Bill Bradley in 1990 or twice being elected governor. And Tom Kean was famous for his reluctance to dip into his family's dough—an instinct that served the popular governor well.
There's a story about Governor Kean from his race in 1977. His consultants, the giants Doug Bailey and John Deardourff, came to ask his father, Cong. Robert Kean, for money to buy television spots. There was no Fox News on geographically targeted cable in those days. If you wanted to reach Republican primary voters, you had to buy network tv that blasted into Manhattan, Westchester, Southern Connecticut, Long Island, and anywhere else the transmitter atop the Empire State Building could reach.
Kean was running to the right of New Jersey Senate Minority Leader Ray Bateman and Bailey and Deardourff thought they could put TK Sr. into the end zone with a last-minute buy. Old man Kean, charming and brilliant, and undoubtedly with that same New Jersey patrician accent that you just don't hear anymore, looked at the poll and told them no. The Keans don't spend their own money. And, by the way, they've won a heck of a lot of elections that way.
Which isn't to say spending never works. We've already covered Jon Corzine, who nearly went broke, but did win statewide a couple times. There was renowned trial lawyer Herb Klein (D-Clifton), who served in the Assembly for a brief time in the 1970's, and re-emerged in 1992 to win an open seat that Joe Bubba should have won by spending his own money. Klein lasted two years before Bill Martini took him out in the Contract With America year, before himself being knocked out by Bill Pascrell. Mike Ferguson's father funded his unsuccessful run against Frank Pallone in 1998, as well as his move to Union County, where he won in 2000.
But the purest success story for New Jersey self-funders was Frank Lautenberg, whose relatively modest $5.1 million investment to win a crowded insider primary and a general against Millicent Fenwick brought him 18 years in the US Senate—and that was just the first time around. When Democrats were desperate for someone in October 2002 who could quickly assembly a war chest, Lautenberg staged his switcheroo comeback against Forrester — another 11 years in the world's most exclusive club without spending too much of what he had earned by being CEO of payroll-management company ADP.