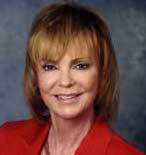 The best GOP primary of the year probably won't be in northern Monmouth, where Declan O'Scanlon and Amy Handlin are duking it out for Joe Kyrillos' Senate seat. That fight will likely be settled next month at the Monmouth GOP convention, rather than among voters in June. A Senate seat is nice, but no one wants to give up her (or his) Assembly seat to take the shot.
If you take a map and color in the part of the state with the best GOP primaries in red, what you'll see is a big red spot that extends from New York to Pennsylvania. That's the area encompassed by the 24th and 40th legislative districts –solid GOP seats where fierce intra-party battles are ready to go.
In the 24th, which includes all of Sussex, part of Warren counties, and Mount Olive in Morris, three-term Sen. Steven Oroho will face a challenge from Assemblywoman Gail Phoebus. Oroho will run a joint campaign with Assemblyman Parker Space and former state Labor Commissioner Hal Wirths. So far, Phoebus has one running mate, David Scapicchio, a former Morris County Freeholder who lost his bid for a second term in the 2015 GOP primary. Scapicchio has been around for a long time: he's a former Mount Olive mayor and councilman, and was Chris Christie's running mate when the governor ran for Freeholder. Oroho, Space and Phoebus are all former Sussex Freeholders.
The relationship between erstwhile ticket-mates Oroho, Space and Phoebus has deteriorated over the lasts six months, reportedly over Phoebus' opposition to the gas tax, and her fading relationship with Oroho's political advisor, GOP consultant Bill Winkler. According to published reports, Phoebus has moved out of the joint district office she shared with Oroho and Space.
Phoebus first won her Assembly seat in a 2015 special election after Allison Littell McHose resigned to take a municipal job in Franklin Township. Oroho endorsed Phoebus. A few months later, Space and Phoebus won a hotly contested GOP primary that focused on a controversial solar energy program. Oroho was handpicked to run for the Senate in 2007 by the Littell family when longtime State Sen. Bob Littell retired. Space won the seat in a 2013 special when Gary Chiusano resigned to become Sussex County Surrogate.
Sussex, Warren and Morris counties have an open primary. There is no organizational line.
Both Oroho and Space are considered potential candidates for Congress against freshman Democratic Rep. Josh Gottheimer in the GOP-leaning 5th district.
The 40th district, which includes parts of Bergen and Passaic, and even smaller portions of Morris and Essex, will likely be even nastier than the 24th. Kevin O'Toole is retiring after ten years in the Senate. Paul DiGaetano, a former Assembly Majority Leader and gubernatorial candidate who is now the Bergen GOP Chairman, is facing off against Passaic County Clerk Kristin Corrado. Running for the Assembly on the DiGaetano ticket are former State Sen. Norman Robertson, and Joseph Bubba, Jr. of Wayne. Maintaining the oddities of Passaic County politics, Robertson won his senate seat in 1997 by beating Bubba's father, then a sixteen-year incumbent. Corrado's running mates are incumbent Assemblyman Kevin Rooney and former Wyckoff Mayor Chris DePhillips. O'Toole is backing the Corrado slate.