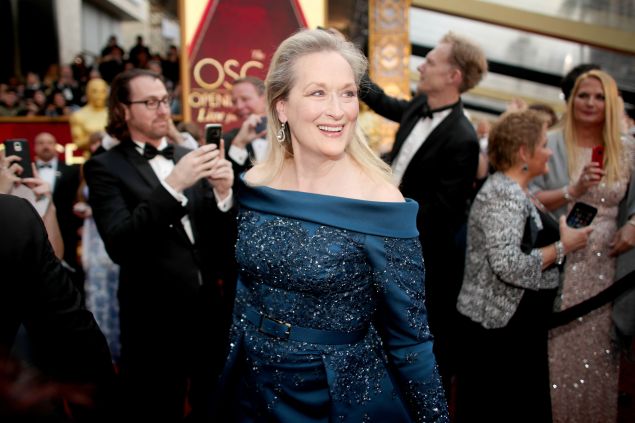 Of all the looks on the 89th Annual Academy Awards red carpet Sunday night, for fashion insiders, one in particular was a must-see. Though she walked in as one of the last notable looks of the evening, when Meryl Streep finally did make her entrance, it was big news. After a terse series of back and forth statements in the press with Karl Lagerfeld and Chanel, the acting legend finally made her appearance in a custom midnight blue, off-the-shoulder beaded and embroidered satin dress over matching trousers. It was all by Elie Saab. It was custom designed, too.
For those who haven't heard by now, Lagerfeld made big news when he pulled the typical backroom conversations of the fashion industry and made them press fodder in an interview with WWD. According to Lagerfeld, after making a sketch and beginning the manufacturing of a custom dress, Chanel was told to stop. The reason? Apparently Streep had found someone else who would provide her with a dress and pay her as a cherry on top.
"After we gift her a dress that's 100,000 euros [$105,000], we found later we had to pay [for her to wear it]," Lagerfeld told Bridget Foley. "We give them dresses, we make the dresses, but we don't pay." And it didn't seem out of the realm of possibility: some celebrities do receive checks for what they wear on the red carpet and Chanel does have a policy of not paying for that sort of thing. But apparently that's not how it all went down.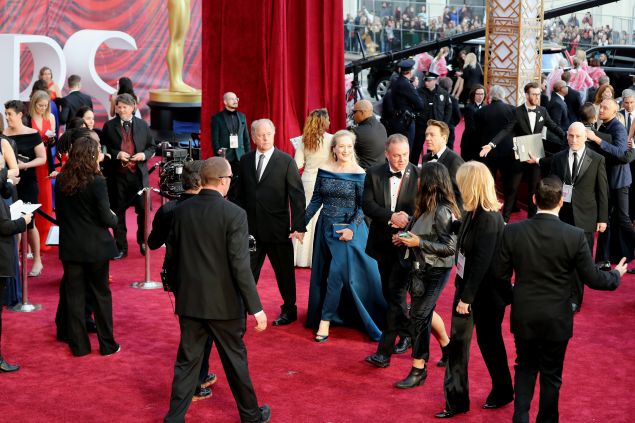 On Friday, Streep's camp set the record straight. Micaela Erlanger, a styling force in the industry, spoke out to Business of Fashion refuting Lagerfeld's telling of the event. "In the case of Chanel's submission, which was presented with full knowledge that Ms. Streep and I — her stylist — were having conversations with various brands, we were shown sketches of a dress from their most recent couture collection," she told Lauren Sherman. "Although [it was] an exquisite gown from the existing collection, we decided to go in a different direction, with another designer." That designer, we now know, was Elie Saab. But Erlanger had more to say.
"At no point were there any conversations regarding monetary compensation," she said. "Nor were any other brands considered based on their willingness to pay for placement. This is not how my company operates and is very much a practice in conflict with Ms. Streep's personal ethics. Any reports or quotes stating otherwise are a complete fabrication." What's worse, representatives for Chanel shortly thereafter went on record siding with Erlanger's recounting of the events. Lagerfeld was now on his own, but things were about to become even more pointed.
Realizing his predicament, early Saturday Lagerfeld released a statement via fax — as he's known to do.
"After an informal conversation, I misunderstood that Ms. Streep may have chosen another designer due to remuneration, which Ms. Streep's team has confirmed is not the case," he wrote. "I regret this controversy and wish Ms. Streep well with her 20th Academy Award nomination." But that was not enough.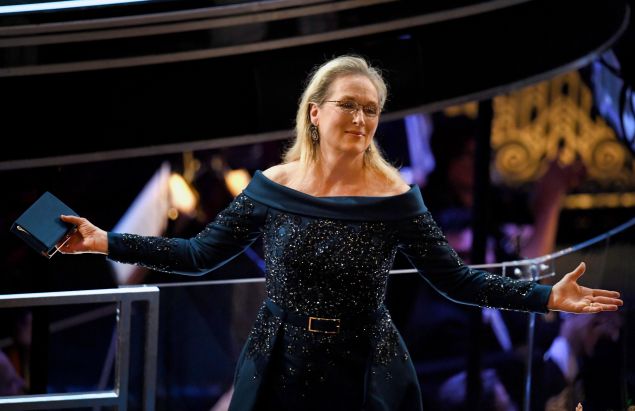 Later that same day, Streep herself finally spoke on the matter. Having made waves for a certain speech she gave about President Trump, her words on this now clearly fabricated scandal were precise. "In reference to Mr. Lagerfeld's 'statement,' there is no 'controversy': Karl Lagerfeld a prominent designer, defamed me, my stylist and the illustrious designer whose dress I chose to wear, in an important industry publication. That publication printed this defamation, unchecked," she said in a statement to WWD, referring to the trade journal as the publication in question. "I do not take this lightly, and Mr. Lagerfeld's generic 'statement' of regret for this 'controversy' was not an apology. He lied, they printed the lie, and I am still waiting."
The scandal is a curious one. It's quite serious as the inference Lagerfeld made, if true, would have spoken to Streep's integrity as a person; he called her cheap in his original statements. But what would cause the illustrious designer to speak out on something that was simply the product of his own self-conjured possibilities? Why get into the squabble?
We only know one thing is for sure: we too are still waiting for the next shoe to drop.