A winter wonderland was recreated last night inside Skylight Modern in Chelsea for Thom Browne's Autumn/Winter 2017 womenswear collection where the American designer brought his refined showmanship. Browne's signature shrunken suits and varsity sweaters were spotted among the room full of loyalists from around the world, including one particularly special guest, Hector Browne, the young wire haired Dauschund who roamed the show space with a GoPro camera attached to his little back.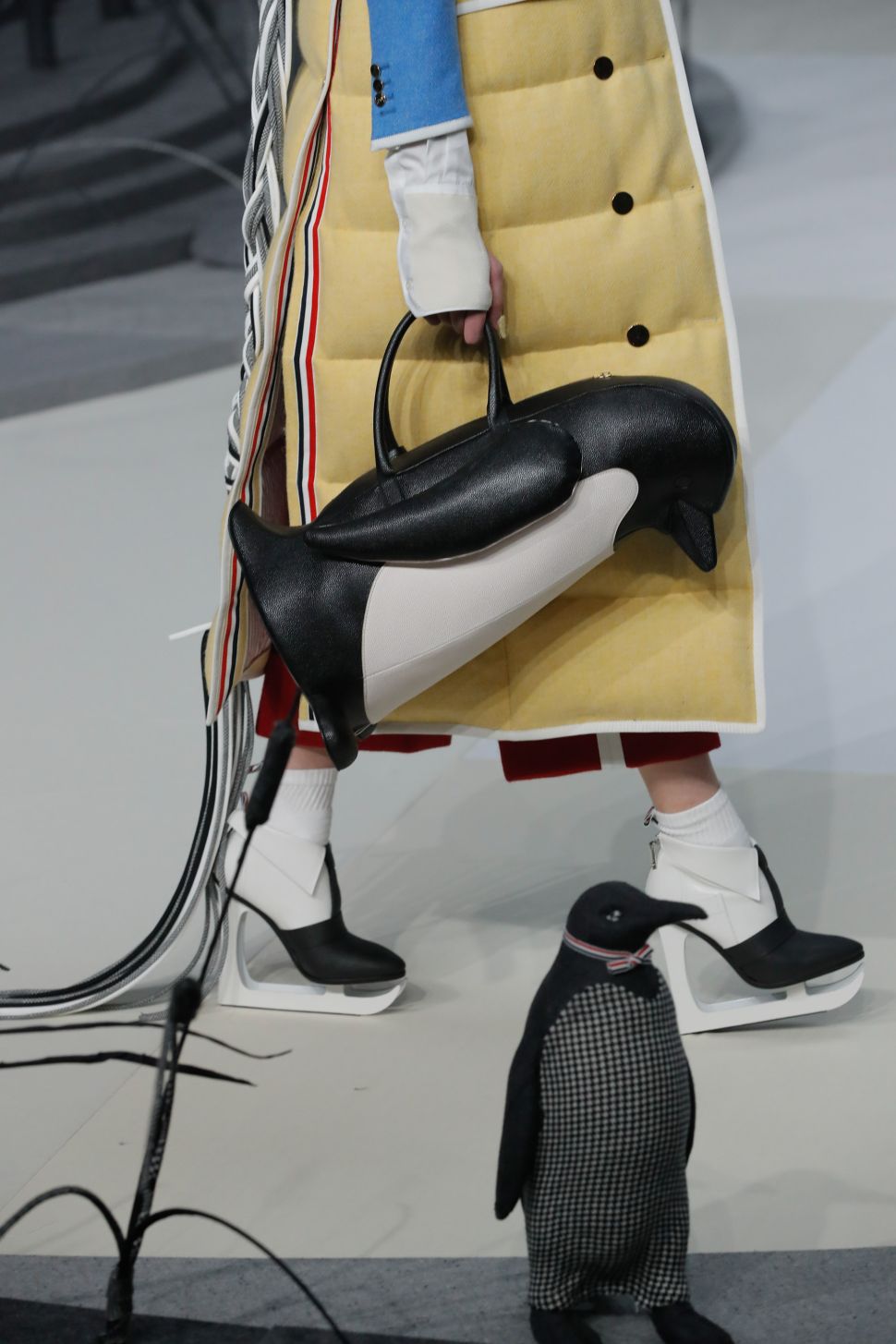 The frozen lake scene might have felt all too literal for a showing of winter-appropriate garments including a puffer coat wedding gown, but the designer's clever eye had chosen to cover the entire scene – from floor to ceiling and even the foliage – in wool suiting fabrics to pay homage to the masterful tailoring work behind each garment. "With womenswear you see so many dresses, and this collection is all tailoring," Browne explained backstage following the show, referencing a fur coat that trumpeted the phrase, "ITS TOO COLD FOR A DRESS." "So I said, 'I'm going to hit everyone over the head with tailoring.' I think women can look very sexy in tailored clothing, so it was all tongue-in-cheek." 
Other standouts that will surely be seen in street style snaps next season included heels in the shape of ice skates, and a new range of kitschy critters. This time around, we saw handbags and clutches resembling a suit and tie combination, and a pair of large penguin-shaped duffles. Also offered up were luxe iterations of the Hector bag, which first debuted in Fall 2016 covered in Nutria river rat fur for $2,000. Now that the petit pooch has proved his worth to the brand, the bag is now available in both mink and brown crocodile.