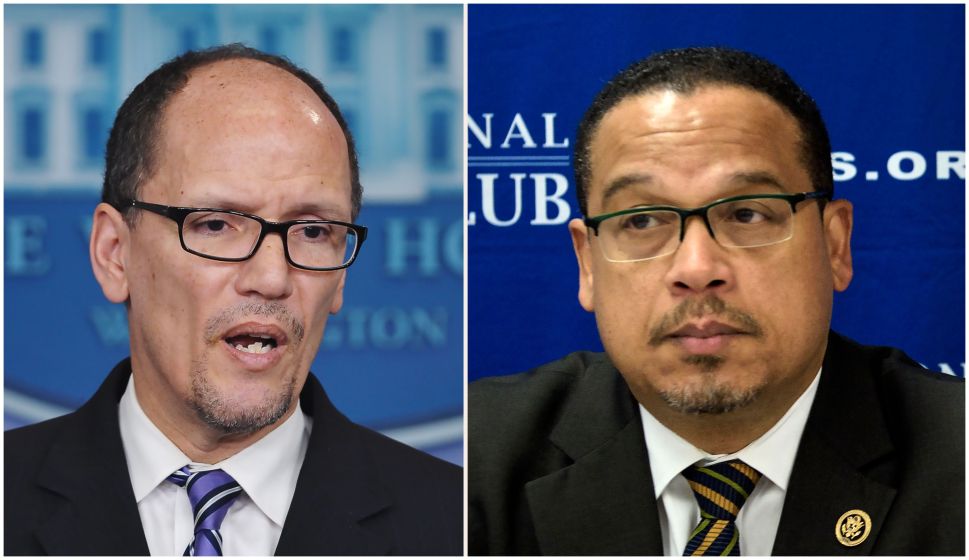 Congressman Keith Ellison announced his bid to run for DNC chair shortly after Hillary Clinton's embarrassing defeat to Donald Trump in the 2016 presidential election. Ellison, one of a small handful of Congress members to endorse Bernie Sanders during the Democratic primaries, immediately became the preferred candidate for progressives. In addition to endorsements from Sanders and Our Revolution, Ellison received some surprising establishment backing, including from Senate Minority Leader Charles Schumer and former Senate Minority Leader Harry Reid. But an apparent progressive becoming the next DNC chair irked many of the Democrats' wealthy donors and establishment leadership, provoking the White House to push for former Secretary of Labor Tom Perez to emerge as the establishment-backed challenger to Ellison.
Despite Ellison making several concessions to the Democratic establishment—including reducing criticisms of Clinton from the left to GOP smears, failing to take any meaningful stances on proposed DNC reforms, and endorsing a billionaire donor's bid to become the Florida Democratic Party chair—he came up short in convincing the pro-Clinton DNC members to elect him as DNC chair.
On February 25, the DNC elected Tom Perez. In the first round, Perez received 213.5 votes, one short vote of winning the election outright against Ellison, with 200 votes. After marginal candidates dropped out, Perez secured the position on the second ballot with 235 votes.
Perez's victory is another slight to the progressive wing of the Democratic Party, which has yet to receive a single concession from Democratic leadership. Wall Street puppet Schumer was elected Senate Minority Leader and establishment ally Nancy Pelosi was elected House Minority Leader. Democratic leaders have resisted any push for reforms or insistence that the Democratic Party turn in a more progressive direction. Today, the establishment made it clear to progressives that they aren't welcome if they don't fall in line behind the party's corporate and wealthy donors.
Today's slight in electing Perez over Ellison just exponentially increased the likelihood of Sanders running for president in 2020. Despite his age, Sanders' popularity makes him an immediate contender for the Democratic presidential nomination. If Ellison had been elected DNC chair, all hope for Sanders would have gone out the window, as it would appear hypocritical for Sanders to run while someone who endorsed his previous campaign ran the DNC—especially after former DNC chair Debbie Wasserman Schultz incited immense criticism for her role in helping rig the primaries for Clinton.
Rather than apologize and extend an olive branch to those Sanders supporters further disenfranchised from the Democratic Party during the primaries, the establishment is doubling down on consolidating its own authority over Democrats to maintain its political power and privilege. Instead of reforming, they do nothing but market themselves in tune with Trump's unpopularity, in an attempt to recoup the losses suffered under Obama's aministration.
With Perez, the Democratic Party is certain to prioritize the interests of Wall Street and wealthy donors, over fighting for and improving the lives of Americans who have been abandoned and betrayed time and time again. The only hope for progressives is in Sanders leading a new party, or taking a more proactive approach to shift the Party into a more progressive direction.