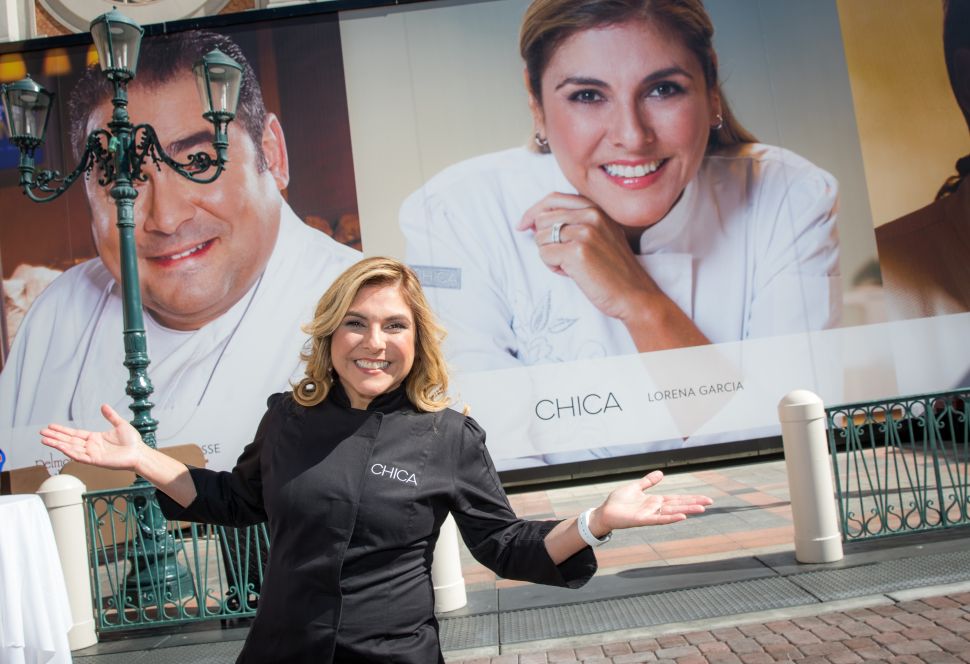 Celebrity chef Lorena Garcia is opening her Las Vegas restaurant, Chica, this spring. But her image already looms large on the Strip.
Garcia, a popular and prolific television chef and cookbook author, got to know Vegas when she was competing in the fourth season of Top Chef Masters. Last week, her photo was added to the larger-than-life chef wall at The Venetian. It's an impressive display, with Garcia joining a boys club of culinary heavyweights like Emeril Lagasse, Mario Batali, Wolfgang Puck and Thomas Keller.
Sheldon Adelson's Venetian takes food seriously. It has its own extravagant culinary festival, Ultimo, where guests have ridden hot-air balloons along with indulging in a Dom Perignon picnic, unlimited caviar and getting behind the wheel of a Rolls-Royce. The Venetian even provided support for the Keller-trained U.S. team that won the prestigious Bocuse D'or cooking competition in France.
With Chica as well as Chinese/Indian/Trinidadian chef Timon Balloo's new Sugarcane, the luxury resort is also making a big push toward bold, multicultural flavors. Chica, taking over the space that was formerly Daniel Boulud's DB Brasserie, will be the Strip's first restaurant run by a Latina chef.
"I'm so grateful to be next to those wonderful chefs who I've looked up to for many years," says Garcia, who was raised in Caracas, Venezuela and has been living in Miami for two decades. "I feel honored to be able to represent Latin cuisine and my culture."
The food at Chica will truly be pan-Latin.
"It's about my time growing up in Venezuela and also all my travels around South America," Garcia says.
The restaurant, a partnership with John Kunkel's 50 Eggs restaurant group (known for Yardbird Southern Table & Bar in Miami and at the Venetian), will have a chilled seafood bar with Peruvian-style tiraditos and ceviches. There will be a rotisserie and grill area, where guests will be able to see the preparation of fish and meats including Argentinian-style churrasco. There will be tamales and, of course, Venezuelan arepas made in a kitchen that will also braise short ribs and serve Mexican and Brazilian food that can be paired with selections from a deep South American wine list.
For chefs, Las Vegas is about making their biggest and wildest restaurant fantasies come true. The ideas behind Chica are things Garcia, who used to run Food Café and then Elements Tierra in Miami's Design District, has been thinking about for years.
Chica will be, like Sugarcane, a festive place where cultures and cuisines blend. And it's all in a thriving casino where guests can extend the party with cocktails at The Dorsey, a new lounge from New York's David Rabin and Sam Ross. The Tao restaurant and nightclub at the Venetian remains tremendously popular, and, as the wall outside the hotel makes clear, there is no shortage of white-tablecloth dining on site. But it's good to see some new energy and flavors.
"It's absolutely a dream restaurant," Garcia says of Chica. "I couldn't be prouder to be able to show people in Vegas my culture."