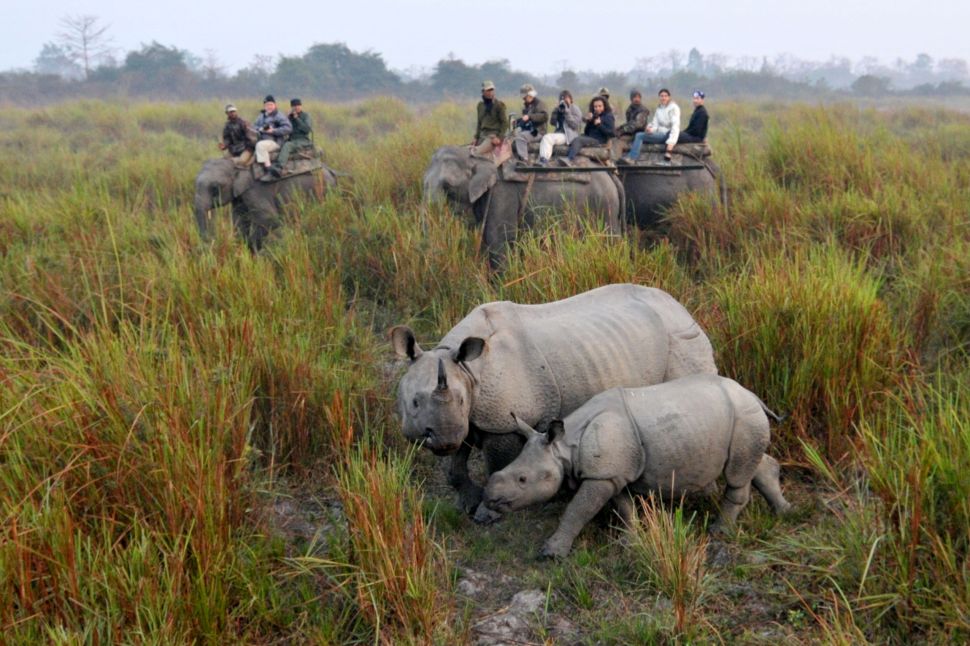 Anyone who has ever spent 10 minutes on Tinder in New York City knows about tiger selfies. The still developing story behind a lot of these photos gets very dark, as Motherboard has been reporting. The terminally socially unconscious who pay for photo ops with stoned-out big cats will have to look harder online for a way to buy tickets to these experiences, though, because popular travel portal TripAdvisor hasn't been selling them since the fall.
The fact that the site has quit ticketing places where humans have direct encounters with wild animals went from being a one-and-done news note to an actual story—with conflict and a narrative—after a press release circulated by an organization called the Center for Consumer Freedom. It announced a new website called BadTripAdvisors, which calls on people to boycott the site because it has quit selling tickets to elephant rides, dolphin swims, photo ops with baby tigers and the like.
BadTripAdvisors focuses on TripAdvisor consulting with People for the Ethical Treatment of Animals as it moved toward eliminating this vein of ticketing. "No company, including TripAdvisor, should take advice from PETA and change its policies to hurt consumers and businesses," the organization's Will Coggin said in the press release.
CCF has, in the past, targeted organizations like the Humane Society, those working to combat obesity and wrote an open letter to Maya Angelou and others after they joined the Mothers Against Drunk Driving's board of directors. According to his LinkedIn profile, Coggin works for Berman and Associates, a DC public relations firm that once made a valentine to fossil fuels. The company's president, Richard Berman, is also the executive director of CCF.
PETA was not the only organization that pushed TripAdvisor to bring about the policy change however. When the company announced the shift in an October press release, it included quotes from 12 different organizations. The first three quotes came from a travel agent group, an association of zoos and wildlife researchers.
Before October, TripAdvisor already had a policy against selling tickets to events where animals were intentionally killed, such as bullfights. In fact, it went a bit further: it didn't even list those attractions for visitors to write reviews. After a series of conversations with a variety of organizations, the company agreed to expand its animal policy, though its review channel still lists encounter attractions so that users can write reviews.
The Observer found one dolphin swim attraction that still had tickets listed with it, but after pointing it out to TripAdvisor while discussing the new policy, the site moved to take the ticketing off the page. Some attractions may still be up because they had a contract with the company that ran through some point this year.
"We're still selling general admission tickets to thousands of attractions that still include captive animals," Brian Hoyt of TripAdvisor's communications team explained, such as zoos, marine parks and sanctuaries.
The company is currently working on a new website that contains information from a variety of perspectives, including both the attraction industry, researchers and animal rights organizations. When visitors look at a captive animal attraction, there will be a paw print on the page that will link out to more information about the pros and cons of captive animal attractions.  The new site should go up in English by the end of March, Hoyt said, with translations available in other languages going live as they get finalized.
While PETA wasn't the only organization involved, the Observer reached out because it was singled out. "PETA frequently works behind the scenes to influence animal welfare policy," Stephanie Shaw, the organization's corporate liaison explained in a phone call. This campaign was one in which it never needed to use the more public tactics the organization is known for. "This decision will affect hundreds of attractions worldwide," she added.
As a private sector company, one would think that TripAdvisor should have the right not to do business with any sort of company it wants (just like movie theaters pick and choose among films and clothing stores pick and choose among brands). "The whole idea of TripAdvisor is that it's a forum for regular people to get tips from other regular people," Coggin wrote in an email, via a spokesperson. "When TripAdvisor corporate starts saying what's OK and not OK—based on the opinions of fringe activists—then that ruins the usefulness for the average person."
CCF did not answer a question about who has backed their campaign, but Hoyt said, "We're fairly confident that it's a group of aquariums that are backing this."
CCF has more digital and traditional advertising planned to promote the BadTripAdvisors message going forward. If we had to guess, those forthcoming ads will only end up generating more on balance positive attention for PETA, TripAdvisor and the other groups it collaborated with as it updated its animal policy, without doing anything to put ticketing back on the pages of attractions that lost it.