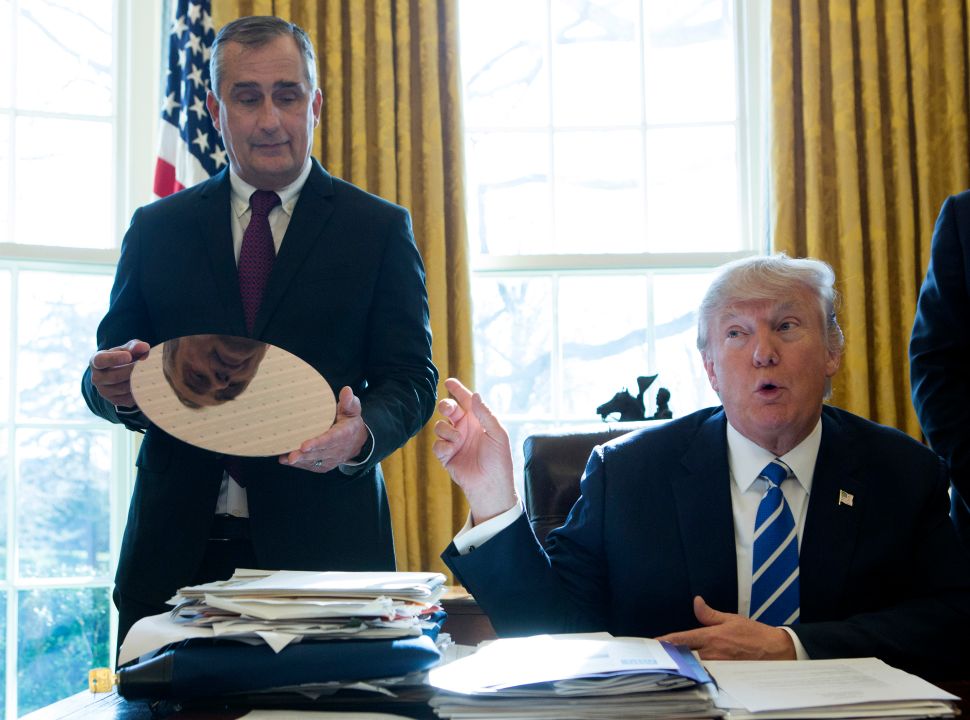 This post is from "Last Week Was a Beta," the Innovation channel's technology news week in review.
It must be frustrating running Twitter.
Last week, Intel announced it would spend $7 billion on a factory in Arizona because it's afraid of the President's tweets. In fairness, it didn't announce that it was afraid of his tweets, but that's how it looks. Ever since the then president-elect's wrestling match with Carrier over a factory relocation, primarily conducted via the microblog, big companies have been cautious about announcing moves against American workers. Intel, for its part, seems to have picked a way to get out ahead of any presidential ire. Not only did it not announce any firings, it went out of its way to let the president be seen getting credit for adding jobs.
This looks like what financiers would call a hedge. Odds are, Intel knows it might later make moves the president doesn't like, but the president might be less inclined to call the chipmaker out after he and its CEO have shared this special moment.
CEOs hesitated to speak up until they knew they wouldn't have to go it alone. If they'd condemned it one by one, they knew there would be tweeted consequences.
Intel would probably quibble with this characterization of its decision, but here's what's clear: the company announced the factory investment in an Oval Office press conference coordinated with the president, as The New York Times reported. This president has been one of the most ardent users of his office's bully pulpit in recent memory, and Twitter has been a great tool for him to work applying that public pressure into his day. He doesn't have to organize a speech, call a press conference or even step out of his office. All he has to do is pick up his mobile and type a message out.
It doesn't always work, though. The president also went after Nordstrom last week for dropping his daughter, Ivanka Trump's, clothing line. In the end, the retail chain seems to have come out ahead in the altercation, but who wins and who loses in a social media tête-à-tête with the commander-in-chief comes down to who a company's customers are, as Bloomberg explained.
It's also worth adding that Intel probably also coordinated with the president in order to score points as the White House pursues major policy changes, such as a complete restructuring of how corporate taxes work. For example, House Republicans have been actively pressing the administration to consider changing America's tax structure away from a profit-oriented tax and focusing solely on money earned inside the US border. Multinationals like Intel would want a place at the table as deals like this get considered. Theater like last week's factory announcement gives the company a bargaining chip for access.
But Intel, like every other major company, also doesn't want to be the target of a Trump tweet storm. We saw that reticence a week ago as the tech industry finally came out as one condemning the president's immigration order. CEOs hesitated to speak up until they knew they wouldn't have to go it alone. If they'd condemned it one by one, they knew there would be tweeted consequences.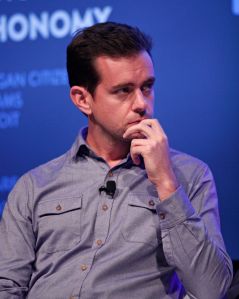 So if the service is so powerful, why can't it make money? Twitter earnings for the last quarter came out last week. Not only did it miss its target by $23 million, it lost $167 million. These steep losses came during Twitter's prime time: the US presidential election. Twitter's fiscal year runs the calendar year. It's fourth quarter started on September 30, according to Yahoo Finance. During the election, Twitter was in the news nearly every day thanks the new President's frequent tweeting during the campaign. If Twitter can't make money during its prime time, when can it make money?
In fact, Twitter lost $457 million for the year.
Contrast it with the news from Facebook last week. Facebook turned 12 this month, but has only now finally showed signs of actually letting its customers verify the statistics the company uses to charge them. Last week, we reported on very public remarks by an executive of Procter & Gamble who said the company just won't buy ads on sites that don't have a third party verifying their statistics. Those remarks seem to have hit home. Menlo Park announced plans to give its advertisers more confidence in its numbers, but even with frustration growing, Facebook still makes lots of money.
So even with bungled numbers and frustration in corporate America was turning against it, the world's dominant social network ended the last quarter of 2016 with $3.5 billion in net income.
That's pretty good, but it's still half as much as Intel plans to spend because (at least in part) it doesn't want the White House sending any derogatory tweets its way. Seen in that light, one has to wonder if CEO Jack Dorsey isn't sitting around asking himself how he can get in on his own company's action.