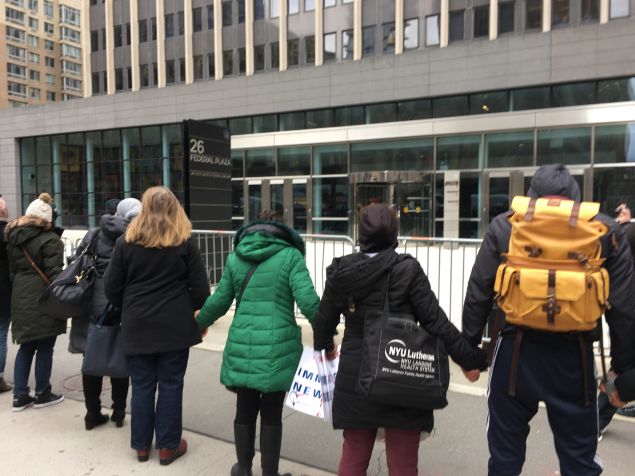 Immigration and Customs Enforcement has arrested roughly 40 foreign nationals in the greater New York area, according to a leaked memo a local activist group obtained—hours after another advocacy organization reported that ICE officers arrested five Mexican nationals on Staten Island in the past week and a half.
The document, dated February 11, states the arrests were a normal function seeking  "immigrant fugitives, re-entrants and at-large criminal aliens." But the actions took place against the backdrop of President Donald Trump's executive order in January that expanded the scope of federal deportation deportation efforts—and of raids that took place across the nation last week.
"ICE deportation officers conduct targeted enforcement operations every day in locations around the country as part of the agency's ongoing efforts to protect the nation, uphold public safety and protect the integrity of our immigration laws and border controls," the sheet reads.
An ICE official confirmed to the Observer that the document and its claims are authentic.
The memo states the agency would provide reporters with final statistics and photos on Monday. It also noted that the statistics refer to all ICE arrests in five boroughs and the surrounding areas from Monday through Friday.
It also alleges that nearly 95 percent of the individuals taken into custody had criminal convictions, while roughly 5 percent did not.
"This operation targeted public safety threats, such as convicted criminal aliens and gang members, and individuals who have violated our nation's immigration laws, including those who re-entered the country after being deported and immigration fugitives ordered deported by federal immigration judges," the.
Immigration authorities have so far arrested hundreds of undocumented immigrants in at least six states.
Trump's executive order expanded the categories of undocumented immigrants paperwork that federal authorities would single out for arrest and expulsion. Rather than concentrating on people with violent criminal convictions as former President Barack Obama did, ICE has now received instruction to apprehend undocumented immigrants if they have ever been accused of any crime, even "where such charge has not been resolved."
Trump has also signed fiats that call for the construction of a wall on the Mexican border and the slashing of federal funds for so-called "sanctuary cities," which provide a safe haven to undocumented immigrants.
New York City is a sanctuary city, meaning that the NYPD and other public agencies do not inquire about a person's legal status during normal interactions, and do not honor federal requests that it detain nonviolent offenders. Under Mayor Bill de Blasio, the city even booted ICE offices from Rikers Island.
Yet none of that prevents ICE from independently taking action within city limits—as Steven Choi, executive director of the New York Immigration Coalition, the group that released the memo, noted online.
Neither the mayor's office nor the governor's office immediately responded to requests for comment.
The ICE memo says that the U.S. Attorney's office would criminally prosecute some of the individuals arrested during the operation "for illegal entry and illegal re-entry after deportation." Those not subject to prosecution will be "processed administratively for removal from the United States."
The sheet continues that those who have outstanding deportation orders or "who returned to the United States illegally after being deported, are subject to immediate removal from the country." And they added that the remaining individuals are in ICE custody awaiting either hearing before an immigration judge or travel arrangements for removal in the near future.
In his first interview as president-elect, Trump said that he would deport or incarcerate up to three million undocumented immigrants who he claimed are "criminal and have criminal records, gang members, drug dealers." Experts anticipate that his executive order could affect as many as eight million people, more than two-thirds of foreign nationals who entered or who have remained the United States without authorization.
Make the Road New York reported in a press call last night that ICE officers had struck on Staten Island on February 2, February 3, February 5 and February 5. Rumors have swarmed online of similar actions in Jackson Heights, Queens and Bushwick, Brooklyn, though they remain unconfirmed.
ICE denied in the memo it had made any random or arbitrary stops or arrests, maintaining its enforcement has been pinpointed on violent criminals and repeat offenders.
"All reports of ICE checkpoints and sweeps are false, dangerous and irresponsible," ICE said. "These reporters create mass panic and put communities and law enforcement personnel in unnecessary danger. Any groups falsely reporting such activities are doing a disservice to those they claim to support."