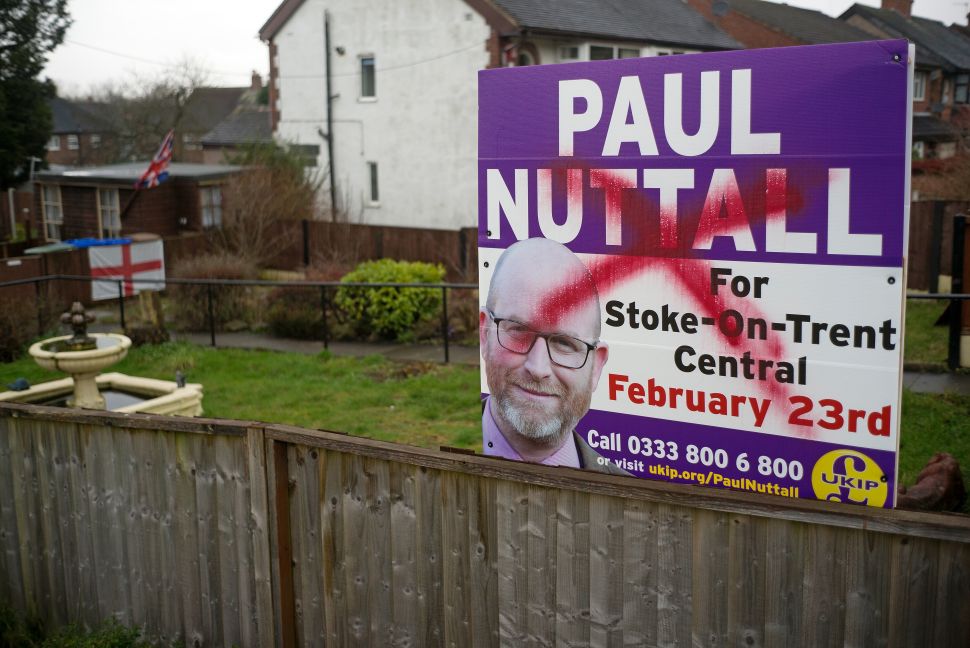 Where did it all go wrong for UKIP? The party was riding high after getting nearly four million votes in the UK's general election and securing Brexit. But, while former leader Nigel Farage took his lap of honor at CPAC, his former party suffered a humiliating electoral defeat.
The battleground was Stoke-On-Trent, a working class town known for being the home of British pottery and Robbie Williams. The seat had previously been held by the Labour Party, but conventional wisdom was that, with 70 percent of its citizens supporting Brexit, it would be an easy win for UKIP. The UKIP were so confident that they fielded their new leader, Paul Nuttall MEP.
Nuttall always said that he would move his party from competing with conservatives in Southern England to challenge Labour in the Midlands and the Northern heartlands. His theory was that Brexit showed how dissatisfied these voters were with the status quo. They were repeatedly offered liberal policies on immigration that that they opposed.
Nuttall shares Farage's opposition to these policies but doesn't have the private school baggage of his old boss. Nuttall is from Bootle, the poorest part of Liverpool, which is one of the poorest cities in England.
He believed he could appeal to voters like himself: the disaffected northern working class who are bored of the "metropolitan elite" that have taken over the Labour Party. But it was clear last night in Stoke when the votes were counted that he failed to convince them.
In fact, Nuttall was not only been beaten by a pro-European Labour candidate, but he was within 79 votes of being in third place behind the Conservatives.
His campaign was dogged by problems. Perhaps the most damaging was the revelation that his website published false claims that he had "a close friend" who died during the 1989 Hillsborough Stadium disaster (in which 96 Liverpool fans were crushed to death due to police incompetence). Hillsborough is like the third rail of British politics; touch it, and you die.
UKIP's problems run deeper than the party leader claimed. Nuttall is the second person to succeed Nigel Farage; the first person lasted less than a month before she walked out complaining the party was ungovernable.
Once Brexit had been achieved and Nigel Farage retired, the party seemed to lack a clear aim. It's as if the party has nothing to live for, especially due to the increasing appeal of the new Conservative Prime Minister Theresa May, which took a seat off Labour last night.
UKIP has a future if the party can get its act together, and after Stoke, there are worries that Paul Nuttall is not the man for the job.
Andre Walker is a Lobby Correspondent covering the work of the British Parliament and Prime Minister. Before studying journalism at the University of London he worked as a political staffer for 15 years. You can follow him on Twitter @andrejpwalker