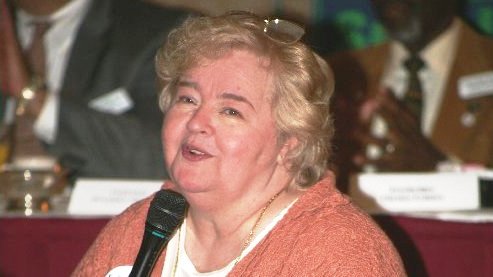 Every Democrat who has even mulled a statewide race over the last two decades has made the pilgrimage to the cigarette smoke-filled home of Charlotte DeFilippo, whose raspy voice, motorized scooter and extraordinary political acumen made her a legend in New Jersey politics. The longtime Union County Democratic leader died today at the age of 72.
From her dining room table on King Street in Hillside, DeFilippo made and broke political careers. She helped Elizabeth Mayor Thomas Dunn beat a young upstart named Raymond Lesniak, and then became a huge booster of Lesniak's political career.  She was among the first Democratic chairs to endorse Jon Corzine for the U.S. Senate in 2000.
A former Freeholder, Hillside Municipal Clerk and labor organizer, DeFilippo led the Union County Democratic organization from 1995 to 2013, and ran the Union County Improvement Authority from 2000 to 2013.  Under her leadership, the once-competitive county became solidly Democratic. Democrats were undefeated during DeFilippo's reign; Republicans have not won a countywide race in Union since 1994.
DeFillippo's reign came to an end in 2013, after Christie administration officials criticized the salary and benefits packages in her county job.  She strongly defended herself amid those accusations, but decided to resign to put an end to the issue. She cashed in about $142,000 in unused vacation time. Two years later, DeFilippo was beaten in her bid for re-election as the Hillside Democratic Municipal Chair.