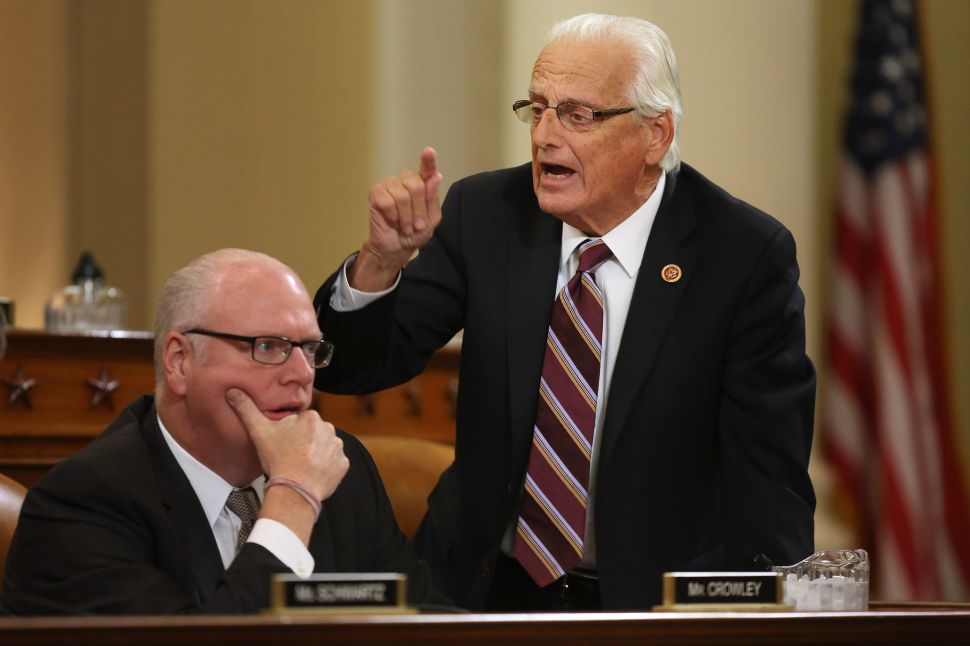 The must-read story for the political class this week is "The Rise and Fall of a K Street Renegade" from the Wall Street Journal. In brutal, delicious detail—the $2,000 bottles of wine (buy one and the second is free!), the $300,000 mahogany speedboat called Mulligan (a golf term to go with the eight private golf club memberships)—Brody Mullins details the spectacular rise and tragic fall of pharma lobbyist Evan Morris. Morris lived a life that would make Jack Abramoff blush and the article suggests that consultants who participated in the kickback scheme could face "fraud or other charges," with federal prosecutors already showing evidence to a grand jury.
The lobbyist himself, however, won't be facing any charges. Morris, just 38 and with a bottle of Petrus by his side, shot himself in July 2015, just as Roche lawyers finally noticed massive amounts of money being paid to consultants who seemed to be lining Morris' pockets in return.
Naturally, for a political story this juicy, there's a Jersey angle. The story includes a passage in which Morris helps the Washington trade group Biotechnology Innovation Organization hire former Secretary of State Hillary Clinton for its 2014 convention. She received $335,000 for her appearance and he arranged additional six-figure donations to the Clinton Foundation. But that largesse was simply a continuation of earlier Clinton-reflected glory, which brings us to Hudson County.
One paragraph of Mullins' piece reads "After a 2010 fundraising event he organized for a Democratic lawmaker at the Bayonne Golf Club in New Jersey, Mr. Morris invited donors to meet and take photos with Mr. Clinton, who had just finished a round of golf."
That tantalizing tidbit was even tastier for not naming the "Democratic lawmaker." PolitickerNJ can now confirm that the passage refers to Bill Pascrell, the Congressman from what was then the 8th District (he now represents the 9th). The old 8th District included the town of Nutley, which was home to a sprawling site owned by Roche and subject to much controversy when the company shut the plant—and its 1000 jobs—in 2012.
On Sept 9, 2010, according to Pascrell's FEC Form 3, Morris contributed $2380, bringing his total for the cycle to $4780. That amount exceeded the $2400 max, but donors are allowed to make relatively small additional donations of food and beverages as "in-kind" donations. Indeed, this overage is listed on Pascrell's form as "In-Kind: Golf Club Fundraiser."
The Morris event hadn't even been planned to feature the former President. Apparently, Bill Clinton, who had long been close to Pascrell and got even more so in 2008 when Pascrell endorsed Hillary even as neighboring Congressman Steve Rothman backed Barack Obama, happened to be golfing there and stopped by to press the flesh with Pascrell donors.
According to a Pascrell spokesman, Tim Carroll (a PolitickerNJ alum, as it happens), "It was our event." Clinton happened to be there and greeted the Congressman's supporters. "Clinton came by after the event – he had been golfing that day."
According to Ron D'Argenio, the attorney for the Bayonne Golf Club, Clinton was there celebrating his 64th birthday at the club—a favorite of New Yorkers because of its ferry-ride proximity to lower Manhattan. He was playing a charity fundraiser "All money raised was for his Foundation," according to D'Argenio, and "There were about 60 golfers."
So the mystery is solved—Bill Pascrell was the beneficiary of some Evan Morris beneficence and got a lucky break when the popular former president—whose wife Pascrell had stood by two years earlier in the 2008 primary—just happened to be there while Pascrell hosted a fundraiser. Two years later, when Pascrell was in a brutal deathmatch with fellow incumbent Congressman Steve Rothman after redistricting compressed their districts, Clinton repaid the favor, campaigning heavily for Pascrell in a rare instance of picking a horse in a contested primary between two incumbents.
There's another interesting tidbit here and it brings us to page 128 of Congressman Frank Pallone's 185-page FEC filing from Q3 2010.

In the summer of 2010, long-serving Monmouth Congressman Pallone (D-6) was facing the first real rough patch of his otherwise charmed path down I-95 to Washington. It was the year of the tea party and voter anger was trained on Democrats in Congress after the narrow passage of Obamacare. However the CD6 Republican primary turned out – it pitted self-funder Diane Gooch against tea party firebrand Anna Little— things promised to be harder for Pallone than his usual Saddam-like numbers in the ultra safe D-leaning 6th.
Buried amid the eye-glazing paperwork is a disbursement of $2350 on July 8, 2010 from Pallone for Congress to Evan L Morris of Alexandria, Va. The listed purpose of disbursement is "Food & Beverage." This means Morris must have held a fundraiser for Pallone, as well. This kind of disbursement by a campaign is typical when expenditures on food and drink exceed the maximum contribution limit an individual can make.
For instance, the limit for federal candidates in 2010 was $2400 per election. Since Pallone did not have a primary opponent, Mr. and Mrs. Morris could contribute only $4800 as a couple (donations are often given in pairs by married couples). A donor is also allowed to donate a certain amount in-kind—like the cost of the food if an event is held in one's house. But if the value of the food exceeds the limit of the donation-and-in-kind total, the campaign is required to return the overage to the donor.

Such a disbursement would be a great way for a corrupt lobbyist to launder a few bucks into his own pocket. Suppose John Smith hosts an event at his home for Congressman Jones. Smith works at big pharma company XYZ. Smith hosts a party that costs $20,000 and XYZ foots the bill, but the campaign is only allowed to accept in-kind of $15,000. The Jones campaign cuts a check for $5000. But Jones doesn't write the check to XYZ Corp; they write the check to Mr. Smith. Boom – big donation made and Smith winds up with a decent-sized check.
There is no indication that Pascrell or Pallone were in any way involved with the shenanigans that led to Morris' tragic end. Representing a state with substantial pharmaceutical concerns—in addition to the shuttered campus in Nutley, Roche still operates the largest polymerase chain reaction site in the world in Branchburg—it's no wonder powerful pharma co's seek to influence them.
Just a few months before he killed himself, Morris wrote to Reps Fred Upton (R-MI) and Diana DeGette (D-CO), the founders of 21st Century Cures, to congratulate them on the effort, on behalf of Roche and Genentech. A week later, Upton and Pallone—the chairman and ranking Democrat on the Energy and Commerce Committee—got a letter from Joel White, president of Clear Choices, an "Informed Health Care" movement; Andrew Rosenberg of the CME Coalition sent Upton and Pallone a similar letter. This is how things happen in Washington.
It's also of interest that Bill Pascrell III, the ultra well-connected son of Congressman Pascrell who is sometimes mentioned as a possible successor to his father and a perennial on the PNJ power list (he was 42 this year) works for powerhouse lobbying firm Princeton Public Affairs Group. That's interesting because Genentech, which is owned by Roche, paid PPAG $66,537 in 2010, and hundreds of thousands more in subsequent years.
Again, there's nothing particularly untoward about that. It takes a lot of money to run a modern campaign. Unless America wants its elected officials all to be millionaires, they have to fundraise. A lot. And lobbyists, for all the vitriol directed at them, perform a valid function, one that dates back to the founding of the Republic; The Federalist Papers can easily be considered an "outside lobbying faction" but no one dares speak ill of Alexander Hamilton, James Madison and John Jay.
When Morris paid $3.1 million in cash for his mansion on the Eastern Shore of Maryland, Mullins says he told his friends it's the "house that Tamiflu bought." That's a funny line. Ultimately, the most surprising thing in this mesmerizing profile of Evan Morris, is the mountain of evidence that proves that lobbyists aren't any different from anyone else.
This story has been updated to add comment from Ron D'Argenio of the Bayonne Golf Club.