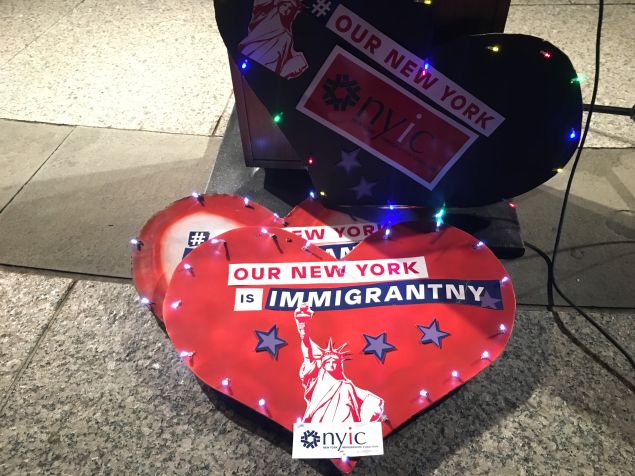 Roughly 300 New Yorkers turned out to show "love" for immigrants at a Valentine's Day rally in Foley Square to express solidarity with the more than 600 undocumented individuals arrested in U.S. Immigration and Customs Enforcement raids in New York and throughout the nation last week.
Last week, ICE launched a series of targeted enforcement operations across the country it says targeted public safety threats such as "convicted criminal aliens and gang members" and people who have violated immigration laws, according to Homeland Security Secretary Kelly. ICE said officers in the Los Angeles, Chicago, Atlanta, San Antonio and New York City areas arrested more than 680 individuals—75 percent of whom they said were convicted of crimes such as homicide, aggravated sexual abuse, sexual assault of a minor, battery and assault.
The "Our New York is Immigrant New York" rally, hosted by the New York Immigration Coalition—which has organized a number of recent actions—sought to express solidarity with those now facing prosecution and deportation.
"On this Valentine's Day, we are showing up. We are showing up to say that our New York, in our New York, love fights back and love wins," Muzna Ansari, the group's immigration policy manager, said, noting that families have been torn apart. "New Yorkers, including immigrants and their allies, we are here today to vow to stand up against these vicious attacks on our community. We vow to love and protect one another."
Ansari also noted that Trump is exploring other ways to reinstate his executive order barring entry to people from seven Muslim-majority countries, after the West Coast's Ninth Circuit Court of Appeals upheld a temporary restraining order preventing its implementation.
On Sunday, NYIC released a leaked ICE memo it obtained stating that the agency arrested about 40 foreign nationals in the greater New York area. An ICE official confirmed its authenticity to the Observer.
That memo stated that nearly 95 percent of the individuals taken into custody had criminal convictions, while about 5 percent did not. Just hours prior, Make the Road New York—another liberal immigrant advocacy group—announced that ICE officers arrested five male Mexican nationals on Staten Island in the past week and a half.
Carlene Pinto, NYIC's immigration campaign manager, got the crowd to chant slogans to support immigrants, refugees and Muslims. Protesters yelled, "No hate, no fear! Muslims are welcome here!," "No hate, no fear! Refugees are welcome here!" and "No hate, no fear! Immigrants are welcome here!"
And at one point, Pinto asked people to turn around, lift their hands in the air and yell "Let them in!" at the Jacob K. Javits Federal Building—where the U.S. Department of Homeland Security's New York City office is located—which stands near Foley Square.
Manhattan Borough President Gale Brewer called Trump's executive orders "un-American" and noted that immigrants own 83,000 businesses in the city and constitute 40 percent of the city's workforce. And she also said that immigrant communities bring $100 billion a year into the city.
"We're gonna stand up to a bully," Brewer said. "We're gonna remain, as the mayor has stated, a sanctuary city and we're gonna look out for our neighbors. Make no mistake: those people in the White House, they want all of us to be scared. We are not scared, we have each other's backs."
Murad Awawdeh, NYIC's director of political engagement, stressed the importance of repeated protest, noting that NYIC and others have demonstrated regularly since Trump's inauguration.
"When you're coming to these spaces, please come with the intent that you are here because you love everyone and that you want to protect your neighbors," Awawdeh said. "The reality is that we wouldn't be spending Valentine's Day together if we didn't love each other, right?"
Awawdeh described a "mass hysteria" that prevailed over the weekend thanks to social media rumors that claimed ICE raids were taking place at train stations in Jackson Heights, Bushwick, Sunset Park or in other parts of the state—without verifying the information.