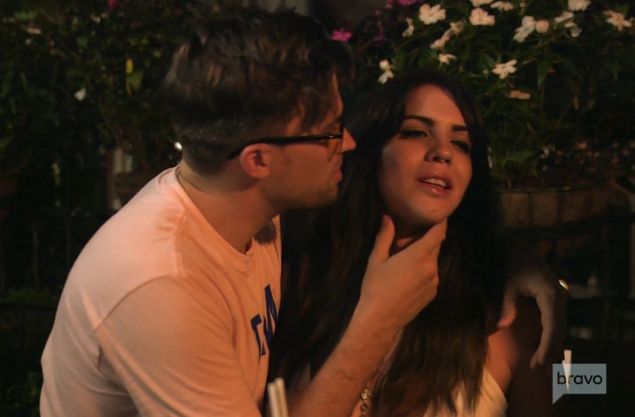 With a month left until the wedding of Katie and Tom Schwartz, it's time for the joint bachelor and bachelorette party. Yes, the contentious gang will be traveling across the country, as a group, to celebrate together. What couldn't go wrong? But first, it's time for a just-because pool party in Scheana's hometown.
The crew heads out to Azusa, where cheap beers (that's two weeks of product placement, Coors Light; don't think we didn't notice) and tacos at Scheana's mom's house can't make everything better. Schwartz is rocking a salmon pink cover-up. Why? As he explains, "It's what says I've given up on the day," and who wouldn't feel that way at a pool party of one's closest friends a month before their wedding? Most people. That's already not a good sign. Katie, meanwhile, has let her anger stew over Schwartz's "defense" of Tom Sandoval and Ariana. It seems like their crime is being friends with Lala, but it's definitely just an excuse to fight. Lala, the SUR host and erstwhile member of the group – who has since disappeared – undeniably had bad things to say about Katie whenever she had an opportunity. But she tried apologizing, and she's also gone. Why would Katie want to hang on to that?
Honestly? Because Katie is a grudge holder, and her fiancé is too scared to stand up to anyone. Neither one wants to admit the relationship is in trouble, so she picks the easy fight. After all, Schwartz doesn't defend Katie when their friends hang out with someone who trashed her. He also doesn't defend himself when Katie attacks him. He's adorable – but wants to charm his way out of handling serious situations head-on. That's a bad look for a 30-something about to marry the supposed love of his life. And now, all of their friends – who frequently bear witness to the couple's tequila-soaked brawls – are decamping to the dirty south to celebrate their pending nuptials.
Fortunately, the parties get a smooth start in New Orleans. Stassi is psyched to bring her crew to her hometown, though the excitement quickly dissipates when she realizes happy couples surround her. (The breakup with Patrick is still fresh enough to sting. Or maybe she's just Stassi. At this point, it's hard to say.) Predictably, the effusive Bourbon Street atmosphere isn't enough to sustain this dysfunctional group, so it's not long before the drama begins to seep in. In talking heads, Katie and Stassi confess that they can't get on board with Ariana pinging between the bachelor and bachelorette gangs. As established last week at their failed dinner date, Katie is still hurt by Schwartz's decision to include Ariana in his groomsmen party. Katie's friendship with Ariana had been rocky for most of the year, so she intentionally left her out of her bridal party for sheer piece of mind. And to have her fiancé turn around and pick Ariana up like she's on a friendship waiver wire? That's offensive. Legitimately hurtful, borderline callous, and straight-up offensive. Does this couple even like each other, or are they afraid of being alone? Is being in a not great relationship, but still married, somehow better than facing your 30s without a partner at all? Vanderpump Rules is not exactly making the case for marriage, here. But now that Ariana has seemingly patched things over with the girl gang, she's floating between the bridal party and the groomsmen crew in New Orleans as she pleases. And the girls don't seem to like that. It is not clear why.
After dinner, drinks, and being hit in the face with beads, one would think that the night is drawing to a close. But this is Vanderpump Rules, so they're just getting started. In one corner, we have Brittany and Stassi. Stassi, who overfloweth with beer tears, is letting the realities of the evening hit her. Brittany pulls her aside to offer a perfectly tanned shoulder to cry on, but unintentionally summons Jax in the process. In the last year, it's seemed like Brittany has tamed the monster in Jax, but sitting him at a table with his ex, in her hometown, is like a recipe for southern friend disaster. Brittany falls silent as Stassi and Jax tearfully rehash the details of their relationship. Oof. At one point, Stassi reveals to the camera that Patrick's unwillingness to spend time with Jax took her away from her friends and drove a wedge into their relationship. Somehow, this pulls an emotional response from Jax – a genuine one – and he offers a heartfelt apology to Stassi for all of the insane, horrible things he did to her over the course of their relationship, six or so years ago. Stassi accepts, and moves on with her night – so this leaves Brittany to confront Jax. Where are Jax's tears for her? Why can't he apologize for their fights, or the way he treats her now? Why does he have such an easy time being genuine to an ex-girlfriend, but can't say sorry for arguing with her one time? We may never know.
Inside the bar, meanwhile, Tom Sandoval and Ariana have taken it upon themselves to divide and conquer the bride and groom-to-be. Sandoval approaches Katie, and Ariana approaches Schwartz, in a well-intentioned attempt to fix what's broken in their relationship. And, surprise! Neither one takes it well. As we've seen a million times, Katie would rather dig her heels in and blame everyone in a five-mile radius rather than work to get through a problem. Schwartz just hopes that a giggle and a kiss on the cheek will repair months (years?) of unresolved issues. They're not good at communicating – like we saw last week, they don't even listen to each other – and their friends-slash-scapegoats interfering at a tacky Bourbon Street bar isn't going to solve anything. At this point in the show, they're three weeks away from walking down the aisle. We know they do get hitched IRL, but all this does is make viewers nervous for them.
And what's going on in LA? Who cares! Just kidding, Lisa Vanderpump; we're always dying to know what you're up to. How's the service at SUR, with your least reliable bartending and serving staff all out of town at once? Probably exemplary. Ex-busser and ex-DJ James Kennedy is not part of the New Orleans trip, which leaves him crawling on his hands and knees to ask Lisa for a job without the watchful eyes of SUR's resident Mean Girls. Mercifully, she shuts him down. She doesn't want him to spin at SUR on Wednesdays, and she also shuts down his counter offer of working Pump on Fridays. Lisa did not come here to play. James rolls his eyes, turns red, and scoffs – he hates being told "No," which is amazing, because he's like 23 going on 10 – but the real highlight comes when he hears Lisa say she'd like to see him stay sober for a year. And that's before she'd even consider bringing him back, even for one night a week.
Will James ever be humbled? Will Katie and Schwartz have an honest conversation? Will Brittany leave Jax? Is Ariana actually cool, or just standoffish and mean? Next week's episode is the Bachelor(ette) Part, Pt. 2, so hopefully we'll get some answers. Also, if James fell out of the show entirely, that would be just fine with us.