They said it looks, cooks, smells, sizzles, tastes and even bleeds like ground beef, and they were right. The Impossible Burger, the buzzed-about burger from Silicon Valley lab Impossible Foods—which Bill Gates invested in and Google already tried (and failed) to buy for $300 million—is indistinguishable from ground beef. I tried it, and if I hadn't been told what I was eating, I definitely would've been fooled. I can't say it was the most delicious burger I've eaten in my life, but it was very good and far surpassed my expectations for what a 100 percent plant-based burger that's suppossed to imitate meat would taste like.
That's the review I wrote the first time I tried the Impossible Burger, when it made its restaurant debut last July at Momufuku Nishi in NYC. While served in David Chang's own special sauce, the lettuce and tomato gave it the feel of a classic American burger. But today I tried two new Impossible burgers crafted of pure decadence that prove the company's "meat" isn't a lab experiment, but rather a sophisticated culinary ingredient that can be dressed up and drizzled with high-end ingredients and even served in a Michelin-starred restaurant.
Acclaimed chef and restauranteur Brad Farmerie partnered with Patrick Brown, Impossible Foods founder and CEO, today in announcing that tomorrow, he'll begin serving his own versions of the Impossible Burger at two of his NYC restaurants: Saxon + Parole and PUBLIC, which will be the first Michelin-starred restaurant to feature the meat substitute. It will also be featured at The Daily, PUBLIC's adjacent sister bar, where it will actually replace the beef burger currently on the menu.
"We've always been trying to push the creative edge, to find ingredients that are new and different," Farmerie said at the launch event. "We've been awarded a Michelin star and James Beard Awards and many other accolades we're very proud of, and it's allowed us to really push creatively. When I first heard about Impossible meat, I thought this is something I really want to check out."
At PUBLIC, the Impossible Burger (pictured above) will be served on a seeded bun topped with muhammara (hot pepper) aioli, white cheddar, watercress, frisee and house-made relish, served with a side of crispy shoestring potatoes.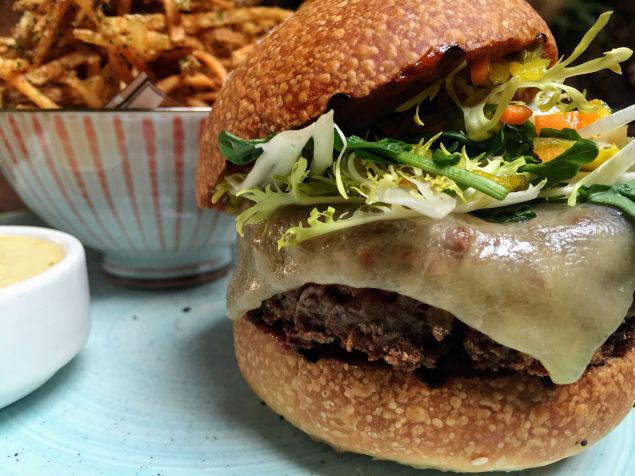 And then there's the truly lavish take on The Impossible Burger at Saxon + Parole. Served with a side of fries, it comes topped with both mushroom and truffle sauces, sherry-braised onions, oyster mushrooms and the traditional lettuce, tomato and onion. The addition of these two eateries puts the Impossible Burger in seven restaurants across the U.S.
While $182 million in the making and the product of five years of development in a Silicon Valley food science lab, no new technology or product was invented to create this "meat." Those resources have simply gone to figuring out, on a molecular level, what makes meat so delicious. The team discovered it's a molecule called leghemoglobin or "heme," which they found can be sourced from yeast rather than meat. Everything else that goes into it can be found in most kitchens—the main ingredients are: water, coconut oil, protein from wheat and potatoes as well as natural flavors and micronutrients.
Impossible Foods' mission is to transform the global meat system to be more sustainable. And now that it's launching in more and more restaurants, their burger can make a huge dent: opting for one instead of a regular beef burger will save 75 square feet of land, enough water for a 10 minute shower and the amount of greenhouse gasses emitted into the air from an 18 mile drive.
But if we're talking about more wholesome eating and the public's growing desire for foods that are not just better for the planet, but more natural and healthy for us as well, where does the Impossible Burger fit, which is manipulated in a lab, fit in?
"People think it's made in a lab and so there might be some fishy stuff going on there, but that's completely erroneous," Brown said. "If you just think about the whole history of food from day one, all the foods we eat involve deliberate choices to use specific parts of plants or animals and choosing the most delicious and nutritious parts and combining them in a way that it's more about the sum of the parts….That's all we're doing with Impossible Food. There's nothing synthetic and nothing processed."
The Impossible Burger launches at Saxon + Parole, PUBLIC and The Daily tomorrow.