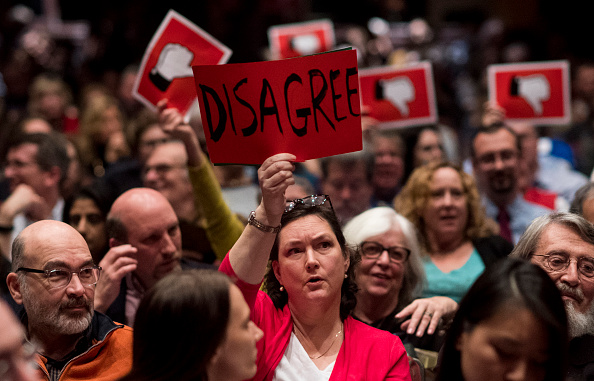 All over the country this week, members of congress have been facing the public in boisterous town hall events. On Wednesday night, Congressman Leonard Lance (R-7) became the only Republican member of New Jersey's congressional delegation to hold such an event, one that positioned him squarely in front of constituents unhappy with the first month of President Donald Trump's administration.
During his Wednesday event, Lance answered questions on Trump ranging from whether or not the congressman feels the president should report his tax returns to questions about the proposed border wall. According to reports, more than anything else, discontent was apparent in the room.
Ben Dworkin, associate director of Rider University's Rebovich Institute for New Jersey Politics, said that reactions to town hall events like the one held by Lance are indicative of a fledgling movement among Democrats who may continue to struggle with the actions of the Trump administration. According to Dworkin, Republicans like Lance are likely to face significant pushback if they support unpopular policies.
"I think the election of Donald Trump has certainly inspired a lot of emotion on both sides of the aisle," Dworkin told PolitickerNJ. "People who were not previously as involved or engaged are now stepping up and seeking out meetings and responding when someone invites them to participate. That will just build."
According to Dworkin, while it is still early to know exactly where Democrats opposed to Trump are heading, the dissatisfaction they feel sets up the potential for the rise of opposition on the left, similar to how the Tea Party emerged for Republicans in 2009. Dworkin said that at the very beginning of the Tea Party movement, there was anger before eventual focus on issues like reducing government spending emerged.
Matt Hale, associate professor of politics at Seton Hall University, said that since Democrats have yet to coalesce around a singular issue, it is hard to draw parallels to the Tea Party at this time. He did say, however, that he feels that growing discontent  with the Republican Party could lead to shifts for long entrenched Republicans like Lance in the 2018 midterm elections.
"If things don't calm down about Donald Trump, I do think there could be some shifts," Hale said. "That being said, I think that both Lance and [District 11 Congressman Rodney] Frelinghuysen are both generally well respected. I don't think that either one of them is in an enormous amount of jeopardy but I do think it is possible because the anger at Trump is so palpable."
Dworkin said he believes that it is unlikely Lance's position will face a significant challenge by Democrats in the 2018 midterm election due to the Republican-leaning nature of his district. According to Dworkin, any potential impact will be determined by the actions of the Republican majority Congress ahead of that election.
"It really depends on what Republicans in congress do and how upset people will or won't be with that they do," Dworkin said. "It really depends on the record of congress over the next two years, not over the last month."
Lance will hold a second town hall event at the Raritan Valley Community College on Saturday.