With the recent approval in Los Angeles of George Lucas' proposed $1 billion Museum of Narrative Art, yet another collector will now be able to affix his name on a museum devoted to what he did with his money. When built in the city's Exposition Park area, the museum will house the filmmaker's personal collection of art and film memorabilia.
Los Angeles has its share of these, with The Broad (Eli Broad's Contemporary art museum in the city's downtown) that opened in 2015 and the Marciano Art Foundation (Guess co-founders Paul and Maurice Marciano's Contemporary art museum, also downtown) that will open later this year.
Seeing a collector's name on a museum should come as no surprise to New Yorkers, who are used to the Frick, the Whitney, the Guggenheim and the Rubin museums of art. Floridians have become accustomed to the Perez Art Museum (formerly the Miami Art Museum until Jorge M. Perez made a "generous leadership gift"). But the collections of those institutions are composed of donations and purchases from a large number of art collectors rather than from just one person. The Norton Simon Museum in Pasadena, California, and (Armand) Hammer Museum at the University of California at Los Angeles also fit into that group. On the other hand, the permanent collection of the Brant Art Foundation in Greenwich, Connecticut, which opened in 2009 and is accessible to the public by appointment for guided tours, was largely assembled by Peter Brant.
In what increasingly is being called the Second Gilded Age, we've seen a growing number of single-collector museums. The history of these types of institutions reveal some hurdles that the founders, or those who seek to maintain the vision of those founders, must overcome in order to make these museums viable entities for the long run.
The Terra Museum of American Art might be an object lesson in what single-collector institution should not do. Formed by chemicals magnate Daniel J. Terra (1911-96) from his 700-work paintings, sculptures and works on paper collection in his home town of Evanston, Illinois in 1980, the Terra Museum was moved to a cramped 8,000 square-foot space on Chicago's Michigan Avenue seven years later. Five years after that, selected paintings from the collection were transferred to France to form a second museum, the Musée d'Art Américain Giverny. However, neither museum was able to draw enough visitors, and an effort to once again move the Terra Museum—this time to Washington, D.C., by the founder's widow—led to a lawsuit and finally the Chicago museum's closure in 2004. In 2009, the French one closed as well. The artwork all went into storage, occasionally lent out to the Art Institute of Chicago, which probably should have been the collection's destination in the first place, and the Terra Foundation for American Art chose to focus exclusively on grantmaking, which probably should have been its sole mission in the first place.
Perhaps the most renowned instance in which a single-collector museum collapsed under its own weight is the Barnes Foundation, whose founder Dr. Albert Barnes similarly set up his collection of 2,500 works of Impressionist, Post-Impressionist and Modern art in a museum in the town of Merion, Pennsylvania, open to a limited number of people just two days per week. (In the 1960s, the Pennsylvania Attorney General's office prodded the Barnes as a tax-exempt educational institution to be a bit more accessible to the public, but entry was still quite limited—100 visitors per day). As a business model, it hardly looked promising, and by 2002 the Barnes' Board of Trustees, facing a rapidly declining endowment, petitioned the courts to amend the institution's charter to permit a move to Philadelphia where a number of foundations and philanthropists had pledged $150 million to erect a new building and endow the transplanted institution. That new building opened to the public in May 2012 (without all those restrictions) and could not have been further from the wishes of Dr. Barnes who wanted nothing to do with what he say as snooty Philadelphia society, but continuing the course that Barnes originally had set was no longer possible.
On the other hand, some less promising single-collector institutions have succeeded. The collector's taste may be exquisite, the objects lovely to behold, but the core of this person's collecting remains the same from one visit to the next. So why would anyone go there twice?
That's a question facing every single-artist and single-collector museum and historic house. You don't want visitors to say, "Now, I can check that off the list. I don't need to go back." One and done. Repeat visitors, who are the people most likely to become members and donors, are the financial backbone of any museum, requiring institutions to find ways to bring people through the doors again and again.
Take, for instance, the Hillwood Estate, Museum and Gardens, a 36-room Georgian-style mansion on a 25-acre estate in the Northwest section of Washington, D.C., that 68 year-old socialite and philanthropist Marjorie Merriweather Post bought in 1955 in order to showcase her collections of Russian Imperial art, Sevres porcelains, vases and chalices, as well as English and French paintings, sculptures and tapestries. She died in 1973, and "Hillwood" opened four years later, dedicated to presenting "Marjorie's commitment to very fine objects," according to Hillwood's director of marketing Lynn Rossotti. Visitors to Hillwood could see objects where Post had originally placed them, and the $10 million endowment that she left for the museum in 1973 would have to underwrite all the costs of running the place indefinitely.
That endowment was invested wisely, rising to over $200 million at present, but by the 1990s even the interest income on that "could no longer maintain the building, the objects and the grounds" as adequately as before, said Kate Markert, executive director of Hillwood since 2010, "and we couldn't grow it." "Growing it" meant renovating the mansion, building a visitor's center and keeping up with the display gardens, and it also meant creating changing exhibitions of objects from the collection and from other sources. "Not all Marjorie Post all the time," she said. Growing it also refers to the number of visitors and members; annual visitor totals doubled in the past 10 years from 30,000 or so to just over 80,000 in 2016, while memberships increased by almost a quarter, from 1,400 in 2010 to 4,300 in 2016.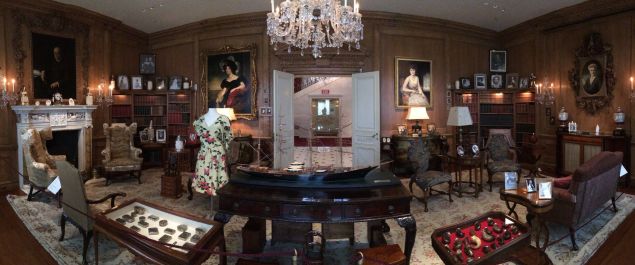 More people coming through the doors and onto the grounds bring in more money, and it requires more money spent on new and different things to see and experience that bring visitors back and make some of them into members. At present, 85 percent of the operating budget is derived from the endowment, with the rest earned from admissions, memberships and donations. "When I started here, I said that I wanted to robust special exhibitions programs," she claimed, noting that exhibits increase attendance. All of this has required Hillwood to change its original business model, which relied on strictly limited hours and only a small number of visitors (110 in the morning, 110 in the afternoon) who had to make prior reservations.
Hillwood isn't alone in this. The Nasher Sculpture Center in Dallas, Texas—which opened on a two-and-a-half acre site adjacent to the Dallas Museum of Art in 2003 and focuses primarily on sculpture by such American and European artists as Pablo Picasso, Henry Moore, Alberto Giacometti, David Smith, Henri Matisse, Aristide Maillol, Alexander Calder, Barbara Hepworth, Claes Oldenburg and Donald Judd that was collected by Raymond Nasher, a real estate developer, and his wife Patsy—makes sure that visitors have something new to look at and think about every time they come. "What you'll see today is substantially different than what you saw three months ago," said the museum's director Jeremy Strick.
"Vanity" is a word that gets used a lot in the single-collector museum field, not in a positive way. "It is important to me that this not be a vanity museum," said Judy Greenberg, director of the Kreeger Museum in Washington, D.C., the former residence of David and Carmen Kreeger that features their 19th and 20th century paintings in their Philip Johnson-designed house and sculpture-filled gardens on the five-and-a-half acre grounds. "We want to keep the Kreeger from being a one-and-out."
Just as at the Nasher, the museum takes an expansive view of how the Kreegers' collecting tastes and artistic interests should be honored. "The Kreegers were very supportive of Washington artists and the local artistic community," Greenberg said, which has led the museum to stage exhibits of the work of area artists, some well known (William Christenberry and Sam Gilliam) and some not. The Kreegers were both amateur musicians, and the museum organizes an annual three-day chamber music festival, as well as other concerts during the year. Additionally, there are gallery talks and artists brought in to speak about their work and talks about literary subjects (for instance, Who wrote Shakespeare's plays?) and programs for public and private school children, even events for people with Alzheimer's disease (who come with their caregivers)—making sure that something always is going on.
"It would have been a catastrophe to have just donated their collection to other museums," Greenberg said. "It would have been scooped up, and it wouldn't have its own sensibility." That sensibility is the intangible element in a single-collector museum: The artworks have its own importance and meaning, but a collection both reveals those qualities and the taste of the person who purchased them.
The tough part is striking the right balance between a focus on the donor's collection and the larger world (of people whose interest in a particular collection or artist is limited, of potential visitors whose first question is, What's new?). Single-collector museums that have thrived have done so by expanding their presentation and programming. If "vanity" is a word that is used disparagingly in the single-something museum world, so is "mausoleum." Michael Conforti, former director of the single-collector Sterling and Francine Clark Art Institute in Williamstown, Massachusetts, and former president of the Association of Art Museum Directors, noted that a "mausoleum is not sustainable, because the program must be varied and vital enough to keep people interested." And to get them to come back.