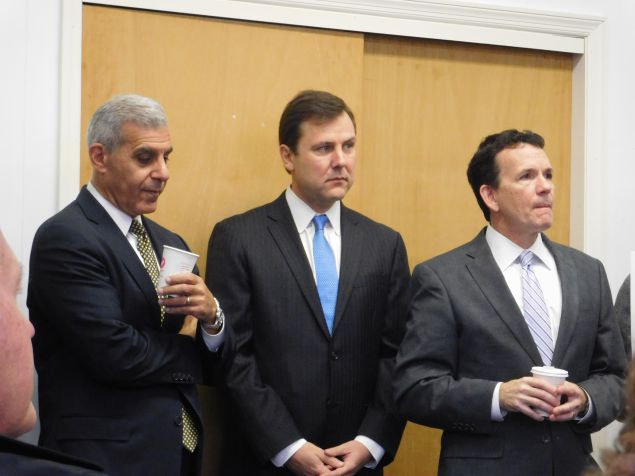 Republicans Amy Handlin and Declan O'Scanlon have declared their intentions to pursue the soon-to-be-vacant state Senate seat in New Jersey's 13th legislative district. But will their race make it all the way to the June primary or be resolved before the April deadline to file with the New Jersey Election Law Enforcement Commission (ELEC)?
According to Monmouth University pollster Patrick Murray, it is likely that instead of waging a messy and expensive primary battle in the Republican-leaning district, one of the candidates is likely to pursue re-election to the Assembly instead of the move to the Senate. Murray said that a deciding factor will be who gets the support of the Monmouth County Republican Committee.
"I am pretty sure that one of them will drop out before April and stick with their Assembly seat," Murray said. "There is no animosity between them. It is more important to see who has the support of the Republican community leaders in that district. We will know that before the April filing."
Matt Hale, Seton Hall University Associate Professor of Politics, said that both Handlin and O'Scanlon are likely to face significant pressure from the party to go into June as a unified team.
"I think there is going to be a lot of pressure on both Handlin and O'Scanlon to figure out who is next and whose turn it is," Hale said. "I think that only people who are involved in party politics care about, are interested, and know anything about this particular race. That means they are going to have a lot to say about who gets to stay in the race and who stays in the Assembly."
Due to O'Scanlon's fundraising lead, Hale said he believes that party support is likely to tip in his favor.
"Last I heard, O'Scanlon had more money than Handlin," Hale said. "That is a pretty good indicator of which candidate you might expect to stay around longer."
According to Handlin, her entrance into the June primary will be dependent on party support for her nomination.
"I have said since day one that I will run for the state Senate if and only if I have the support of the party and the party convention. That is the position I have communicated to every single member of the county committee as I have knocked on their doors," she told Observer.
Handlin said that she will abide by what the county committee decides ahead of the June primary because she understands the value of moving forward as a unified party, especially considering legislative losses New Jersey Republicans have faced in recent elections.
"We must be unified around a ticket that stands for what the party believes in," Handlin said. "It is entirely up to the county committee. It is their decision at the party convention and I will abide by their decision."
While Handlin said she is flexible, O'Scanlon said he fully intends to be the nominee for Senate come June and that he will not consider running for re-election to the Assembly. Like Handlin, however, O'Scanlon said that there is value in having a unified party ahead of the election.
"The sooner parties coalesce the sooner you can get a ballot moving forward looking at fall campaigns," O'Scanlon said.
While the Assemblyman said he would not entertain another run for Assembly, he did say that he will run with whoever the county committee deems to be the right running mates for his ticket including, possibly, Handlin. So far, Monmouth County Freeholder Serena DiMaso, Middletown Mayor Gerald Scharfenberger and Fair Haven Councilman Robert Marchese have all expressed interest in filling out the ticket according to O'Scanlon.
"I will run with whomever the county party decides will be my best running mates," O'Scanlon said.
The deadline to file to run in the primary is April 3. The primary will be held June 6. The Republican convention in Monmouth County does not yet have a set date but will likely be held mid-March.