"[Luka Sabbat] hit me on Twitter two years ago because he had seen some of my photography," Noah Dillon, a photographer, told the Observer Tuesday night at Milk Studios. "I was living in Colorado and he was all 'meet me in LA next week, I wanna do this project.' So I quit my job and met him in L.A."
Sure, it was a bit of a dramatic move, but that impulsive decision has resulted in the collaborative creation of two books, an Off-White campaign, a gallery show, an unprecedented residency at Milk Studios and a new business venture. All of which falls under the Hot Mess umbrella.
To put it frankly, Sabbat is an influencer. Specifically, he rotates in a sphere of influence that surrounds A$AP Mob and Kanye West. Rubbing shoulders with the likes of Jaden Smith, the Jenner sisters and Zoë Kravitz is a daily occurrence for him. In fact, on Monday, at his much discussed talk at Columbia University, Virgil Abloh namechecked him.
"I love the idea of Luka Sabbat wearing the WOMAN crewneck from Off-White," said Abloh, the creative director to Kanye West and founder of the brand Off-White.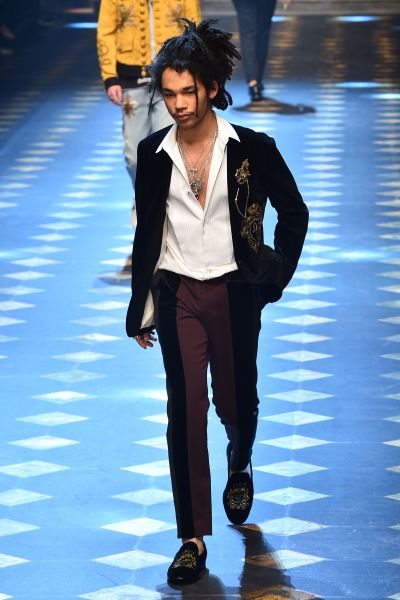 "I never went for being an influencer," Sabbat said on Tuesday, referring to the contemporary, social media-affiliated definition of the word. "It was never my end goal; I just wanted to be creative and travel. I guess kids thought I was relatable because they liked my outfits, so then when I transitioned to being that, it was kind of weird. I felt pressured to dress better and post more pictures, but then I got used to it and it became part of my every day."
The teen's status as an "Instagram influencer" has garnered him a handful of lucrative deals. He's posed as a model for brands like Dolce & Gabbana, Opening Ceremony, Stüssy, Adidas, PacSun and Ovadia & Sons, being labeled a "cool teen" by most. He was also one of the models chosen for West's Yeezy Season 1 presentation. And yet, despite all of those hip accolades, just last summer when Sabbat tagged along with friends to the American Image Awards, the crowd of older industry types didn't recognize him. It was only after his New York Times profile was pointed out to the PR that he was asked to walk the red carpet.
***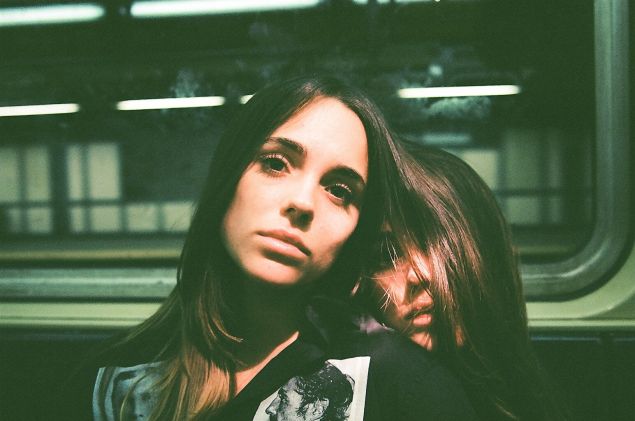 "We are the next LVMH, we are the next Antwerp 6," Sabbat declared, namechecking fashion industry power players, while lounging on a couch at Milk Studios. That "we," includes Sabbat and Dillon, who received their very public launch as Hot Mess Thursday night; their gallery show was also entitled "Hot Mess."
"Not even kidding," Dillon butted in. "All of these old heads wouldn't take a chance on us but [Mazdack] Rassi believed in us; Virgil believed in us and we shot a fire book." And it's true. Rassi, a co-founder of Milk Studios gave Hot Mess the literal keys to Milk for the venue's first residency of it's kind. In a takeover that will run through Saturday, the pair have integrated themselves into every aspect of Milk, editing the company's site, hosting their own exhibition, creating VR material in the space's new system and hosting intimate music events in the basement JamRoom.
"I'm beyond excited to support the creative endeavors of Luka Sabbat," Rassi said via release. "We've been watching Luka for years now, and believe in his vision and talent. We look forward to seeing what Luka has in store for his takeover and are happy to have him a part of the Milk family." That takeover began with the the gallery show opening on Wednesday night, which drew the likes of A$AP Rocky, Tyler the Creator and Cardi B.
Installed in the gallery was an exhibition of the work Dillon shot in L.A., right after he quit his job to join Sabbat two years ago. After L.A., the pair traveled to New York and Paris, with Dillon as photographer and Sabbat as art director.
"It's not fashion shoots, it's just shoots," Sabbat clarified, even though the images do employ Sabbat as stylist. The images are presented in sections, each one delineating separate shoots. Parisg3 shows a model dressed in a red slinky dress and a red car, presumably shot in Paris. Within the series, a shot titled Parisg3 016-003, features the model emerging from the car; it could easily be used as an ad for either the car or the dress. Another section, entitled Blue Hair, features images of a neon sign broadcasting "JESUS SAVES" and discarded condoms; a Love series shows affection between a young couple. Dinner is a series of photos of teens at a dinner.
"I didn't know much going into it. I just trust his vision," Phoebe Joseph said at the opening. Joseph was the central model in the Chinatown series; the shoot took place two years ago on school nights, while she was still a junior in high school. She was scouted and contacted through Instagram DM by a friend of Sabbat's, as all of Hot Mess' models were. Now, Joseph is signed, along with Sabbat, to the ReQuest Models agency in New York. 
Also at the opening were two limited edition copies of the first books Hot Mess has created. WOMAN, the shimmering hardbacked pink book was printed by Off-White's publishing arm, Fine Press. It was a result of the Hot Mess, an unbound, full-bleed self-published venture.
"I sent [Abloh] a photo from the shoot that we were doing and he was like 'Oh I need you to shoot this campaign tomorrow,'" Sabbat explained. The inspiring photo was from a shoot that appears in Hot Mess featuring a model wearing an Off-White piece. "He was like 'When do you leave?' and we were like 'Tomorrow.' So we shot the campaign."
And that's the overall effect that the team hopes the Milk residency will have. "This is just a step to be like 'Yo look at all this cool stuff we did. Now we can take it to your platform and do the same for you,'" Dillon revealed. "All these corporations are trying to market stuff to people our age and yet they are refusing to let us create it for them." Hopefully the exhibition images, books or even the capsule collaboration, which features pieces like a hoodie with two hoods, sweatshirts with phrases like "From a place you cannot see comes a sound you cannot hear" and an olive coat, can accomplish that goal. But for Sabbat, there's another agenda.
"I'm trying to redefine what an influencer is, because I know so many influential people who have no follower counts," he said. "An influencers not just about having a lot of followers. It's like if you're an 'influencer' and all you're posting is makeup kits, like what are you influencing bro? There's different levels. I'm trying to turn an influencer from influencing you to just buy shit, to actually doing shit."