The Women's March on Washington was almost a month ago, when just under 5 million people worldwide grouped together to stand in solidarity for women and a variety of issues stemming from the inauguration of President Donald Trump. This article is part of our Marching On series about activists who are keeping the momentum going.
Emily Mattes, a graduate student in chemistry at the University of Pennsylvania, wore a lab coat to last month's Women's March on Washington, as did many of her fellow female scientists. As the group of about 50 people marched down the National Mall, many people asked them why they had "dressed up" for the event.
"It was like we couldn't possibly all be scientists," Mattes told the Observer. "The fact that female scientists exist can be surprisingly non-obvious to people."
Moments like this, along with the perceived anti-science bias of President Donald Trump's administration, are what convinced many female scientists to demonstrate in the first place. And in conversation with several marchers, it's clear that the need to educate people about both scientific truths and the importance of gender diversity in science is what will drive the community's advocacy going forward.
The group 500 Women Scientists has been at the forefront of this movement. It was founded in mid-November after organizers Jane Zelikova and Kelly Ramirez (who declined Observer requests for comment) emailed their colleagues for ideas about how to respond to "the anti-science sentiments expressed during the presidential campaign."
The main vehicle for these anti-science sentiments, according to the group, is President Trump himself, who has said (and tweeted) that "global warming is a total and very expensive hoax…created by and for the Chinese." The Trump administration also deleted almost all references to climate change from the White House website.
As such, the initial 500-person email chain became an open letter to all women scientists, which so far has been signed by over 15,000 people.
"Our work as scientists and our values as human beings are under attack," the letter reads. "We fear that the scientific progress and momentum in tackling our biggest challenges, including staving off the worst impacts of climate change, will be severely hindered under this next U.S. administration. Our planet cannot afford to lose any time."
'It's kind of crazy that we have to advocate for science at all, but that's the political climate these days.'
The letter was shared widely on social media, attracting people like Mattes and Wendy Bohon, a seismologist based in Washington, D.C., who joined the movement to advocate for inclusivity in science.
"It was a great opportunity to encourage diversity and show that scientists aren't all pale, male and stale," Bohon told the Observer.
Both women also saw 500 Women Scientists as a way to support scientific fact, something neither of them thought they would ever have to defend.
"It's kind of crazy that we have to advocate for science at all, but that's the political climate these days," Mattes said.
"The scientific process isn't perfect, but it's pretty darn good," Bohon added. "Every administration needs to value science and use the preponderance of evidence compiled by experts in the field."
To prove that facts, like women in science, matter, Bohon and Mattes joined their colleagues outside the National Air and Space Museum on January 21. Bohon brought her 11-year-old daughter to the march to show her that protests could be "peaceful and inclusive and empowering."
She also went viral for the sign she held at the march, which declared that "science is not a liberal conspiracy."
"I wanted to prove that the best decisions you can make personally and politically are made using the best information you can get," Bohon said.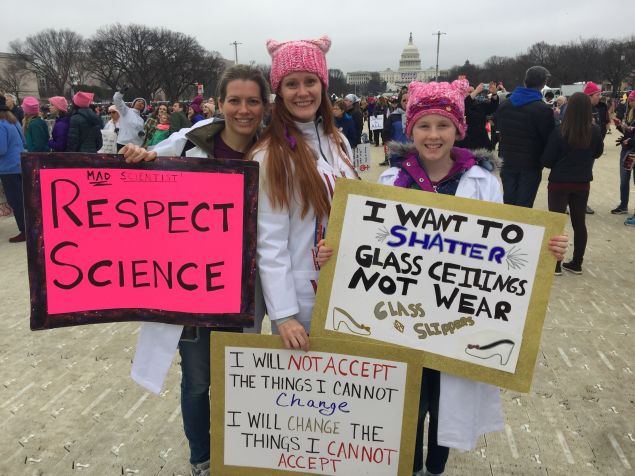 Mattes likewise used the march as an opportunity to repudiate Trump's bogus scientific claims.
"The widespread acceptance of so many things he says underlines how far this country has come from using fact-based evidence to establish opinions about different topics," Mattes said. "Political beliefs are based on what one wants to be true rather than what's actually true."
This battle against "alternative facts" didn't end with the first march—Bohon and Mattes said that 500 Women Scientists would continue calling congressmen and senators, and engaging in grassroots science education, so the group's message is heard.
"I hope to see the community engaging both policy makers and the general population more," Mattes said.
"We'll do what we can to make science happen," Bohon added.
Both women, along with the general science community, also plan to protest again as part of the March for Science, which will be held on April 22 (Earth Day) on the National Mall, with satellite marches across the country.
"This movement is big, and it's growing," Bohon said.
"Everyone needs to jump into the pool at this point," Mattes concluded.
---
Marching On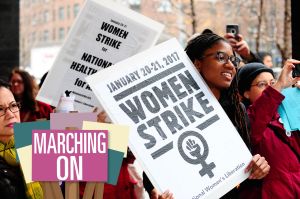 Activist Paulina Davis | For the Activist Who Grew Up Seeing Black Women Lead, Women's March Is Familiar Terrain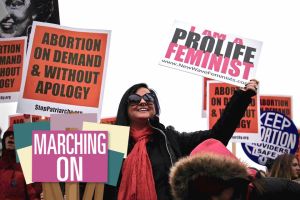 New Wave Feminists | Pro-Life Feminist Fights to Keep Women Empowered, Connected to Health Care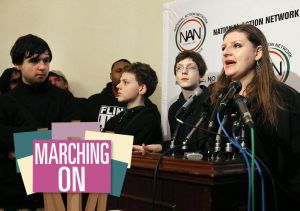 Flint Water Crisis | Flint Water Activist's Battle Continues Into Day 1,028, While US Cities Benefit
Read more.
Princess Leia Poster | Legal Issues Won't Keep This Artist Out of the Rebellion