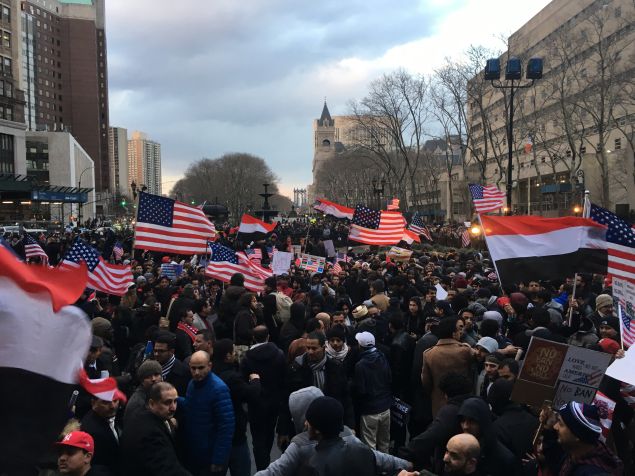 Roughly 1,000 Yemeni bodega owners from across the five boroughs joined political leaders at a rally outside Brooklyn Borough Hall against President Donald Trump's ban on travel from their native land, hours after shutting down their shops all afternoon in protest of the controversial executive order.
Yemeni business owners closed some 1,000 stores throughout the city from 12 pm to 8 pm in response to the White House fiat, in an effort to show the crucial role that the grocers and their families play in New York's economy and social fabric. The rally began with a traditional Muslim call for prayer and a public sundown worship.
"We have worked very hard to uplift your voices today," said organizer Dr. Debbie Almontaser, a Muslim Yemeni-American and president of the Muslim Community Network's board of directors. "We are showing America that you count."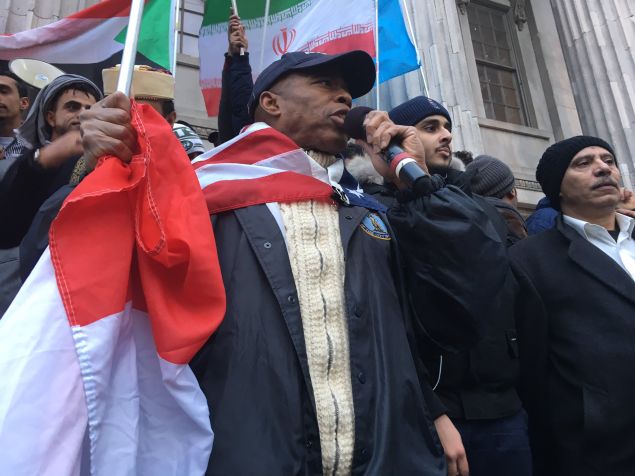 Brooklyn Borough President Eric Adams, an African-American, declared himself Yemeni, Iraqi, Iranian, Sudanese, Libyan, Somali and Syrian—a show of solidarity with immigrants from the seven countries listed in the executive order. He said that the purpose of the rally was to "protest, to pray and to show that we are patriotic."
"We, too, are Americans, and we demand to be treated (well)," Adams said, the crowd cheering loudly as he enunciated every word passionately. "Your display today of closing your businesses, you are sending a clear, loud message to America that you have the right and your families have the right to the reward of the American dream."
Brooklyn Borough Hall sits just blocks from Atlantic Avenue, formerly the core of the city's Arab community, and which still includes a number of Middle Eastern shops and Muslim religious centers.
Besides the travel ban, Trump has also signed off on executive orders to cut funding for so-called "sanctuary cities," to set up a 120-day hiatus on the country's refugee resettlement program. San Francisco challenged the first order in court, and Mayor Bill de Blasio promised to do the same, while federal judges prohibited the Trump administration from applying the travel ban to people with paperwork approved under former President Barack Obama.
Public Advocate Letitia James stressed that immigrants are the backbone of the United States and urged for more recognition of their contributions.
"We want this country to know that this is the country built by immigrants with the blood, sweat and grime of immigrants," James said. "Together, together, we are strong and we will let this administration know that you cannot build walls. No walls!"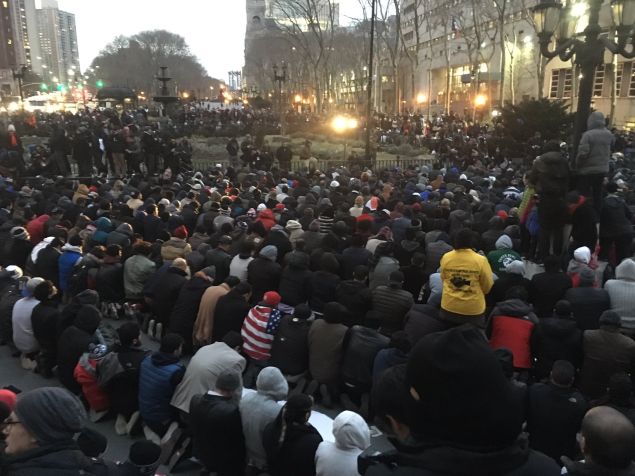 Before the rally officially kicked off, Yemeni individuals stood on the steps of Brooklyn Hall, chanting "USA!," "No ban, no wall, no USA!" and "What do we want? Justice! When do we want it? Now!" A young boy carried by two men enthusiastically waved the American flag and chanted the slogans with a grin on his face.
Protesters were also seen holding posters with slogans such as "Immigrants Made America Great and They Will Make I Great Again," "NO HATE, NO FEAR, NO BAN" and "Don't Forget the History! This is the Land of Immigrants." One participant held up a poster during the rally that defined "Muslim" as "Modesty, Unstoppable, Selfless, Loyal, Innocent, Making a Difference" and "Trump" as "Terror, Racism, Upon, Muslim, People."
City Council Speaker Melissa Mark-Viverito said that the rally came on a "very emotional day," but said that New Yorkers are united in solidarity with Yemenis, Muslims and immigrants.
"I thank you all for what you do for New York City, what you do for this country," Mark-Viverito told the crowd. "We are all one, we are united."
Comptroller Scott Stringer said that Trump has an obligation to support the United States Constitution and to support all Americans.
"When you disregard the Constitution, it is time to get impeached and now we have to come together as one nation and reject hatred and reject bigotry," Stringer said.
Palestinian-American activist Linda Sarsour, one of the organizers of the 500,000-strong Women's March on Washington, vowed to support the Yemeni community in any way she can.
"I am a Palestinian national," Sarsour said, noting she serves as executive director of the Arab American Association of New York, a city-subsidized nonprofit. "I will always stand with you, defend you, because you are the best that this country has to offer."
Queens Councilman I. Daneek Miller, the Council's only Muslim member, said that he was proud to stand with the Yemeni Muslim community as they peacefully protested Trump's executive orders. He said that the demonstration reflected core American values.
"This is what democracy looks like," Miller said.