City and ocean views.
Zillow
The gallery wall is filled with family photos.
Zillow
Floor-to-ceiling glass is featured throughout the home.
Zillow
A spa room with a massage table is one of the most LA things we've seen.
Zillow
The master bathroom.
Zillow
Sadly, the contents of the closet are not included in the listing.
Zillow
One of the three bedrooms.
Zillow
It's actually decorated similarly to Gigi's old Bowery apartment.
Zillow
The listing includes three parking spots and a second-floor suite.
Zillow
A fireplace in the living room.
Zillow
Before Gigi and Bella Hadid became the supermodels du jour, they were known as the genetically blessed daughters of Real Housewives of Beverly Hills star, Yolanda Hadid.
Along with model-good looks, the Hadid siblings also inherited their mother's superb design expertise. Those who watched Real Housewives might remember the gorgeous Malibu manse the clan lived in, along with Hadid's then-husband David Foster.
In the time since, Hadid and Foster have divorced and sold their Malibu home. In December 2015, Hadid purchased a $4.59 million bachelorette pad at the Carlyle Residences. Gigi and Bella moved to New York, and they've both shared peeks into their chic abodes via Instagram and Snapchat, and Bella recently gave a tour of her sleek East Village digs. After a stalking incident at her Bowery condo, Gigi headed to a $3.97 million apartment at 10 Bond Street; their brother, model Anwar, is also living in New York, though the whereabouts of his apartment is unknown.
Yolanda might be the next member of the family to head to the East Coast—as she's put her 3,950-square-foot Los Angeles condo on the market for $5 million, reports Variety.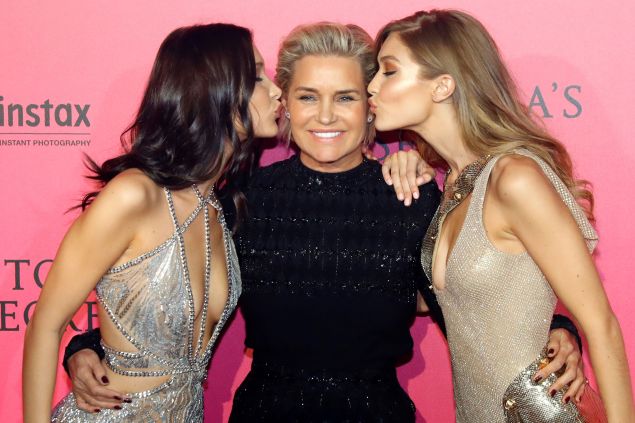 She "spared no expense" in customizing the home, according to the listing held by broker Marci Kays at The Agency, and "stylishly remodeled" nearly every surface. We can confirm that the space, which features designer wall coverings, custom drapery and plenty of chandeliers, is rather chic.
The three-bedroom, 3.5-bath apartment is accessed via private elevator, and has 11-foot ceilings and crown molding throughout, not to mention all of the floor-to-ceiling glass windows from which one can take in the city and ocean views. The apartment also comes with a 415-square-foot suite on the second floors, as well as three dedicated parking spaces, because we all know how much people in Los Angeles love to drive.
The kitchen contains Wolf and SubZero appliances, as well as quartz countertops, but what we're really interested in is the closet, which did not disappoint. The listing describes it as "department store worthy," and it's not much of an exaggeration—just look at that handbag display.
The former Real Housewife decked out the place in Hermès accent pillows and throws, as well as adorable family photos on nearly every surface and wall. There is also a room currently configured with a massage table, because a home spa is obviously crucial. And also, very #LA.
Since all three of Hadid's children are living in New York, why wouldn't Yolanda want to spend more time on the East Coast? Plus, she can always crash at Gigi or Bella's while she's apartment searching…