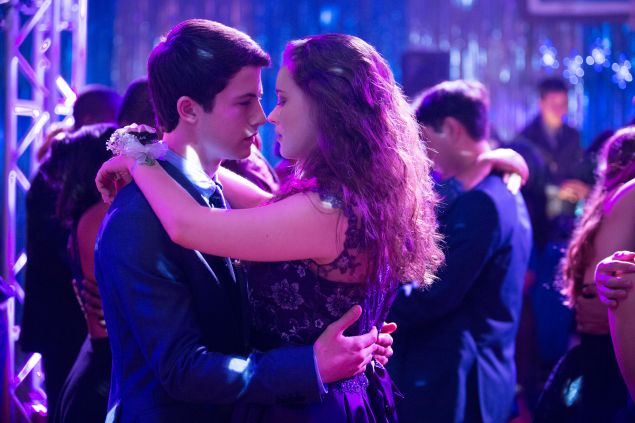 As Netflix's highly anticipated new series 13 Reasons Why drops, someone had to do it. The title of this series was just begging for this type of treatment, right? So, here are 13 reasons to watch 13 Reasons Why.
But, before you jump into the list, you might be curious as to the premise of the series. This is not some flirty teen show. It's actually more drama than anything else, but that's not all it is.
The main premise is explained immediately within in the opening minutes: Hannah Baker killed herself, and via audiotapes that Hannah painstakingly recorded prior to her death she narrates the series. There are 13 people she thinks share a portion of the blame for what happened to her, and each episode explains the role every one of those characters played in the story of her life.
 And now, here are the 13 reasons to watch 13 Reasons Why:
1. It Looks and Sounds Fantastic
There's a lot of content out there so production companies can't just slap together a poorly produced show and expect people to accept it as is because of the storyline. Having said that, this is absolutely not a poorly produced piece of anything. It's superbly shot and thoughtfully scored with both appropriate and intriguing music that only adds to the wonderful imagery of the series. The visuals and music are a delight, even when the story is tough to watch. In short, it's a feast for both the eyes and ears.
2. It Uses Non-Linear Storytelling in an Intriguing Fashion
This is a prime example of a narrative that really couldn't have been shown as an episodic drama even just a few years ago. Until rather recently, viewers weren't really keen to watch stories that jumped from one time period to another. But, now it's not only accepted, it's welcomed as an effective and exciting storytelling device. And, 13 Reasons does a great job using the technique to full advantage. Particularly in making Hannah, someone we know from the jump is no longer around, a living breathing part of every facet of the story.
3. It's an Excellent Example of the 'Novelization of TV'
The source material for 13 Reasons Why, the book of the same name by Jay Asher, clearly provided a suitable foundation for this series, but it's still a challenge to take a 288 page book and make it compelling enough to carry 13 episodes. Here, the process is well thought out with the original material masterfully intact while the addition of new exploratory elements serve only to enhance the narrative. Bringing novels to TV is nothing new and when it's done well, as it is here, it's like unwrapping a great present a little bit at a time.
4. It's a Realistic Examination of the Teen (and Adult) Thought Process
Teen stories often fall flat – usually they become victims of creative types, who are not members of this age group, trying to stuff too many troupes about the age bracket into a single storyline. This often causes the focus of the narrative to be lost. That's not the case here. While teens are at the center of this, and their emotions and actions are certainly age-appropriate, what happens throughout the drama is not generation specific, and this makes for a story about how unfamiliar sensations can be, and are, experienced at every age.
5. It's About the Fragility of It All
This is probably the toughest part of 13 Reasons Why – watching everyone, and yes, I mean everyone, really struggle to not feel as though everything is being kicked out from under them on a continual basis. But, what this says about how fragile people feel, all the time, is incredibly realistic. It's yet another level to this story; one that's all too real.
6. You can binge the whole thing right now!
Ok, this might seem a fairly light reason on this list, but it's still a great reason to include in it this rundown. There's no wait time for any of it. Consume hastily or at your leisure. You make the call.
7. The Creative Team Behind the Series is Golden
These days it takes a village to make anything good and this series has the right group of residents working together. With Jay Asher's book adapted by Pulitzer Prize and Tony Award winning writer Brian Yorkey, then produced by Selena Gomez and directed by Oscar winner Tom McCarthy (Spotlight), it's pretty obvious that these people know how to make good stuff. Thankfully, they got their hands on this and they've made it soar.
8. It's a Series That Tackles Timely Issues
From the get-go viewers know that Hannah has committed suicide which, sadly, is always a timely topic to tackle, but what 13 Reasons Why does is show that there isn't ever really one reason that someone goes down such an irrevocable path, that there are many contributing factors. Unfortunately, these influential factors know no time barrier, they're the kind they can worm their way into any age group at any time. This is one of the things that make this series both timely and a piece that appears as though it will stand the test of time and stay relevant for years to come.
9. The Steps of the Mystery are Well Plotted
While part of the ending is known right from the start, the journey to get there is well worth the time it takes. There is an appropriate amount of twists and turns and none of them are truly unbelievable. In novel terms, it's a page-turner.
10. It Offers an Interesting Take on Technology
When it's revealed that Hannah left her message behind via cassette tapes, it seems a little weird, and kind of funny. But, this is straight from the book, which was originally published in 2006, when things like digital files were just coming onto the scene. Many who read the book were no doubt curious as to how this would be handled given the advances in voice recordings. Thankfully, the TV series keeps this original element. By doing this there will be young people who will be (rightfully!) exposed to the Walkman, an almost forgotten piece of audio equipment, as well as the beauty and limitations of cassette tapes. Along with this, right away, the series addresses just how some advances in technology – camera phones, Facebook, Snapcat and the like — have radically changed the ways in which all people, but particularly young people, relate to each other; how some quick decisions are met with devastating consequences. Looking both back and forward at technology adds another layer to this engrossing drama.
11. It Reiterates That Everyone Truly Has Their Own Story
While Hannah and Clay, the latest recipient of the tapes and therefore the filter through which the audience takes the information in, are certainly the most central characters in 13 Reasons Why, there are many peripheral storylines that branch out from this, and every one of those involved has a personal story that's illuminated via Hannah's narrative. This makes the series infinity more interesting and hard to stop watching.
12. It is NOT an 'Afterschool Special'!
Yes, there are messages in here but none are so overt that they're annoying. And, there is no tidy tie up at the end. There is an end, that's for sure, but as director Tom McCarthy has said about how he likes to conclude his movies, this series has a frayed ending, one that will have viewers convinced that everyone, save Hannah, will be around tomorrow and the day after that — living, struggling and learning.
13. An Investment in This is Worth It
As a journalist, I often ask showrunners, "Why should viewers spend their precious time with your show?" After awhile, the answers all start to sound the same – "It's a world you've never seen with intriguing characters in a new situation that makes for a really compelling story" — or some combination of that. 13 Reasons Why breaks this mold in a unique way – it is a world you've seen before with characters that are actually, and sadly, in a familiar situation. And, the story is told in an eerie, not obvious, way that it makes for a more than just a compelling story. In short, and probably most importantly in this age of peak TV, the best reason to watch 13 Reasons Why is that it's worth your time.
All 13 episodes of '13 Reasons Why' are available for streaming on Netflix.