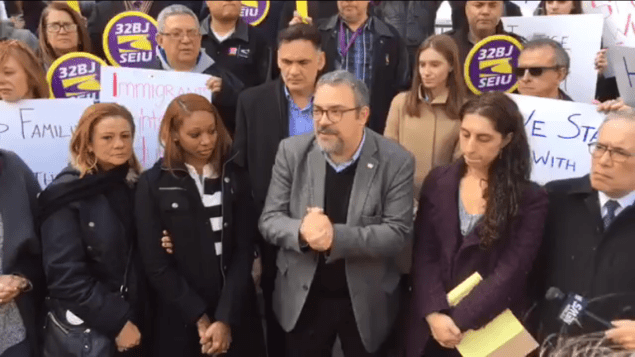 A well-wired union representing building and service workers rallied with allies outside Immigration and Customs Enforcement's Lower Manhattan office this afternoon to demand the release of a Colombian national wedded to one of its members, a man they fear faces expulsion from the country under President Donald Trump's aggressive enforcement agenda.
32BJ SEIU President Hector Figueroa joined doorwoman Yahaira Burgos, her legal team and local pols outside the Jacob Javits Federal Building to object to the detention of Juan Vivares, who they reported ICE detained in its offices above this morning following a check-in. Vivares's attorney alleged that her client came to America in 2011 fleeing violence in his native nation, but was recently denied asylum because he was unable to secure necessary documentation from the Colombian government.
"Today, in a heartless and devastating use of its power, ICE has yet again demonstrated that it is waging war not only on immigrant communities but on American families," said Rebecca Press, of Central American Legal Assistance, noting that the Colombian man's wife and son are American citizens. "ICE is devoting taxpayer dollars detaining a hard-working, tax-paying, productive member of our society."
A distraught Burgos said she works a night shift in an Upper East Side building and that Vivares, an electrician, cares for their infant child. Figueroa translated her tearful remarks into English.
She alleged the immigration officer who had her husband detained today acted cruelly and arbitrarily.
"There was no reason to do what she did," she said through Figueroa. "She didn't allow us to explain our case. She didn't allow us to talk and inform her how we pay taxes, what kind of person Juan is."
Figueroa, a native of Puerto Rico, said that two-thirds of his union's 163,000 members are foreign born. He bitterly castigated the president for broadening President Barack Obama's parameters for deporting foreign nationals, and for empowering ICE to execute a strict interpretation of immigration law.
"We got to stand with our sister and fight for our brother. And we are going to be out there doing whatever is necessary so that these policies are reversed," Figueroa said. "We are going to be out there making sure that this shameful, shameful moment in the history of our country, that we're living every day, comes to an end, and comes to an end sooner rather than later."
ICE told the Observer that Vivares has an outstanding order of removal from an immigration judge and would remain in custody until his removal from the United States.
Updated to include comment from ICE.