[Previously on "A Quick Word From"]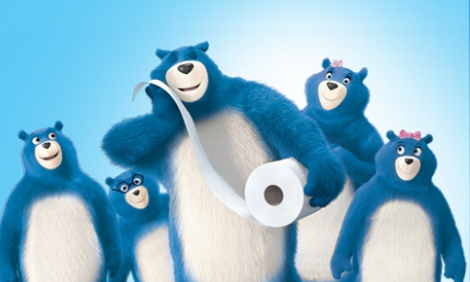 Once every month or so the Charmin Bears attack my grocery store. They come from the woods, calmly walk past our parking lot, and enter through the automatic doors. They only want one thing, and we all know it. We let them take their precious toilet paper and pray that none of them are in a bad mood that day.
The first time the bears came, we were not prepared. We had no idea what they wanted and tried to scare them off. We threw so many salmon at them. I will never forget their dead-eyed stare as they ripped through the store, searching for their prize. I tried to squirt honey at them, but that only made them angrier.
I want to stress that before the Charmin Bears, nobody knew bears wanted toilet paper. We know that now, and that knowledge could have saved Tim, our cashier who made the fatal mistake of hiding behind a Scott Toilet Paper tower. The Charmin Bears hate Scott, and we no longer stock it.
The beasts destroyed the store that day, taking with them a 24-pack of Charmin Extra Soft and Tim's nametag as a cruel trophy of the hunt's spoils. Needless to say, we were pretty confused by what had happened.
When the bears arrived a month later, we assumed they needed more toiletries. I tried to make them a little baggy with deodorant and some toothbrushes, but they ripped that apart and threw me ten feet in the air with their strong bear arms. I landed in a tower of "Buy 1 Get 1 Half Off" Coke Zero. Coke Zero spilled everywhere. The Bears cleaned it up with Charmin, almost as if to show off how surprisingly absorbable it is.
Seeing four adult North American Brown Bears methodically clean a floor with toilet paper was and is the most remarkable thing I've ever seen in my entire life.
Desperate to stop both the attacks and the theft of expensive toilet paper, I ventured deep into the forest to leave a goodwill gesture of store-brand single-ply toilet paper. When I came back a few days later to see if the bears accepted my sacrifice, they had methodically draped the dismembered body of Martin, the old man who stocked the grocery carts in the lot, over the toilet paper. The message was clear: these bears wanted Charmin and Charmin only.
I never should have let Martin work outside knowing there were bears, but that's just something I have to live with as a grocery store manager.
Now we stock the Charmin in the front of the store, hoping the bears will take it and leave us alone. They will often still peruse the aisles. I have a theory they are slowly becoming more and more anthropomorphized. One of them wears glasses now. I fear how quickly they are evolving.
The other day one of the bears tried to pay me with sticks and fish bones. Not wanting to offend it, I accepted. He stared at me, breathing slowly out of his snout, and lightly pushed me with his paw. I then realized he wanted change. I gave him a leaf. This seemed to satisfy him.
Yes, the bears have hurt business. As you can imagine, we have developed a bit of a reputation as being the grocery store that the bears "shop" at. I try to put up a sign that lets people know that we have an uneasy truce with the bears, but customers still stay away. I suppose that's just the cost of doing business at the closest Wegman's to the woods.
I think word has gone out to the forest creatures that we developed a lax animal policy. At any moment an owl could shoot through my doors like a bat out of hell, grab some Tootsie Roll Pops, and leave. This has become our new normal.
I drew the line when an adult Bengal tiger came in the store, took some Frosted Flakes, and left. We live in Albany, NY. That is unacceptable and had to have been a zoo's fault.
I'm writing this to say, please come on down to Wegman's grocery. We have more or less figured out this bear thing. If the bears have learned to read, please stop disposing of your used toilet paper in our dumpster. It's disgusting. If you have yet to develop indoor plumbing, maybe you shouldn't use toilet paper.