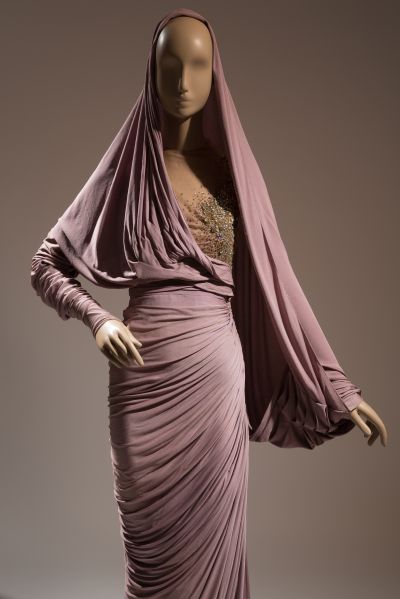 Gilbert Adrian is known as a costume designer from the golden age of Hollywood,  creating costumes for some of the most fantastical films, including The Wizard of Oz. His costumes were so important and so fabulous that the producers of a black and white film for instance, were often willing to spend the extra money for color on scenes if they incorporated an extensive Adrian  fashion parade. 
But Adrian was also, from 1942-1952, a fashion designer. And his  designs, while not as dramatic as his costumes, were unique and important in their own right. Very few exhibitions have been dedicated to Adrian's brief stint in the fashion world., Adrian: Hollywood and Beyond, an exhibition curated by the graduate students in FIT's Fashion and Textiles Studies program, highlights Adrian's talent as a fashion designer.
Marina Hays, one of the graduate students on the curatorial team said, "We focused on two primary things. One, the connection and overlap of costume and fashion, and so the fact that both when he was working as a costumer he was already thinking as a fashion designer…And the other thing that we noticed was how interestingly and cleverly he uses fabric."
What set Adrian apart wasn't his flair for the dramatic cultivated as a Hollywood costume designer, but his love for and innovative use of fabrics. In a quote from Eleanor Lambert, the founder of New York Fashion Week, that is written on a wall within the exhibition, "The fabric is the first signal that the costume is an Adrian."
And so this is an exhibition that explores Adrian's innovative use of textiles. Seemingly simple gowns and suits, are in fact quite complex in their construction. In the first half of the exhibition, which is situated in a long corridor, fabric paraphernalia abounds: ads on fabrics, textile swatches, fabric scraps.
The exhibition begins with his printed fabrics, with examples of some fun and crazy prints, like animal prints, well before that became a thing (in the 1960s). Next, examples of his mastery in construction are shown. He's known for his use of stripes, mitering and mixing the stripes to create unique designs in the fabric, what he called "controlled excitement." As Ms. Hays termed it, it's his use of "hyper-precise details" that make his work so extraordinary. "The more you look, the more you see," she said.
At the end of the corridor, the back room is modeled after the design of Adrian's couture salon. The walls are a dusty pink and neo-classical columns decorate the platforms where mannequins wearing some of Adrian's most beautiful creations stand. On the walls is a projection of palm tree silhouettes, reflecting the Beverly Hills location of his couture salon.
It is here that Adrian's sense of the theatrical shines through. The fashion is playful, but it's an intelligent playfulness. The playfulness is not tongue-in-cheek, or cutesy – it's done within the confines of making a woman look beautiful, of having the silhouette flatter a woman's body.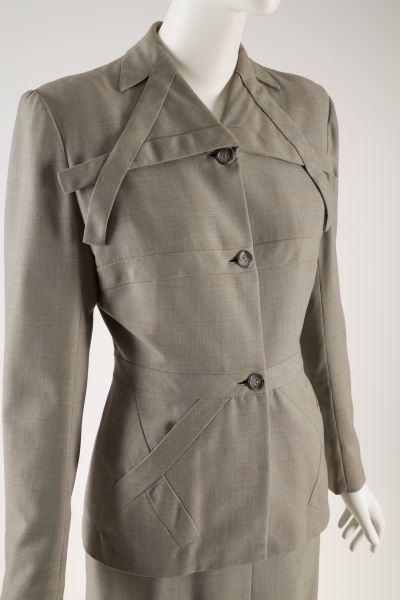 What makes Adrian such a wonderful and under-appreciated fashion designer is his breadth of skill. He was an artist, which allowed him to be so creative with his work. And his love and awareness of fabrics not only made him a great constructionist, but a fantastic draper. Drapery requires an innovative choice of fabrics to achieve the intended fall of the drape.
The highlight of the show is a dress whose print was designed by Salvador Dali. The surrealist print has dramatic black shadows, which Adrian makes even more dramatic and three-dimensional by adding a black panel draped over the shoulder as a part of a caped back. "He's not designing a dress and then choosing a fabric. He has the fabric in mind and the design of the dress depends on that fabric," said Ms. Hays.
There is only one costume on display, a draped stretch jersey hooded gown that was featured in the last film he worked on, Lovely To Look At, in 1952. It's displayed opposite a projection on the wall playing a short reel of selected movies that Adrian designed the costumes for (the costume on display is featured in the short reel). It seems almost out-of-place in an exhibition that purports to focus on, and make the public aware of, Adrian's fashion line. But it in fact illustrates an important point: Adrian's costume design background was integral to his entire identity as a fashion designer. "It really isn't so distinct, that in his fashion you see aspects of the costuming. And so we wanted to highlight that," said Ms. Hays.