[youtube https://www.youtube.com/watch?v=PXn42cEJ6SI]
Damn! These Amazon shows are good. If you have Amazon Prime, a personal addiction that keeps me even more tied to my couch, you can now watch the five available pilots—and then rate them. While this may give you a feeling of green-lighting power, boosting your favorite shows into production, you're simultaneously giving Amazon even more rich data about your quirky perverted tastes. You watch them. Big Brother watches you.
Here are my highly subjective rankings of the five shows:
Set in 1958 Upper West Side New Jerusalem, this sharp haimish comedy from Gilmore Girls creators Amy Sherman-Paladino and Daniel Palladino channels the ditzy brilliance of I Love Lucy with the funky period vibe of the Coen Brothers' Inside Llewyn Davis.  Rachel Brosnahan—Emmy-nominated for her call girl caught in the political crosshairs (shorthairs?) in House of Cards—grabs the screen from her opening monolog in a wedding dress (she insults the rabbi, saying the hors d'oeuvres contained shrimp) and doesn't let up in a performance that whipsaws between fast-talking comedy and overshared upper-middle-class angst. She gets a taste of Greenwich Village grooviness when her nice Jewish boy husband moonlights as an aspiring comic—crossing paths with Luke Kirby's Lenny Bruce. Of course, she's the one with the comic chops and timing and ambition, something she pulls off while spending a large part of the hour-long dramedy in a baby-blue peignoir set discovering the comedy of confessional neurosis.  Favorite scenes include anything with her parents Abe and Rose Weinberg, played with unrestrained tsuris by the brilliant Tony Shalhoub and Marin Hinkle.
If I could get a gig writing for any show, this would be it. Neurosis, nutty family dynamics, comedy laced with heartache—my new favorite show. I would binge watch the series right now—but there's only the pilot!  Shout-out to my agent Victoria Sanders for posting about it on Facebook and sending me on my journey through the Amazon jungle.
Currently running 4.8 stars out of 5 on Amazon.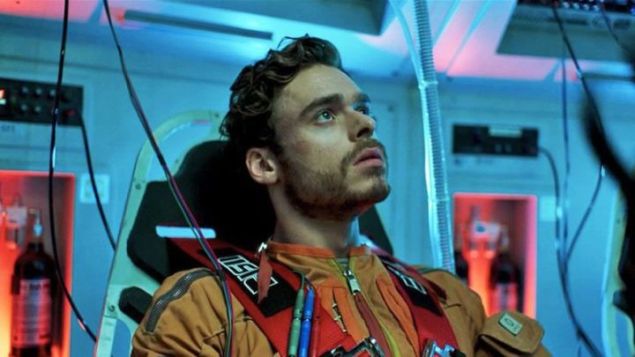 Not to be wishy-washy (rare for a person often asked sarcastically "tell us what you really think?"), but the one-hour sci-fi pilot could easily rank first among those not biased towards a comedy about a Jewish princess from the UWS discovering her mojo beyond marriage. Oasis, from the massively talented, Oscar-winning Scottish director Kevin MacDonald (The Last King of Scotland, One Day in September) is a taut, suspenseful, character-driven one-hour space drama set in the not-so-distant future on a habitable but increasingly haunted planet, Oasis. Extra-added bonus, this pilot stars the King of the North—not Jon Snow but Robb Stark—Richard Madden. The blue-eyed babe plays Peter Leigh, a broken-hearted priest with a dark past (evidenced by strange tattoos covering his often shirtless body). His future doesn't look particularly bright either, as this man of God soon discovers that there's something very supernaturally rotten on the alternative earth colony. People are hallucinating, dying and just generally freaking out—and it's up to Leigh to penetrate the heart of darkness—alongside a surprisingly tubby Haley Joel Osment, as comic relief, Slumdog Millionaire's Anil Kapoor andMan of Steel actress Antje Traue.
Oasis presents fascinating world-building, a streamlined sense of action and narrative drive from Macdonald, and a feeling of gradually increasing unease that makes viewers crave the next episode immediately. Not going to happen. Repeat to yourself: It's only a pilot. Eminently binge-able, particularly for viewers who appreciate shows like The Expanse.
Currently running 4.7 out of 5 stars on Amazon.
Amazon's off-beat half hour pilot with the pot pun title answers my burning question: where the hell has Terry Zwigoff been lately? The cracked genius behind the R. Crumb documentary Crumb (1994) who transitioned to fiction with such films as Ghost World (2001)and Christmas classic Bad Santa (2003) and stumbled over Art School Confidential (2006) is a nerd savant. The show, written by Zwigoff's wife Melissa Axelrod and based on a T. C. Boyle novel, inspired waves of laughter—and had I been stoned I might have laughed more. Set in pre-yuppie San Francisco circa 1983 follows slackers Felix (Adam Rose),  Phil (Joel David Moore) and gross-out Gesh (Will Sasso). The trio road-trip to the wilds of Mendocino fueled on sensimilla, to grow cannabis sativa for profit funded by the wealthy eccentric Vogelstein (Brett Gelman).
Despite its spot-on recreation of '80s San Francisco (I'm Berkeley '81 and nostalgic for  these sunny, smoky slacker streets) and dopey slacker heroes, the pilot ends abruptly before we get the dudes on the farm and the fish-out-of-water situations that will form the show's core. A stronger landing for the pilot, which goes up in pot smoke, would have left me more satisfied. Still, I'd definitely watch a second episode to see how the city-stoners-in-shit's-creek comedy pans out—and whether these stars generate more charisma as we get better acquainted.
Currently running 4 out of 5 stars on Amazon
The most Sundance of all the pilots, this ultra-quirky half-hour hipster comedy boasts one of my favorite indie directors, James Ponsoldt (Smashed, The Spectacular Now). It has good bones, including scrawny Oscar-nominated character actor John Hawkes as the titular well-intentioned Las Vegas real-life superhero. Master Legend wears a duct-taped homemade uniform with matching helmet. He kips in a storage facility while trying to patch things up with his estranged wife, Tanna (Dawnn Lewis) and co-parent their bi-racial teen Cody (Anjelika Washington).  The ubiquitous Chris Wigham (Boardwalk Empire) plays the powder-keg ex-con brother role, Peanut Head. There's a loose-limbed, let's throw crazy characters into nutty situations and see if they stick vibe. It's not quite cooked as a pilot, but there's grit and spark to teen actress Washington, as if we're watching a star rising. Shot with a lot of heart, and hobbled by slapstick, it could morph into something unexpected but I'd have to commit to seeing three episodes before I passed judgment.
Currently running 3.7 out of 5 stars on Amazon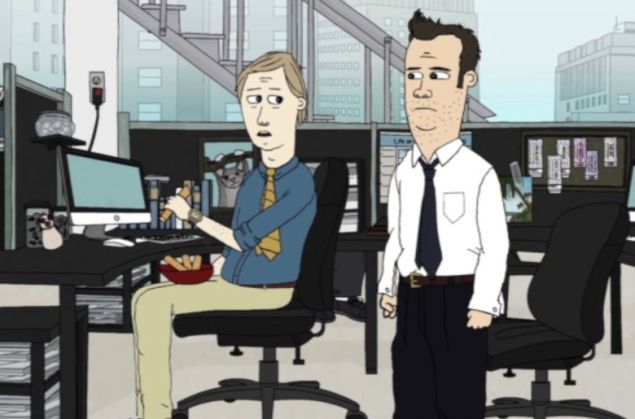 The only "mature" animated 30-minute comedy of the bunch, the show follows four co-workers who take over a company after their oppressive CEO drops dead in the executive washroom in a puddle of pee with his pud hanging out. Directed by Mark Brooks (Metalocalypse) and written by Steve Dildarian (The Life and Times of Tim), with the vocal talents of Missi Pyle, Matt Braunger, Jonathan Adams and Ben Schwartz, the pilot fits squarely in the Adult Swim, Beavis and Butthead meets The Office gene pool. If you like penis jokes (and who doesn't?), then this half hour is for you. However, for me, one episode is plenty since the pilot doesn't extend the already expansive oeuvre of dick-TV.
Currently running 3.3 out of 5 stars on Amazon