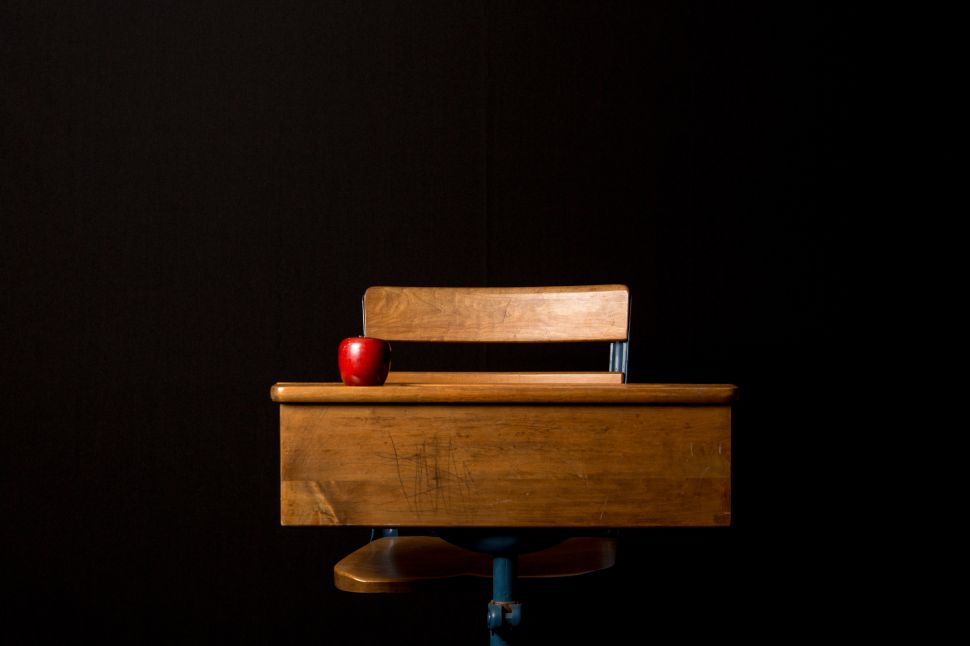 As a civil rights attorney, I've spent my career advocating for many of the issues that rally progressives. These bedrock points send us to the polls and—in the era of President Trump—into the streets. Economic inequality. Immigration. Criminal justice reform and police—community relations. Choice and women's health. Climate change. Fair housing. LGBTQ rights. These issues form the backbone of a swiftly gelling resistance movement that combines longtime liberal priorities with the concerns of populations that are under direct fire from Donald Trump and his allies.
Yet, just over a month into an increasingly mobilized resistance, I'd be remiss if I didn't raise my voice: because, once again, public education is left out of the conversation. This is a longstanding disconnect and it is antithetical to progressive values.
To truly call ourselves a progressive movement, the right to a quality public school seat for every kid that wants one must be a priority. Let me explain.
For reasons that have never been adequately articulated, education issues don't send progressives and even the most dedicated, consistent Democratic voters to the polls. Yet, decades of research proves that an excellent public education and a college degree are essential for breaking the cycle of poverty and narrowing racial, ethnic and regional achievement gaps. And if lifting the disadvantaged out of poverty isn't the point of our movement, then I don't know what is. A gut-check is in order.
The liberal movement, and progressive-aligned Americans writ large, are on the right side of history focusing on populations that are left behind economically and socially—and in a commitment to creating public solutions that act as ladders to the middle class and a better future. As it should be: that's the essence and need of a progressive movement, and if the last election taught us anything it's that a laser focus on creating economic opportunity is how Democrats can once again rise.
The organization I run, Democrats for Education Reform (DFER) lives this reality every day, as we support progressive lawmakers and policy measures at the state and federal level that prioritize common-sense changes in public education that drive achievement. What we witness is a crisis in public education that hits urban and rural areas equally. Look at the numbers: The majority of students attending public schools in the U.S. are low income. Among lower income students of color in cities, only one in 10 make it to college and career. In rural communities, students are likely to attend college than their urban peers, and are more likely to pursue two-year than four-year degrees.
Luckily, a growing number of progressive policies and approaches are showing the potential of public education to narrow achievement gaps and level the playing field for underserved students. These include greater oversight and accountability; greater autonomy over curriculum and operations; a path to higher standards; high quality public-school options; better pay and customized professional development for teachers; and effective parental engagement. While there is no one silver bullet, when applied together these principles boost achievement and are increasingly supported by a cross-section of parents, families, and communities.
These should be no-brainers to fellow fighters. But too often the fight to honor our students and educators by modernizing our public-education system has split the progressive base. Low-income families and their advocates, particularly communities of color, have clamored for change and choice, as their kids have too often been left behind.  But school innovation has also been fought tooth and nail by key potential allies on the left, including many teachers' unions. These knee-jerk arguments must come to an end.
It's time to put these differences aside and work together for the families most affected by the crisis in public education. We are all under fire. The Trump education agenda—premised on relentless deregulation, lax federal accountability, and a perversion of public-school choice through a reliance on private, for-profit providers—threatens damage to the progress we have made for students in recent decades.  Likewise, a stubborn unwillingness to revisit old-line bureaucratic practices that have undermined our educators and undercut the potential of our children also will fail to ensure the future competitiveness of our children and thus our nation. Progressives must reject extremes on both sides, and unite to lift-up our children. We can't live in our verticals any longer.
The Democratic party and the progressive movement that is our engine are at a crossroads. As the global economy and labor market are disrupted daily by international trade and automation, our nation's future is bound up more than ever in how we educate and prepare our children for a diverse, dynamic, constantly evolving world. A public education system shaped primarily by the 20th century simply is not equipped to deal with the radically different demands of the 21st  Century. Wherever America is going or ought to go, progressives should get there first, and so we call upon movement leaders across the spectrum to reject rigid ideologies on all sides and to unite in pursuit of an evidence-based agenda that will modernize our public-education system. In so doing, we can secure the future of our children, our country and yes, our party.
Shavar Jeffries serves as President of Democrats for Education Reform (DFER). Shavar has been extensively involved in the Newark community and has tirelessly advocated to improve the city's schools. Shavar has received numerous honors, including "40 Under 40" recognition by the National Bar Association as one of the nation's top lawyers, the Congressional Black Caucus's Chairman's Award, the NAACP's Freedom Fund award, the Brendan Byrne Distinguished Public Servant Award, and the Black Alliance for Educational Options' education-reform award. Follow him on Twitter @shavarjeffries