The one-bedroom co-op is located atop a brownstone.
Modlin Group
Very soothing yellow bedroom vibes.
Modlin Group
One of two wood-burning fireplaces in the living room.
Modlin Group
The kitchen.
Modlin Group
Schumer is upgrading to a much larger apartment nearby.
Modlin Group
The private roof deck.
Modlin Group
So that's what they mean by elevated fireplace...
Modlin Group
The en-suite bath, with claw foot tub.
Modlin Group
Comedian Amy Schumer has officially parted ways with her Upper West Side co-op, but it wasn't the easiest process.
The Trainwreck actress listed her top-floor apartment at 129 West 80th Street in November 2015, sticking on a $2 million price tag. She paid $1.69 million for the unit in 2014, so it didn't seem like too outrageous a price jump.
But the one-bedroom, 1.5-bath pad lingered on the market, even with a price decrease to $1.8 million in March 2016. Schumer more or less accepted defeat when she lowered it to $1.63 million in August, but it seems that was the magic number—it's the amount the buyer, John Cosenza, paid to take ownership of the place.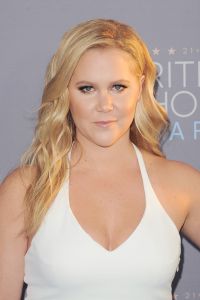 The cozy apartment is described as a "full floor penthouse with private roof deck," and it is indeed situated on the top floor, with coveted outdoor space. But, it's located atop a 20-foot-wide townhouse made up of just four units, so it might not have too many deluxe amenities.
It is charming, with hardwood floors and skylights throughout, as well as two wood-burning fireplaces. There are built-in bookshelves and an elevated fireplace in the bedroom, per the listing held by Modlin Group broker Adam Modlin, and the en-suite bath is fitted with a claw foot soaking tub, Waterworks shower and marble countertops.
The living room has the same style built-in bookshelves and fireplace, with a south-facing window as well as a lovely window seat.
As cute as the approximately 850-square-foot apartment is, it pales in comparison to the duplex penthouse Schumer bought in November last year. The comedian paid $12.15 million for a glassy five-bedroom, 5.5-bath aerie at 190 Riverside Drive, and at 4,500 square feet, we can understand why she's ready to leave her starter apartment behind.