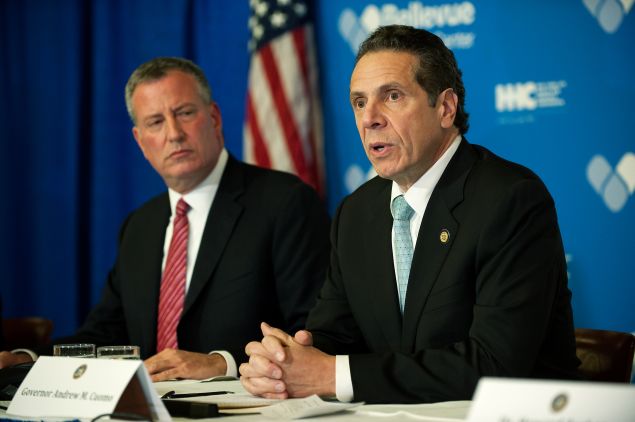 This is human, it is real, it is graphic, and it is ugly. The confluence of these evil currents come together in New York City in the East River, in a place called Rikers Island.
Gov. Andrew Cuomo argued today that Mayor Bill de Blasio's resistance to closing the city's famous—and infamous—island incarceration complex is little more than political obstinacy and inertia, and took a shot at his rival Democrat's education policies while he was at it.
Speaking at a quasi-related event at Central Synagogue in Manhattan, the governor launched into a jeremiad about the injustices at Rikers Island. He recalled former U.S. Attorney Preet Bharara's lawsuit against the city for the abusive conditions at the jail, the city's subsequent acceptance of a federal monitor and the plight of youths like Kalief Browder who found themselves unable to afford bail and held behind bars for months, even years, awaiting trial.
"This is human, it is real, it is graphic, and it is ugly. The confluence of these evil currents come together in New York City in the East River, in a place called Rikers Island," the governor said, drawing occasional applause from the crowd. "These are poor people who are members of minority groups who have long histories of being discriminated against. They're powerless. They don't vote. They don't contribute to political campaigns, they can't afford fancy lawyers, they don't have powerful friends, they can't post bond, and they've been abused by our society."
He then alluded to frequent calls from reformers for the city to shutter the facility and replace it with a network of smaller, localized jails—an idea the governor endorsed.
"The city to date has said they can't do it. It's too hard. Well you know what, impotence is not a defense for me," he said. "And New York City can accomplish anything it wants to, when it wants to, it just needs the political will. And it is an outrage in New York City to allow Rikers Island to exist."
The former sentiment would seem to contradict the governor's oft-reiterated assertion that the city is a "creature of the state" and thus subject to Albany's orders.
Eric Phillips, de Blasio's press secretary, fired back with a series of tweets later in the evening, the first seeming to allude to the concern that diffusing jail facilities around the city would raise ire from local residents.
Phillips also referred to the city's new use of force policy and its efforts to pull inmates under age 18 from the facility—though the press secretary neglected to mention both were prompted by Bharara's lawsuit.
Phillips ended by tearing into the failings of state unified court system—overseen by the gubernatorially appointed Chief Judge Janet DiFiore—and the Cuomo-controlled state prison system.
Tonight's gathering at the Central Synagogue was billed as a "Raise the Age" event, but the governor devoted relatively little time actually discussing his plan to pass a law barring the prosecution of 16- and 17-year-olds as adults. Instead, he expended the first nine minutes of his speech repeating favorite past lines about income inequality, anti-immigrant attitudes, inequities in public education, the recent spike in anti-Semitism, Republican plans to repeal the Affordable Care Act, his record of closing prisons, his support for bail reform and for formal reports on police interrogations.
It was unclear whether this was a sign of Cuomo's presidential ambitions, or simply that a speechwriter had shuffled the pages of a dozen of his previous addresses like a deck of cards and handed it to him.