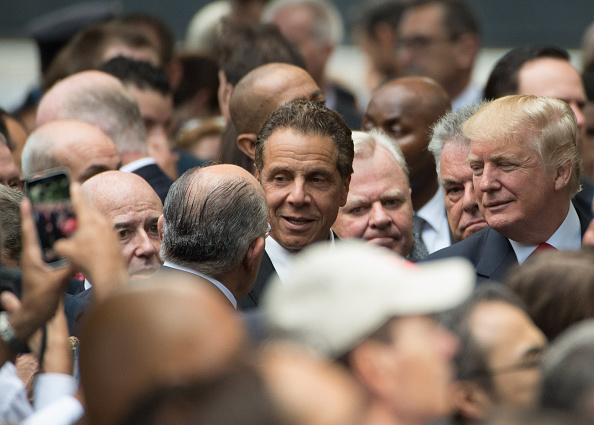 Approaching the podium at the Central Synagogue in Manhattan on Monday night presented both a quandary and an opportunity for Gov. Andrew Cuomo.
"Choices, choices. Do I go to the right microphone or the left microphone? I'll take the left one, if you don't mind," Cuomo joked.
The congregation reacted with a outburst of applause.
It was a moment unimaginable in the governor's first term, or in his four years prior as state attorney general, when he forged a reputation as a cutting-edge social liberal and a cast-iron fiscal conservative, a triangulating centrist contemptuous of public sector unions and of the anti-Wall Street outrage that erupted after the 2008 financial collapse. His re-election year State of the State address in 2014 embodied his anti-tax, pro-business outlook—so much so that then-GOP State Senate Majority Leader Dean Skelos jokingly described him as "a good moderate Republican."
But that September, two penniless left-wing opponents scraped off almost 40 percent of the vote in the Democratic primary. It was enough to stifle any chatter about a try at the White House in 2016, a possibility that Hillary Clinton's campaign announcement snuffed out for good just a few months later.
The governor spent the next year armoring his left flank, presumably against the threat of a 2018 coup attempt by a liberal rival like state Attorney General Eric Schneiderman or Comptroller Thomas DiNapoli. He banned hydraulic fracturing for natural gas. He endorsed and (mostly) pushed through a $15 minimum wage. He neutralized Schneiderman by appointing him special prosecutor in all cases where a cop kills a possibly unarmed civilian. He extended anti-discrimination statutes to cover the transgendered.
He unveiled expansive—and expensive—visions for bolstering the state's sagging infrastructure. And he spent the presidential campaign castigating growing anti-immigrant sentiment, and rolled out a package of naturalization assistance initiatives he promised would "change the complexion of the state." All this, piled on top of the gun control and same-sex marriage measures he passed in his first four years in office, made it seem few could accuse Cuomo of being a closet Republican again.
And then: the unthinkable. Clinton lost the November election, and Cuomo's fellow Queens native Donald Trump ascended to the presidency, riding a red wave that wiped out Democrats across the map. And suddenly Cuomo was one of the few members of his party left holding a credible resume to challenge the new GOP regime in 2020.
The effect on the governor was unmistakable. His proposals for the budget this year grew brasher and more ambitious—free public college tuition! remodeling John F. Kennedy Airport! even more subsidies to revitalize Rust Belt upstate!—even as the fine print details became all but microscopic.
Sen. Kirsten Gillibrand, who endeared herself to liberals by voting against the bulk of Trump's Cabinet nominees, seemingly took herself out of presidential contention in February by declaring the governor would make "a great candidate" for the party. And last week, Trump himself plucked the one thorn from the governor's side: Preet Bharara, the hot-dogging U.S. Attorney who indicted a score of the Cuomo's top aides and donors last year in alleged bid-rigging and bribery schemes involving state contracts and services.
The governor seems incapable of making a speech on a single subject anymore. His address at the Central Synagogue was supposed to focus on his push to bar the prosecution of minors as adults. Instead, it turned into a litany of all his goals and achievements over six years in office, plus unsolicited commentary on everything from income inequality to Obamacare.
A poll released in December found New Yorkers generally like their governor, but a majority believe he would make a poor presidential candidate. So what are his chances, actually?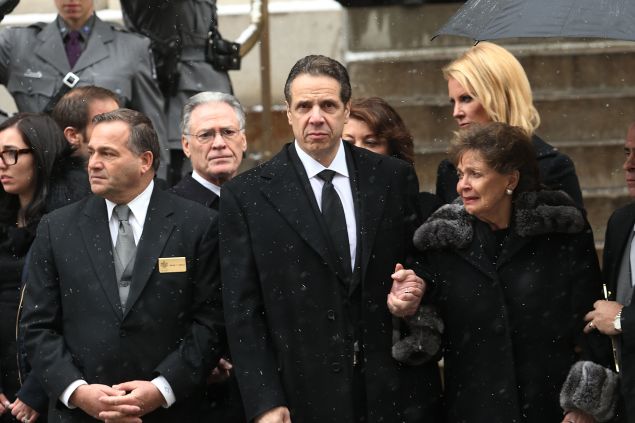 "The good news for Governor Cuomo is that he's frequently mentioned, and that's half the battle," Dr. Larry Sabato, founder of the Center for Politics at the University of Virginia, told the Observer.
Just like in his home state, Cuomo benefits nationally from the reputation and admiration accruing to his father, the late Gov. Mario Cuomo. Yet the Oedipal dynamic that has defined the junior governor's life has also left him without much of a public identity of his own outside of New York.
The impassioned appeal to empathy the father made on the convention stage in San Francisco 33 years ago still resonates today. The address the son gave in Philadelphia last July, about New York's "progressive government," was forgotten by the time the balloons fell.
"He's got very high name recognition in the Democratic Party. People remember his father very fondly," Sabato said. "The name is well known. But most Democrats, most people in politics, couldn't tell you a great deal about his time as governor. There's nothing that stands out that's unique in the political universe."
Cuomo's other great advantage, according to Sabato, is his incumbency. Voters will likely elect ambitious Democrats to a number of governors' mansions in 2018, California's among them. New York's second-term chief executive has a head start on his prospective primary rivals to fundraise—never a problem for a governor whose home state includes Wall Street and the Manhattan real estate market—and hew out a national profile.
The key is to make sure that profile matches the void embittered, disempowered Democrats are looking to fill.
"Many, many of them are going to vote for someone who reflects their anger and their hatred of Trump. Does Cuomo fit that mold?" Sabato asked.
Consultant Hank Sheinkopf—who served as strategist to Cuomo opponents last decade, before advising the governor and the state Democratic Party in 2010 and 2014—seemed to think that opening might be shaped a little differently.
"You need somebody who's got the right persona to get Trump voters back," he said in a phone interview.
Sheinkopf said he didn't believe Cuomo has decided yet whether to seek the White House. But he pointed out that governors have a far better record of capturing party nominations than senators, and don't bear the stigma of years spent in the nation's distant and chaotic capital.
"Governors are different. They have a clear record of success or failure. They can point to it. They can talk about things that they've done," he said. "He doesn't have Washington as a problem to hang around his neck. He's removed from the chaos that has been going on there and the chaos that's going on now."
A white ethnic Catholic with a passion for muscle cars and motorcycles, and with strong ties to building trades unions, would be the ideal candidate to win back the party's former blue collar strongholds in Pennsylvania and Wisconsin, Sheinkopf argued. Those voters aren't representative of the increasingly millenials-and-minorities makeup of the party's primary base, but the strategist predicted that four years in the political desert will leave Democrats desperate for a leader who can bring them back to the promised land.
"It's hard to imagine a party that can think of itself of as Democrats, in the position they're in, will worry about the different demographics so much as they're going to be worried about getting back into power," Sheinkopf said. "The left will rip him up, but he's smart enough to keep them happy, because he's supported quite a few of the issues they cares about."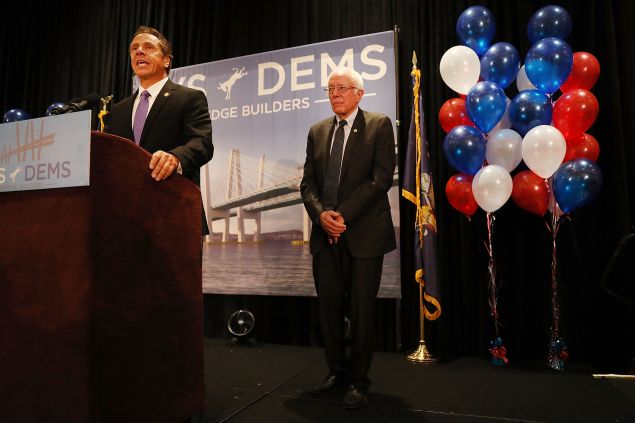 But progressive voters seem to care less today about the strength of their party, or even about a particular checklist of issues, than about their confidence in a candidate's sincerity—as Vermont Sen. Bernie Sanders, a career independent, proved with his electrifying and magnetic charge at the Democratic nomination last year. It isn't enough to choose the left microphone at the moment it will provoke maximum applause: you should never have even looked at the right one.
And there Cuomo, with his cagey and opportunistic approach to politics, may have a problem. His initial reaction to Trump's shock victory was to call the mogul (a longtime donor of his), proffer his congratulations and highlight which of his pet infrastructure projects that could benefit from federal funding—then to go on television and talk about how the Republican's Empire State roots were "a bonus" for New York and the nation.
It was only after outrage and antipathy toward the incoming commander-in-chief metastasized into a movement that the governor started calling for Democrats to deploy Tea Party tactics against him.
"Speaking generally about his M.O., Cuomo only does the right thing if it's politically convenient for him," said Claire Sandberg, formerly the digital organizing director for the Sanders campaign. "In the age of post-Bernie politics, progressives don't want someone who only supports progressive policies when they're forced to kicking and screaming. They want someone who supports their values."
Sandberg, who formerly worked as an anti-fracking organizer in New York State, noted how Cuomo dealt with the the controversy swirling around the natural gas harvesting technique. Instead of banning it outright, the governor commissioned a seemingly interminable study on it in 2011—a study that Politico discovered his office had deliberately delayed and edited to come out after the 2014 election, and to produce an apparently pre-ordained result.
It was only after the embarrassing Democratic primary, which saw "fracktivists" chasing him around the state, and his subsequent comfortable win over Republican Rob Astorino that the governor finally outlawed the practice.
Sandberg also recalled the 2011 battle over the "millionaire's tax," the state's 8.82 percent levy on its highest earning bracket earners. Cuomo opposed maintaining that rate on the grounds of "fairness"—but ultimately backed its renewal after some tinkering. It now forms the keystone of his budget.
And she pointed to his wild gyrations on the minimum wage: he pledged to support a $13.13 an hour floor for the five boroughs while seeking the endorsement of the left-wing Working Families Party in 2014, called it "a non-starter" shortly after getting re-elected, then came out in favor of an even higher pay hike just a few months later.
Finally, there are his ties to the financial sector, which Sandberg said makes the New York governor even more "unpalatable to progressives."
"The ads write themselves. A lot of the postmortems about why Hillary lost concluded that she chose the wrong message. But this isn't a messaging problem for Wall Street Democrats," said Sandberg, who recently co-founded a political action committee named #WeWill ReplaceYou, which aims to underwrite challenges to Democrats who fail to push back sufficiently Trump. "It's a values problem and a messenger problem. You can't position yourself as somebody who will take on Wall Street if you're in their pocket."
Yet former Vermont Gov. Howard Dean ran his state as a careful pragmatist for 11 years, then successfully reinvented himself as an unabashed liberal for the 2004 campaign. Party progressives flocked to him in the first months of the contest, largely ignoring an adamant and unwavering advocate for their ideals in then-Ohio Congressman Dennis Kucinich.
And so the question that hangs over Cuomo is whether he has the talent and the mettle to leap from New York onto the national stage. His father famously left two chartered plains to New Hampshire idling on the tarmac in Albany in late 1991. He lost office three years later, a casualty of the "Republican Revolution" backlash against then-President Bill Clinton.
Another consultant, who spoke to the Observer on the condition of anonymity, compared Cuomo favorably to potential rivals like Massachusetts Sen. Elizabeth Warren and New Jersey Sen. Cory Booker. But they wondered whether his style and skills could translate outside the Empire State.
"Those people have never done shit. They sit there, they talk for a living and they go on TV. The difference is at least Andrew Cuomo can point to things he's done," the politico said. "But the reality is that, one, he's not a particularly gifted politician, and, two, he's never campaigned outside of New York. And it's hard to see him connecting with a rural caucus goer in Iowa."