Most archaeological discoveries give insights into the lives of King Solomon or the ancient Greeks. But an international group of scientists recently unearthed a group of artifacts in France that not only shed new light on an ancient culture, but may also have an impact on modern art.
A team of archaeologists led by Dr. Randall White of New York University has uncovered 16 stone blocks, featuring 38,000-year-old pointillist engravings, in a French cave called Abri Cellier. The discovery, published last week in Quaternary International, is notable because until now art historians believed pointillism, a painting technique in which small dots of color are applied in patterns to form an image, was developed in 1886.
The newly discovered art was created by the Aurignacian, the earliest modern human culture in Europe. Prehistoric humans created the images, which depict animals like horses and woolly mammoths, by painting dozens of dots and lines on the palms of their hands and then transferring them to the cave walls.
"We have long been victim to a persistent popular vision of Paleolithic art as a deep underground activity," White told the Observer in an email. "These new Aurignacian discoveries represent a previous and very early invention of a pointillist or pixelist technique that would be reinvented and elaborated by 19th century artists."
Abri Cellier was first excavated in 1927—15 limestone blocks were removed from the site at that time. White and his team visited the site in 2014, seeking a few intact deposits that would allow a better understanding of Abri Cellier's archaeological sequence. However, they ended up finding even more examples of ancient art than their predecessors.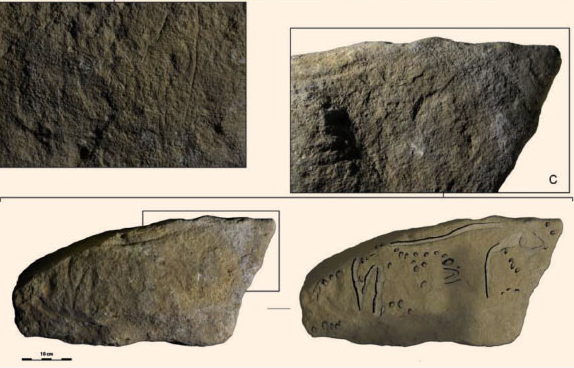 Carbon dating revealed that the blocks (both those discovered in 1927 and 2014) were all roughly 38,000 years old. White and his team surmised that the original explorers left the 16 engravings behind because the inscriptions were difficult to interpret with 1920s technology.
They teased this larger discovery last month by revealing a limestone slab engraved with an image of an aurochs (ancient cattle) in Abri Blanchard, another French cave.
The art in both locations is stylistically similar to that of Chauvet Cave, another French cavern featuring Ice Age Paleolithic cave paintings. White said in a statement at the time of the Blanchard discovery that the increasing number of artifacts shows "a broad commonality in graphic expression against which more regionalized characteristics stand out."
"This pattern fits well with social geography models that see art and personal ornamentation as markers of social identity at regional, group and individual levels," White said.