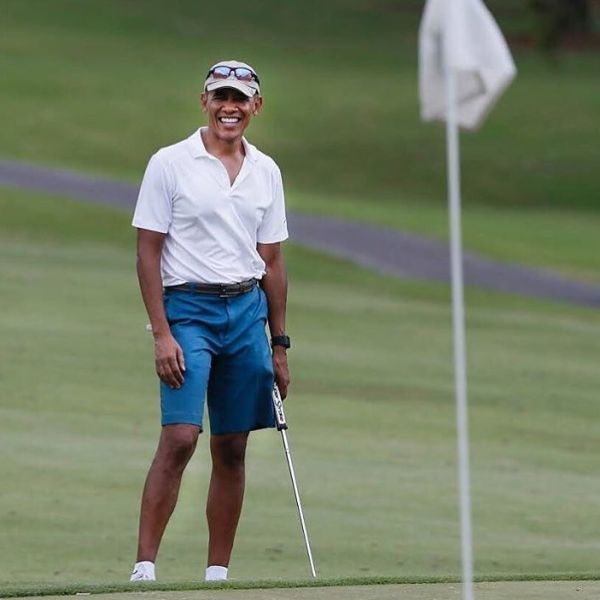 Former President Barack Obama made his first trip back to his home state, Hawaii, since vacating the White House, and he took some time out to partake in his favorite leisure activity.
Yes, we are talking about golf, and yes, there are photos of Obama beaming happily on the course.
Obama's sartorial choices (ahem, dad outfits) were always great while in office, and they're getting even better now that he's a private citizen. There's the leather jacket he wore in D.C., and let's all remember just a few weeks ago, when the Internet actually lost it from the photos that surfaced of Obama living his best life on Necker Island, sporting flip flops and a backwards baseball hat.
For his golf game in Hawaii, the former president, wore a white polo, blue shorts and the requisite exposed white socks. He did not turn around his gray baseball cap, but he did prop his sunglasses atop the hat in true peak dad style.
Obama's Hawaii trip comes after a busy few days that took him literally across the country. There was lunch with his wife and Bono on Friday in New York, as well as a lunch in Nebraska with Warren Buffett. He reportedly flew to Hawaii after a meeting with tech leaders at the Fairmont hotel in San Jose on Sunday night.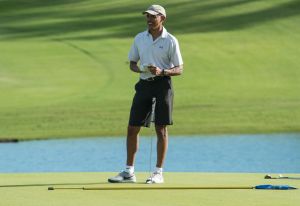 Aside from hitting the putting green in Hawaii, Obama dined at Buzz's Lanikai, per The Honolulu Star-Advertiser. It seems like a solo trip thus far; Michelle Obama hasn't been spotted yet, nor have either of his daughters (besides, Malia seems partial to cold-weather getaways).
Obama is reportedly already off to Tahiti, as we anxiously await a glimpse of the former prez in new vacation attire.
Sadly, we haven't yet been granted any pictures akin to those of Obama engaging in a kite surfing contest with Richard Branson, but we're still holding out hope. Now, what was that about #boycotthawaii?