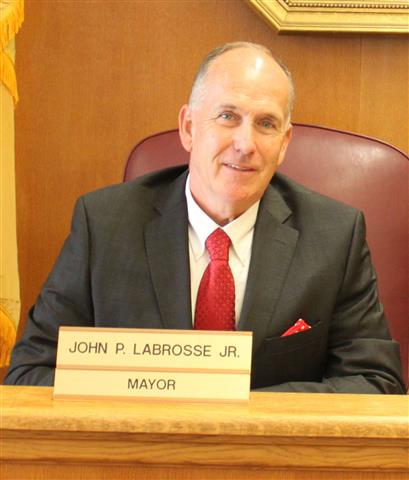 The Hackensack municipal race—which will be held in May—has been marked by discord as the slate fronted by incumbent Mayor John Labrosse and two other opposing slates have heaved allegations of impropriety back and forth. The latest claim, issued by the Labrosse Team, alleges that the campaign manager for the Hackensack United for Progress slate, Caseen Gaines, violated regulations by responding to a press statement while at his Hackensack High School teaching job. According to Gaines, those allegations are false.
The initial statement was made by the Labrosse team earlier this month following the publication of an article on Observer where Gaines is quoted responding to a press release issued by the Labrosse team at 8:11 a.m. on that same morning. On Tuesday, the Labrosse team followed up on their claims with documents obtained via an Open Public Records Act request that show Gaines had already entered Hackensack High School when his response was received by Observer at 9:14 a.m. that morning.
Gaines claims that his email response was drafted on the previous night after he received a copy of the Labrosse team press release that would be issued the following morning. While Gaines sent PolitickerNJ a screenshot of a text exchange with an excerpt of the press release dated Wednesday March 8 at 9:02 p.m., he would not reveal who sent him the release.
Phil Swibinski, the campaign manager for the Labrosse team, said that the claim made by Gaines about the early receipt of the press release "defies logic."
"Gaines' claim is absolutely ridiculous and defies logic given that the press release he responded to was distributed at 8:11 a.m. on March 9th and was never disseminated outside of our campaign before that," Swibinski said. "This reeks of desperation and an attempt to wriggle out of a clear violation of state law and district policy and it will not be successful. Unless Gaines can provide proof that he received the release the night before then his excuse should not be believed by anyone."
According to Gaines, the focus on the timing of the e-mails is an effort to distract from the much-discussed mailers issued by Labrosse about downtown development in Hackensack. While the Mayor and his team claim no impropriety with the mailers—and say that the information contained therein is relevant to taxpayers—both Hackensack United for Progress and another slate fronted by Councilwoman Deborah Keeling-Geddis say that the cost of the mailers (estimated around $50,000) should be reimbursed to taxpayers and that they should be removed from the city's website.
"To deflect from their documented $50,000 misuse of taxpayer funds, the Labrosse/Canestrino Team has continued to make baseless allegations and tries to connect dots that do not fit. I have met with my superintendent, representatives from the local and state unions, and reviewed the board policy. There is absolutely no violation," Gaines told PolitickerNJ via email.
The mayor's team includes Deputy Mayor Kathleen Canestrino, Councilman Leo Battaglia, Councilman David Sims, and council candidate Stephanie Von Rudenborg. Hackensack Strong includes Richard Cerbo, David Dungey, Angelica Carfi-Meneses and Rafael A. Del Rosario. Hackensack United for Progress includes candidates Lara Rodriguez, Jason Some, Michael Williams, Carlos Merino and Rommy Buttaf.