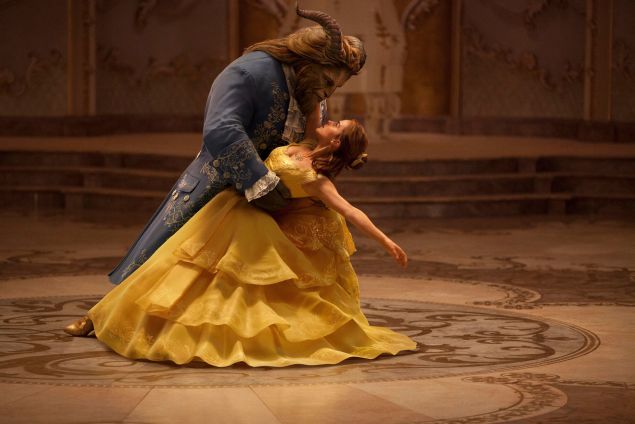 What is it with folks kvetching about a gay character in the new Beauty and the Beast starring Emma Watson? Sidekick LeFou has always carried a little hankie for his alpha bully buddy Gaston. And here is an Alabama drive-in boycotting this unwholesome film made by a giant corporation for the benefit of its shareholders. Can't you worry about something more important—like pay equity or Medicaid?
Apparently not! I relish this anonymous Facebook post quoted by USA Today, so I'm sharing it: "When companies continually force their views on us, we need to take a stand. We all make choices and I am making mine. If I can't sit through a movie with God or Jesus sitting by me, then we have no business showing it. I know there will be some that do not agree with this decision. That's fine. We are first and foremost Christians. We will not compromise on what the Bible teaches."
Really? And this virtuous Alabama Christian has no problem with bestiality. Because, let's call a magic wand a magic wand, Beauty and the Beast is about a bookish fish-out-of-water named Belle who shacks up with a hulking animal resembling an upright water buffalo with dreadlocks. However pure this beauty's intentions—she agrees to the roommate situation to spare her decrepit father—it still makes me squirm.
In my shallow reading, the pretty-ugly dynamic may reflect the egregious age difference between leading man and love interest that animates so many Hollywood movies. For example, a disgusting old animal paired with a gorgeous young girl like Woody Allen and Mariel Hemingway or Warren Beatty and Lily Collins. It's a fat-exec-behind-a-desk fantasy. It certainly isn't mine.
I've already boycotted the film—and it has nothing to do with gayness. After witnessing endless school revivals, one where my daughter played the dancing napkin, another featured my son singing "Be Our Guest," it ranks only slightly below Cinderella in musicals I never ever want to see again. When ISIS kidnaps me, and puts me in that cinderblock basement, this is the soundtrack on their torture playlist.
He's a beast! La la la. She's a girl! La la la. She could be his guest—as an entrée! Anything that happens between these two that isn't verbal jousting is bestiality. Alabama: wake up to that. A gay supporting character? Small change.
The underlying message of Beauty and the Beast is that beneath all that fur and gristle and bad table manners beats the heart of a good-looking hetero hero. In other words, the theme of acceptance, of tolerance and seeing beyond surface difference, makes the inclusion of a gay character consistent with the overall point. So, backlashers and knuckle-draggers, if you boycott the movie, you'll miss the creamy center that's also embedded in the love-thy-neighbor bible.
Bestiality, on the other hand, continues to be a queasy subject for a kids' movie. Sure, I can suspend disbelief for a fairy tale, but in the hard garden paths of nature, it's not Bambi and Thumper frolicking while voyeuristic songbirds flutter in the leafy forest canopy above.
We recently inherited a male bunny named Elliot Stabler (don't ask!) with the rep for being frisky. Within twenty seconds of meeting our otherwise outgoing Platonic ideal of a kitten, Elliot chased Creamsicle around the screened porch, heading for her fluffy rear like a heat-seeking missile. She was not amused. If it had been safe to turn tail, she would have.
The kitten spent the rest of the day following her inter-species abuse attempt huddled in a ball. She refused to go outside if THAT THING wasn't locked in its cage, and even then she had a new wariness we'd never seen before. I felt like the worst enabler of all time, except for Belle's dad who let her have sleepovers with the Beast to save his skin.
Which all goes to say, if you don't want to watch Beauty and the Beast, I understand. Be my guest. But to censure a shopworn Disney movie that can be streamed at any moment in its animated form seems ludicrous. Boycotters need to reread their bibles and revise their priorities—and get to know their neighbors better.