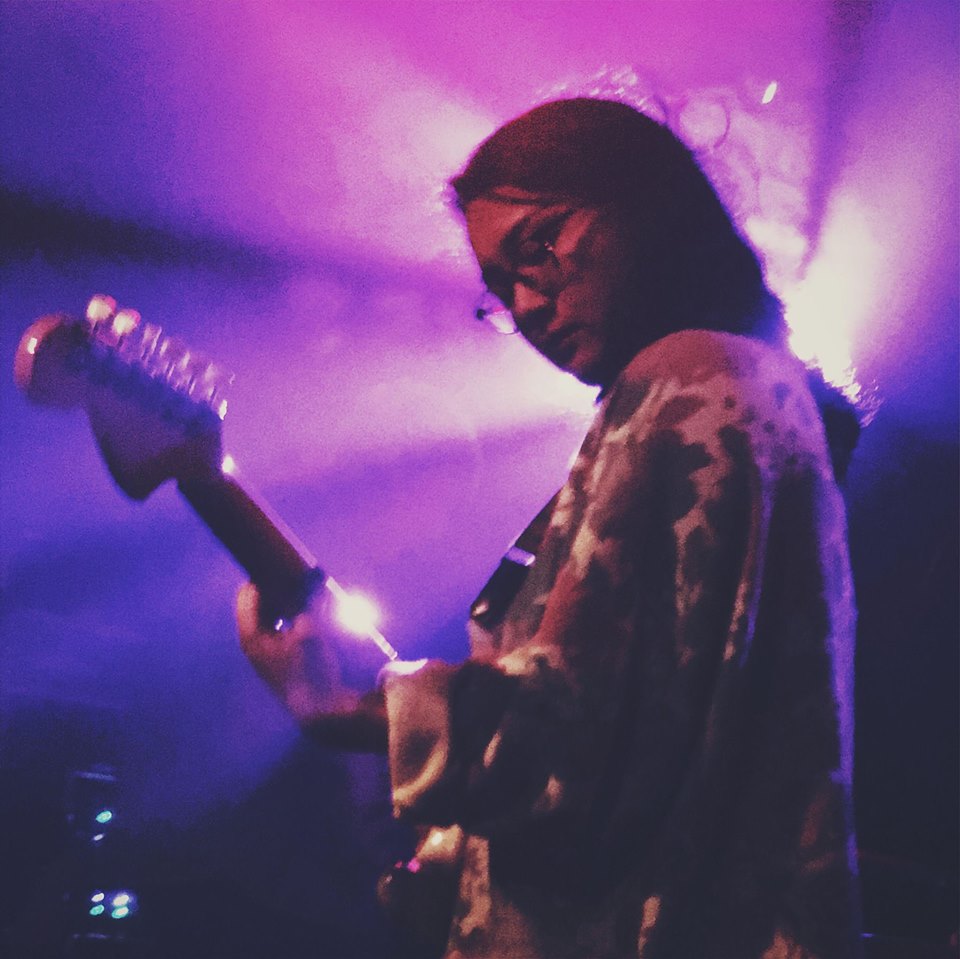 Pity the up-and-coming musician in today's economy. At a massive conference of music, film and technology like SXSW, they're the entertainment, grinding and hustling through multiple sets at various venues around Austin while industry denizens galavant around the Red River District, getting day drunk and stashing swag.
Part in parcel with the thrill and status of playing SXSW comes the thanklessness, tirelessness, and looming worry that their art will soon become content, marketed as some "experience" or other enhanced revelation to a gaggle of smarmy "content producers" in the business of branding epiphanies.
While interviewing Taraka Larson of Prince Rama for a separate piece about Indian devotional music, she explained to me how the realities of being a touring musician crush any hopes for a stable routine. "I think that there's a lot of focus on speed and how much you can do in a short amount of time in the music industry," she said. "How much can your body really endure? How much energy can you put out before you collapse? We were, for a long time, very much testing the limits of how much energy we could put out in a day."
Jason Lytle from the great, reunited Grandaddy laughed at the prospect of going through the grind and uncertainty that young bands have to suffer through at SXSW when we spoke last week. "It's one very definite show," he told me. "Move the barriers, back up the van, throw your shit onstage…there was definitely a 'hold out as long as you can until they offer a certain amount of money' to make sure it was only one thing."
Younger artists, eager to lodge themselves in the memories of media folk with acceleratingly short attention spans, don't have this luxury. They also have all the ethical considerations of playing SXSW to consider, too. All told, Observer Music decided to highlight some of the best new-ish artists we're digging this year who shouldn't get lost in the noise.
With any luck, next year these hardworking artists will be able to cut their SXSW shows in half or skip the fest altogether, because, if there's one universal truth about SXSW beyond the fact that Hoek's Death Metal Pizza is suitable for breakfast, lunch, and dinner, it's this: The one mark of success among touring artists is never having to play SXSW ever again.
[youtube https://www.youtube.com/watch?v=cRES6Af_Wyg]
The Oakland-based 22-year-old artist Melina Duterte, who records as Jay Som, is set to kick off her fantastic year with a universally lauded album of intimate but slick dream pop called Everybody Works, out tomorrow but already explored in a glowing Pitchfork feature and available as an early listen via NPR.
Duterte's music lives in that place where vulnerability turns into strength, and Everybody Works builds on the ambitions of her self-recorded Polyvinyl debut from last year (?!), Turn Into. Self-actualization at its finest.
If the title of her new one didn't clue you into how hard Duterte's working to get her name out there, maybe her 10 planned SXSW sets will wise you up. Here's the full list of shows she's got planned for SXSW right now.
[youtube https://www.youtube.com/watch?v=Lw8vnhTh5R8]
The words "Brooklyn" and "Garage" might as well be peanut butter and jelly in Austin; we can't tell you how many groups of longhaired kids with trust funds stop wearing deodorant and buy tight jeans as a "fuck you, dad!" statement of internalized otherness. But BK's Las Rosas succumb to none of that shit.
Catching them opening for King Khan during Northside Fest was one of that week's greatest surprises, and the band performed their paisley, catchy numbers with all psychedelic cohesion of a multi-sensory acid test cavalcade. Las Rosas also channel the swingeriffic swagger of Khan, serving up soulful pop tunes fit to soundtrack a night of boogy.
They play:
[youtube https://www.youtube.com/watch?v=z0-vKyNYeik]
As the frontman to Montreal's post-punk group Ought, Tim Darcy 's wordplay was equally matched with clever arrangements and melodies that seemed to rise and fall in lock-step to his cadence. But on 2017's Saturday Night, Darcy dials up the intimacy while refusing to dial down the guitar noise.
Less polished but more immediate than his work with Ought, Saturday Night channels the same kind of street-poet chug that made Lou Reed and even Jonathan Richman so beloved, using Darcy's often deadpan delivery against amp noise and room reverb to distinguish himself with a style entirely his own.
Here's Darcy's two currently planned sets at SXSW:
[youtube https://www.youtube.com/watch?v=8a5bCdTSwrg]
There's a good chance that when The Shacks release their debut LP this year on Big Crown Records, they'll find themselves up among other hallowed names in the Big Crown catalog like Lee Fields and Lady Wray. All the love of vintage gear and analog recording that the former Daptone/Truth and Soul Records fam brought over to their Diamond Mine Studio in Long Island City has a gorgeous effect on The Shacks' brand of ass-wiggling AM radio pop and easy to love hooks.
Shannon Wise's voice is slight in its wispy airiness but disarmingly strong against a solid foundation of songs that could have been written 60 years ago. They too have pulled off the amazing move of only having one official show on the books this year, taking the stage at Javelina on Friday at 11 p.m.
[youtube https://www.youtube.com/watch?v=Y0mAC5NldNg]
This Kiwi made his Stateside debut at Brooklyn's Baby's All Right last Friday, but his first North American release last year, Blue Cheese, has already been charming the pants off anyone who's spent time with it.
The buzz is strong with this one, and from what I can tell you about the new songs of his I've heard so far, the music is, too—more complete and fully realized than the ramshackle pop on Blue Cheese, Strang's found a way to retain his bedroom-recording quality while turning up the volume and polishing the production. This is chugging, hook-laden indie rock at its finest.
Right now he's set to perform just two concerts:
We doubt that's it, but we'll update this post with more performances as we learn about them.
[youtube https://www.youtube.com/watch?v=SjDHqdcvv-A]
This band of young, wide-eyed slacker kids from Bloomington, Ind., make great lo-fi pop that you can dance to, lo-fi in the vein of Montreal's TOPS. Their recent signing to Fat Possum Records bodes well for their future, too, as they stand out from every other band of white males in T-shirts with songs that sound like they came out of a much more seasoned group. Hoops put on one of the best live sets I saw last year, too.
They're playing SEVEN sets at SXSW this year, so make sure you catch at least one of them:
[youtube https://www.youtube.com/watch?v=lCRZCEQpOqY]
One of the acts that I most regret missing at last year's Pop Montreal, She-Devils' blend of glam, cabaret and French Yé-yé pop has powers. Rumors of a full-length coming later this year notwithstanding, last year's self-titled EP and the above single will have to do for now. "I've always believed in the idea that if you visualize or summon something, it will come true," explained vocalist Audrey Ann Boucher when prodded to describe how the sonic pastiche she presents as She-Devils came to be. This is truly unique, transfixing stuff.
She-Devils play six sets this year, here's the rundown:
[youtube https://www.youtube.com/watch?v=9Oo8sbNGkeA]
Meg Duffy, who records as Hand Habits, is a breath of fresh air. On her gorgeously affecting debut Woodsist LP Wildly Idle (Humble Before The Void), Duffy channels her Piscean ways into a collection of pop songs that float through ambience and reward the time you spend with them. Our wonderful conversation a couple of weeks ago is worth the read, too.
Hand Habits is playing five SXSW shows this year: