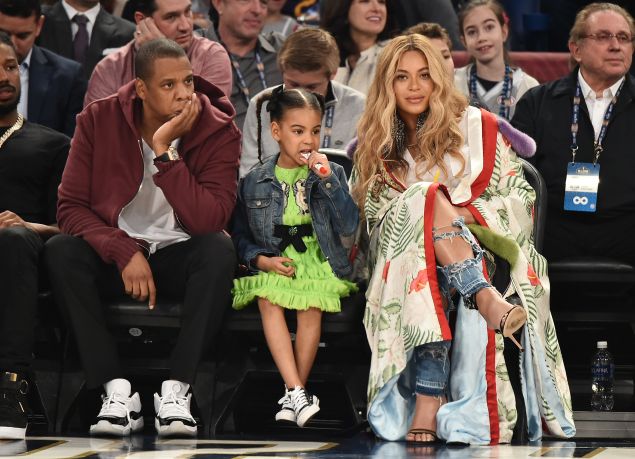 We can all agree that Beyoncé's pregnancy wardrobe has been extremely on point, starting with her veiled baby announcement. Since that February Instagram post, Bey has inundated her website with sartorial nuggets, from a blush trench coat to a green Gucci gown and a red sequin Peter Dundas frock. Blue Ivy, meanwhile, remains steadfastly faithful to Gucci.
However, when Beyoncé sat courtside at the NBA All-Star Game a few months ago, we had more questions about her artfully ripped jeans than her glorious Gucci kimono. Where did they come from? Who designed them? And where could we get a pair?
It turns out, the pants in question were from Left Hand LA, a brand founded by Julie Kucharski just two years ago.
The brand just launched on VFILES' online shop, dropping a range of logoed and patched sweatshirts, alongside some artfully tattered jeans. Our favorite style, the bright yellow Royal Flush Crop Hoodie is already sold out, so you might want to peruse this Bey approved merch sooner rather than later. Or, you could just visit the Left Hand LA site, where a few more styles are available.
Kucharski's brand exists thanks to the request of Kubo, the owner of the Gr8, a menswear shop in Tokyo. According to i-D, he "saw her in a design of her own making and requested a shipment." The brand's site mentions that Kucharski is running the label as a one-woman operation, where she handcrafts each of the pieces. Considering Left Hand LA can count both Beyoncé and Rihanna as fans, this young brand must be doing something right with these one-of-a-kind pieces.