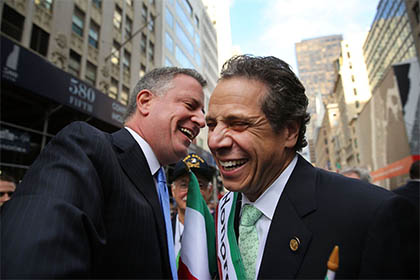 Mayor Bill de Blasio appeared to dismiss Gov. Andrew Cuomo's $1.4 billion revitalization initiative for Central Brooklyn as a mere publicity stunt seriously until he sees "actual results"—and blasted his actions on affordable housing as "big talk, very little action."
Yesterday, Cuomo unveiled the "Vital Brooklyn" plan yesterday at Medgar Evers College in Crown Heights—a proposal that promises to combine anti-poverty programs with a park improvemnents, a new ambulance network and 3,000 units of affordable housing on state-owned land. The governor pledged to devote $700 million to community-based healthcare in the fiscal year 2018 executive budget, $563 million for affordable housing, $140 million for open space and recreation and $1.2 million for education and youth development—pending the State Legislature's approval.
De Blasio—who frequently spars with the governor on a host of issues—seemed to accuse Cuomo of putting on a show without offering any concrete details on what the plan will entail.
"My concern—I don't care what a politician does not get attention, that never worries me—what I care about is actual product, actual results for the people of New York City," de Blasio said in his weekly "Ask the Mayor" segment on WNYC this morning.
This reiterated a common critique of the ambitious agenda Cuomo has laid out at events across the state, which has left key details about funding and implementation hazy or blank.
De Blasio said that since June, the city has been waiting on the state "to give us a clear affordable housing plan" but that it passed a "nebulous plan with no facts."
He said that the city has yet to hear about he results of the Housing Memorandum of Understanding—which calls for the release of $2 billion in funding to create more than 100,000 affordable and supportive housing units over the next five years—or the supportive housing plan to address homelessness.
"We've heard lots of big talk, very little action, very few numbers, very few guarantees, very few results," he said. "We'd like to change that. So here is a plan theoretically to invest a lot of money in Central Brooklyn. I love it if it's real, I say thank you we welcome it but I need to see the facts that go with it."
Cuomo, for his part, recently criticized de Blasio's 2015 plan to extend the 421-a affordable housing tax credit because it lacked a prevailing wage requirement for workers.
Dani Lever, a spokeswoman for Cuomo, suggested that the mayor has a history of doubting Cuomo but that ultimately prevails.
"The Mayor was skeptical about whether or not the Second Avenue Subway would open on January 1st, too," Lever said in an emailed statement. "He should read the budget – it's in there."
The mayor's jab at the governor comes after the two came together in a rare show of unity this morning to announce a joint state-city $20,000 reward for any information leading to an arrest and conviction for a hate crime. The announcement came in light of the substantial uptick in hate crimes—and anti-Semitic incidents in particular—in the city, the state and throughout the country.
This story has been updated to include a comment from the governor's office.