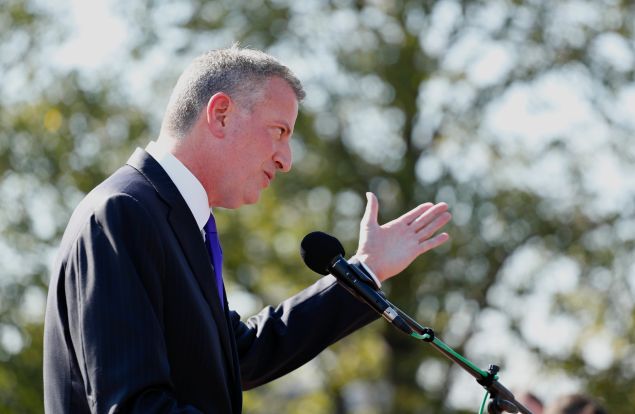 Mayor Bill de Blasio said he would consider pushing legislation through the City Council that would enable him to set up a legal defense fund to pay the towering legal bills from a now-folded corruption investigation—after the New York City Conflicts of Interest Board ruled today that accepting donations of more than $50 into such a fund would constitute receipt of an illegal gift.
In the opinion issued this afternoon, COIB asserted that contributions to legal defense funds to cover invoices from lawyers are essentially gifts to public servants, and thus subject to a cap of $50 during any 12 month period, unless the money comes from a family member or close personal friend. Exempting legal defense fund contributions from this limit would require either an amendment to the city charter, or legislation by the Council.
"The Board recognizes that legal expenses can burden public servants," the board wrote in the advisory opinion. "In the absence of specific legislation that distinguishes gifts made to public servants through legal defense funds from other gifts to public servants, there is no legal basis for the Board to treat gifts made through legal defense funds differently."
Earlier this month, acting U.S. Attorney for the Southern District of New York, and Manhattan District Attorney Cyrus Vance announced that they would not bring any charges against de Blasio or any of his aides in connection with his political fundraising efforts. The mayor had retained Barry Berke of the high-power firm Kramer Levin Naftalis & Frankel to deal with the dual probes.
At the end of January, the New York Post reported that the mayor's legal fees were costing the city $11.6 million, as shown by contracts released by City Comptroller Scott Stringer. In February, de Blasio said he would set up a legal defense fund to spare taxpayers the expense of his defense—but would not commit to refuse donations from individuals and entities with business before the city.
De Blasio said today that he has "a lot of respect" for COIB, but denied its decision resolved matter, insisting it "now initiates a dialogue." He noted that people can go back to them and bring up specific examples or cases and reiterated that this applies not only to him but to other individuals "who may need to use this approach."
But he ultimately acknowledged he might need a law passed for the defense fund idea to work.
"As they've indicated, a potential solution is through legislation," he said. "That's a perfectly fair possibility. I'm not committing to anything yet. They literally just put it out. We have to think about it, we have to talk to them. That's another avenue so I haven't drawn any conclusions."
The mayor said he did not know how long a passing such a bill would take, but said he would consult further with COIB. He stressed that he has a "long, positive working relationship" with the board and that he has gone to them "many times," even before he became mayor.
"I don't know if they've looked at the different models that have been used around the country, I just don't know," he said. "I can't surmise what legislation would take. Sometimes legislation moves fast, sometimes it doesn't but we're not even close to that yet."
COIB said that under current law, public servants cannot accept contributions from their city subordinates and cannot accept a contribution of $50 or more or a series of contributions over any 12-month period worth $50 or more from any individual or firm that has or is seeking to have business dealings with the city.
If two or more donors are relatives or domestic partners of one another, the $50 per 12-month period restriction applies "to the aggregate of their donations"—and the same applies if two or more donors are directors, trustees, or employees of the same firm or affiliated firms. And a public servant has to conduct an adequate investigation inquiry to determine if a donor has business dealings with the city.
The board also said that public servants can accept contributions in any amount from a family member or close personal friend who does not have any business dealings with the city, doesn't appear before the city and otherwise has no "non-ministerial dealings with the city."
For contributions from non-subordinate city employees, constituents and others who know public servants through their city positions, COIB assumes that public servants are getting giftss only to curry favor.
The mayor reiterated that he would avoid financing his legal defense fund with public dollars.
"I've never heard a critique of the concept of legal defense funds until now but if we have to figure out the right ground rules, that's perfectly fair and I believe we'll eventually find a way to do that," he said.
De Blasio also said he did not believe he had a family member or associate who could underwrite the defense fund.
"I'd like to meet that close friend," de Blasio said, as reporters and other attendees laughed in response. "I don't know of that person but again, I don't want to speak in terms of theoreticals."
Real estate executive Paul Massey, de Blasio's deepest-pocketed GOP opponent, claimed that the mayor is "saddled with a potentially $1 million or more legal bill himself, with no real ability to pay for it."
"Bill de Blasio (D-Corruption) has been receiving free legal services for a year, in a deal no ordinary person can get, from a law firm that lobbies the city," Massey said.
The mayor's team did not immediately respond to a request for comment.