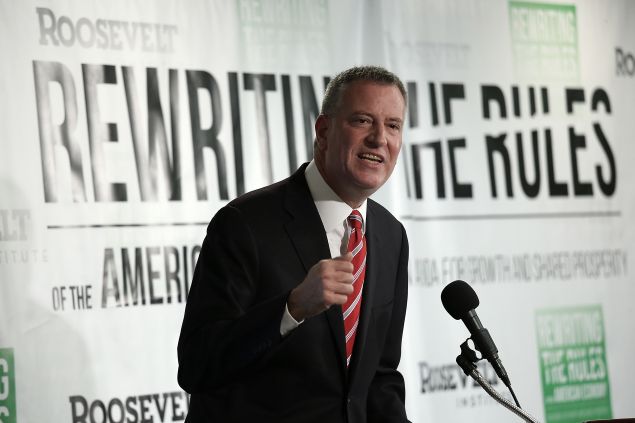 One day after a judge smacked down Mayor Bill de Blasio's claims that his emails with a powerful political and real estate consultant were exempt from Freedom of Information Law requests, the liberal Democrat vowed to continue his fight to make sure the people of New York City never get to see them.
A state Supreme Court sided yesterday with NY1 and the New York Post in their long-running fight to force the administration to divulge its communications with Jonathan Rosen and his firm BerlinRosen. The mayor's legal team had maintained that Rosen—along with four other well-connected private advisors—is "an agent of the city" and that the exchanges are entitled to the same exemption from FOIL as emails between city agencies.
Rosen and his peers do not have a contract with the municipal government, but they do get paid to represent deep-pocketed special interests with business before the city—and de Blasio argued on the radio today that the correspondence should stay secret because his attorney had told the consultants that it would.
"We're going to appeal that decision for a simple reason," the mayor told host Brian Lehrer. "A senior advisor, who, on the advice of the Mayor's Office senior counsel, understood as did a handful of other advisors—they're people that I've worked with for a long time—that they could provide direct advice to me on, on a range of issues, and that that would be treated in a certain manner in terms of confidentiality."
"That's the legal guidance we got, that's what we proceeded with," he continued.
The mayor's office in fact has already released a tranche of emails between the administration and Rosen, which revealed that the consultant had sat in on key discussions of de Blasio's housing plan, which controversially overhauled the city's zoning laws. BerlinRosen counts major developers among its clients, including Two Trees, SL Green and Forest City Ratner.
The firm has also represented the mayor's current and former political campaigns, and handled public relations for his now-defunct political nonprofit, the Campaign for One New York. The latter became the subject of a federal investigation last year into a possible "pay-for-play scheme" involving the wealthy interests that contributed to the lobbying operation.
The feds folded the probe last week, just days after President Donald Trump fired U.S. Attorney Preet Bharara, who had spearheaded the Justice Department's anti-corruption efforts in New York City and State. Manhattan District Attorney Cyrus Vance simultaneously aborted his own inquiry into whether de Blasio and his aides deliberately circumvented state campaign finance laws in their 2014 bid to flip the State Senate Democratic.
Vance wrote in his release that the mayor's team had violated "the intent and spirit of the laws," but asserted it was difficult to press charges because they had apparently relied on the advice of an attorney in funneling money to upstate Democratic candidates.
Today, de Blasio seemed to think a similar argument would save him again.
"It comes down to a very basic concept: if we have gotten legal guidance on how to proceed, and it was respecting the confidentiality of private conversations, there's still a place in this world for getting private advice from an advisor," he said.
The mayor stormed out of a press conference yesterday when reporters attempted to ask him about the decision. De Blasio announced last year that "going forward" he would not seek to deny FOIL requests for emails with outside advisors, though he indicated today that he simply meant he would not correspond with them using a government account.