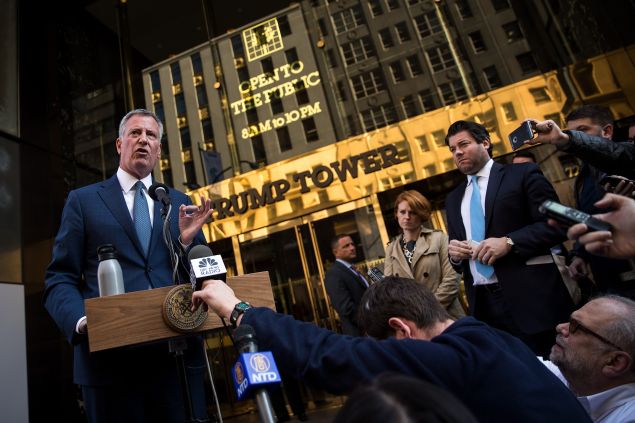 Mayor Bill de Blasio downplayed the significance of U.S. Attorney General Jeff Sessions' declaration yesterday that all cities seeking federal Department of Justice grants would forthwith have to comply with Immigration and Customs Enforcement orders—and that the federal government would event attempt to "claw back" monies already disbursed to recalcitrant municipalities.
When President Donald Trump signed an executive order in January severing federal funding for "sanctuary cities" that provide safe haven to nonviolent undocumented immigrants, the liberal Democratic mayor convened a distraught emergency meeting at City Hall to inveigh ominously against the edict's potential impact. But appearing on NY1 yesterday night, de Blasio coolly reiterated his earlier vows to file suit against the federal government if it actually attempts to dam cash streams to New York, and further suggested the administration's latest move toward implementing the White House fiat was mere posturing.
"Nothing specifically has happened. This was more saber-rattling today from the attorney general. But we believe the executive order is readily challengeable in court," the mayor said in his weekly television segment. "It's all words right now. If they actually act to take away our money, we'll see them in court."
The mayor cited the Supreme Court's 2012 decision in the National Federation of Independent Business vs. Sebelius case, which determined Congress did not have the power to deny Medicaid funding to states that refused to expand the program under the provisions of the Affordable Care Act. It is unclear, however, whether this truly established a precedent for policies set by the executive branch and whether Washington has the authority to make compliance with federal law a condition of receiving federal assistance.
At present, the NYPD and city Department of Corrections refuse to honor ICE requests that they detain foreign nationals for further processing, except in cases where the people in question have committed a violent crime.
The mayor noted once again the grants in question enables the NYPD to finance its counter-terrorism programs, and argued once more that sanctuary city statutes make undocumented victims and witnesses of crime more willing to come forward.
"The irony of ironies: the funding they're threatening is the very same funding that protects us, and allows us to fight terrorism," de Blasio said. "I think the attorney general and the president are going to find themselves in a real pickle here. They're going to find this is a much harder situation to act on than they think it is."
"I think the bottom line is, this is an unrealistic executive order. It's mean-spirited too, it's counterproductive," he continued.