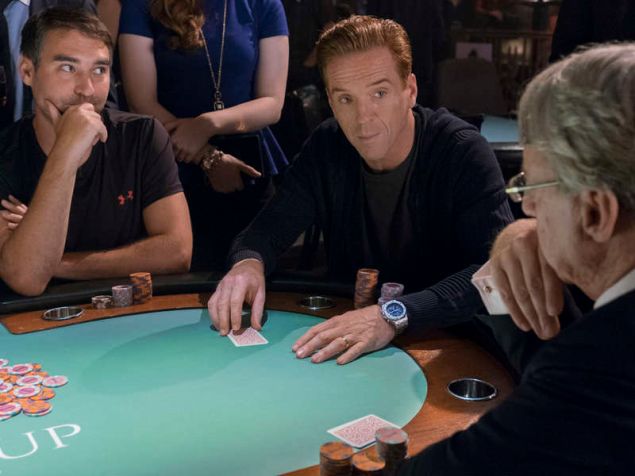 Billions Season Two does a lot of things very well, but it may do new characters best of all. Sure, the old faves are better than ever (just by way of a for instance, I'm still laughing at how David Costabile's Wags responds to someone telling him "Well, have fun" with a mischievous "How could I not?). But when you've got newcomers like gender-nonbinary genius Taylor (Asia Kate Dillon) and madman therapist Dr. Gus (Mark Kudisch) on the roster, you'd be insane not to put them head to head.
So you go into Taylor and Dr. Gus's therapy(?) session expecting fireworks, and you get them—up to a point. Taylor deadpans that they've had over 900 hours of therapy; Dr. Gus claps his hands in their face and barks "One: This isn't therapy. Two: I've had more fuckin' therapy than you have." He culminates with the closest thing to an actual insight he's given anyone yet, dubious though it may be: "Three: Every time you step away from doing something that makes you feel great, even if it makes you feel sad, something inside of you dies. When you feel emotionally messy, take yourself someplace where the boundaries are clean." This is exactly advanced-level variation of "if it feels good, do it" this dude would dole out, and in Taylor's case it might even be helpful.
But while the old Billions would have emptied both barrels into a faceoff between these two very different but (I stress this) very awesome characters as recently as the Axe vs. Rhoades mano a mano that gave the Season One finale "The Conversation" its title (well, that and its flagrant swipes from Francis Ford Coppola's espionage masterpiece), there's a new Billions now. This one cuts the scene short after a couple of minutes, content to give us a taste of the pairing without making us choke on it. The restraint is delicious.
It also keeps the episode's powder dry for its true centerpiece, which again pits Taylor against a fellow newcomer: Todd Krakow, Axe's unctuous hedge-fund rival. He's played by writer-actor Danny Strong, who basically takes the word "pipsqueak" and makes a seven-course meal of it every time he's on screen. And he's the poker king of Wall Street, trouncing Bobby's team in a big charity tournament for three years running. Both men see this year's match-up as an opportunity to snap the other's spine,
And both turn to help from unusual sources. Axe eschews his usual partner, Dollar Bill Stern, in favor of Taylor, a former poker prodigy who quit playing because their skill at trouncing live competitors (as opposed to the online opponents against whom they honed their technique) made victory too unpleasant. As an aside, this leads to my favorite Dollar Bill moment since his big fake fight with Bobby back in Season One, and probably ever: "Everything I measure myself by has been called into question," he melodramatically proclaims, tears in his eyes, before fleeing Axe's office. Actor Kelly AuCoin takes the character's usual macho bluster here and reveals it for the overcompensatory weakness it is. Mmmmmwah.
Krakow, meanwhile, finally wheedles Wendy Rhoades into joining his team, if only as a performance coach for the tournament. "You never hear 'no,' do you," she asks rhetorically on the way to giving in; "The word is said in my vicinity on occasion," he shrugs, "but somehow it never seems to land on me." He sounds like an early-season Roger Sterling (no surprise given Strong's status as a Mad Men alum himself), and it's marvelous.
This leads to maybe my favorite Lara Axelrod moment ever, when the two estranged former friends bump into each other at the bar during the tourney. "You know you don't have to be brave with me," Lara coos. "Divorces are hard." "So are marriages," Wendy replies. "Yeah," Lara says, voice dripping with faux-naivety. "I've heard other people say that." It's a conversational killshot, and watching Lara take aim and fire away gives us a chance to enjoy the way Malin Akerman, essentially the Duke Women's Initiative "Effortless Perfection" study in human form, weaponizes that quality for comedic effect.
So there's an elaborate buildup to the final showdown between Taylor and Todd, involving multiple players with divergent and often hidden agendas. In other words, while it may be just a game, it works the same way as any of Billions's big schemes and capers. However, unlike so many sound-and-fury examples from Season One, this one offers insights into each character with every step, not just to us but to the characters themselves. Bobby sees that he can no longer control Wendy, though Wendy realizes demonstrating this by siding with his enemy in a transparent ploy to shake him is a mug's game. Todd is all sneering tough talk, until Taylor destroys him, at which point he lashes out like an angry child who just lost Connect Four—every bit the bullied-kid-turned-bully Taylor pegged him as. Bobby and company are delighted by Todd's immolation, which makes Taylor realize that a) Axe wanted Krakow not just beaten, but broken; b) Thinking that breaking an enemy is the only way to truly beat them, as opposed to a flourish you personally desire, is Axe's hidden weakness. It's deft character work, dealt out like a winning hand in the midst of a high-stakes poker "thriller" (if that's the right word to use).
On Chuck's side of the story the material is no less satisfying. It begins with a moving scene between Chuck and Wendy in their marriage counselor's office, in which Chuck reveals that his young son, upset by his parents' breaking of their vows (a word he simplifies to "promise"), crawled into bed with him last night and asked him to "vow" never to leave. "He's a really good dad," a choked-up Wendy tells their counselor when Chuck finishes describing how he handled this difficult situation. "Tell him that," the counselor responds. "Chuck," Wendy says, turning to her estranged husband, "you're a really good dad." "You're a really good mom," he replies, his voice thick with love and sadness too. As depictions of divorce on TV go, this is a side we rarely get to see, all the more valuable for the degree of difficulty in capturing it.
Not that it's all tugging heartstrings for Chuck this episode. Oh heavens no. In one of his most ruthless and effective power plays yet, he utilizes intel provided by his underling Kate Sacher (the canniest operator in the crew, who's using her considerable accument trying to figure out which of her ambitious seniors to latch on to, Lonnie or Brian) to squeeze a flight attendant into wearing a wire aboard the private plane of targeted Wall Street bigwig Lawrence Boyd. Soon the flight attendant is fanning the sparks of attraction with Brian (love the moment when he helps strap the wire to her thigh and then scratches his head like "hooooooo boy") and unearthing an affair between Boyd and the wife of one of his high-ranking executives.
That's the kind of red meat Chuck Rhoades loves. "He's a venal beast of the first order," he snarls at the cuckolded exec, "heaving his seed into your bride." "Jesus fuck," replies the exec, speaking on behalf of all of us. Chuck's plan for revenge: Humiliate Boyd by ruining his career, or as he puts it, "force him to his knees and fuck his metaphorical throat until he swallows your seed!" Within seconds he has the info he needs for a full-fledged investigation. Vulgar but effective: the Chuck Rhoades guarantee!
But there's always a bigger vulgarian. Acting on a tip from one of his private investigator Hall's men, Bobby buys a beloved set of first-edition books by Winston Churchill (including one with a handwritten note to General Bernard "Monty" Montgomery himself) unloaded by Chuck to pay for his new bachelor pad. He then orders his major domo Steph to buy literally every other first edition in the world just to spite his rival. "That'll be expensive," she says. "Well," he smirks, "then it's a good thing I'm a rich fucking man." So far this hugely enjoyable season, he's absolutely right.