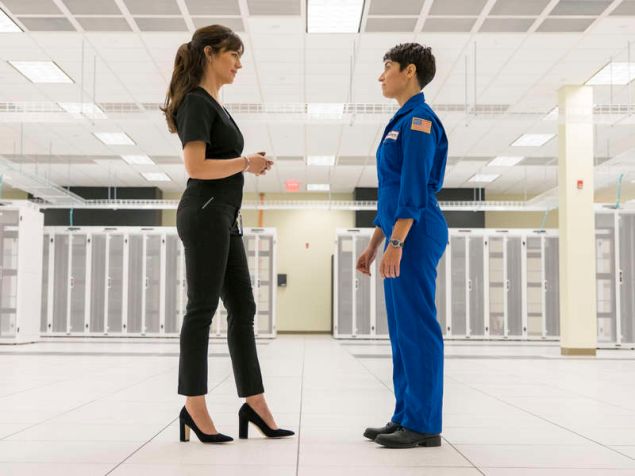 There's this bit toward the end of Road House—the 1989 cult classic in which, and I promise I'm not kidding, Patrick Swayze and Sam Elliot play world-famous bouncers trying to defend a small town from Ben Gazzara, the ruthless owner of the local JC Penney—which requires the main character, Dalton, to go to the titular bar twice in quick succession. Director (again, I am in no way kidding) Rowdy Herrington sets up both scenes with prolonged shots of Swayze pulling up to the bar, parking his car in its dirt lot, getting out of the car, trotting up the stairs, and entering the establishment. Suffice it to say that this film is not some vérité experiment; it depicts the parking of a car twice in a row because it's slovenly, not thoughtful. Don't get me wrong, Road House is a marvelous time at the movies, but not because of what the Mystery Science Theater 3000 veterans at RiffTrax refer to as "ah yes, the famous Parking Scene."
Friends, a whole of shows these days are stuck with Dalton in that goddamn parking lot. From infamous victims of Netflix Bloat like Jessica Jones and Luke Cage to prestige (or prestige-adjacent) projects like Taboo and The Path, just to name a few, too many series pad out their running times and flatten out their editing rhythms with meaningless transition shots. WATCH as Tom Hardy walks down an alley to look for someone who isn't there? THRILL as Krysten Ritter and Mike Colter stroll through a semi-reasonably realistic version of New York! SWOON as Aaron Paul and Michelle Monaghan drive places while looking anxious! Again, we're not talking about shows that artfully force us to confront the slow passage of time for some aesthetic or moral purpose, like The Americans—we're just talking doughy, underbaked filmmaking.
Billions, I'm pleased to report, is not that kind of show. Not by a long shot. "The Oath," its stellar second season's fourth episode, is a strict machine, a marvel of efficiency, in which scenes are pared down to their bare essentials for both plot and character. The ep is helmed by Noah Emmerich, the great Stan Beeman on The Americans,—the latest in the season's motley crew of distinctive directors, including The Handmaid's Tale's Reed Morano, indie-film team Anna Boden & Ryan Fleck, and, remarkably, Going Clear documentarian Alex Gibney last week. Remarkably, every one of them takes the same "all killer, no filler" approach.
Which is nuts, considering all the crazy shit being flung at the wall; if you hadn't watched a moment of this season and just heard it described, you'd assume the show was floundering. How else to explain this episode's cameos by The Americans' Richard Thomas as a billionaire philanthropist with a Deadwood-level flair for articulate obscenities, Mad Men's James "Not great, Bob!" Wolk as an Elon Musk-esque aerospace entrepreneur, and actual literal Mark Cuban as himself?
Yet this thing works on every conceivable level. An illustrative example that has almost nothing to do with the main plot: Wendy Rhoades's day with Elena Gabriel (Melissa Navia, doing tight yet endearing work), an astronaut being considered for the Wolk character's manned mission to Mars. Actors Navia and Maggie Siff have an electric physical rapport, centered on the astronaut's ostentatiously firm handshake. Their conversation cleverly quotes Shakespeare by way of Star Trek (the undiscovered country, the final frontier, etc.) before serving up a delicious, shoot-for-the-moon image: "I want to point to the sky at another planet and say, 'I used to live there.'" And in the end, despite showing us how Gabriel earns Wendy's admiration and respect, Wendy advises her boss to reject her application, because her intelligence and emotional makeup makes her too isolated and too unaccustomed to failure. It's the storytelling equivalent of a sidequest, but it's as compelling as, I dunno, any given episode of Westworld.
Closer to the center of the action, we follow two parallel quests: Chuck Rhoades's complicated plot to get his current quarry, banking magnate Lawrence Boyd, to lower his guard, and Bobby Axelrod's parallel attempt to improve his public image enough to buy his coveted NFL team. Axe's scheme is where the cameos from Richard Thomas and Mark Cuban come in, as well as routine appearances by Glenn Fleshler as his lawyer Orrin Bach and  Terry Kinney as his private investigator Hall. Meanwhile, Chuck's even more baroque enterprise involves the efforts of his father (Jeffrey DeMunn), his wary right-hand man Bryan Connerty (Toby Leonard Moore, subtle as always), and Bryan's ex-girlfriend and current rival Kate Sacher (Condola Rashad, adding glamour to her usual repertoire of sheer intimidating intelligence), not to mention a duplicitous and successful attempt to ingratiate himself with Boyd (Eric Bogosian), the target of his investigation. Many of these characters' scenes together are extremely brief, with little or no fanfare leading in or out. Billions is giving you exactly the information you need to follow along, no more and no less.
Which makes every jump and leap in the plot more impressive. When we find out Boyd's secret source about the investigation into his company is Chuck's own dad, we learn in that instant that Chuck deceived his dad about his intent toward Boyd on purpose. When Bryan refuses to play ball with Oliver Dake, the Elliot Ness-type investigator looking to take Chuck down, we realize that much of the display of intelligence Rhoades put on to undermine Boyd was for Bryan's benefit. When Chuck and his lawyer break Bobby's resolve in a deposition, we realize it's what makes him blow an opportunity to talk Thomas's philanthropist character out of destroying his NFL deal—and then we realize that he recovers quickly enough to use this loss as evidence of the damage he's suffered from Chuck's "harassment." Hell, even the side plots about Lara Axelrod using guys from her old neighborhood to entrap a professional rival with a pimping charge and Bobby's pal Wags hitting rock bottom by (hilariously) blacking out and getting Yosemite Sam tattooed on his ass reflect the main characters' ability to spin lead into gold and vice versa. For Billions, though, that transaction is only going in one direction. Everything it touches right now turns glittery.